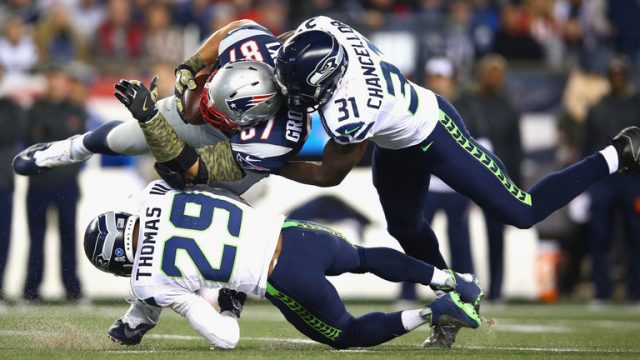 How Has Gronkowki's Latest Injury Affected Patriots' Super Bowl Chances?
On Thursday afternoon, it was announced that Rob Gronkowski, the New England Patriots' All-Pro tight end, would undergo surgery to repair a herniated disc in his back and will likely miss the remainder of the season. This news came as a devastating blow, especially given Gronk's past injury history and the team's relative struggles in his absence.
After playing in all 16 regular season games in his rookie season, Gronkowski has been consistently plagued by injuries.
2011: In his second season, Gronkowski suffered a high ankle sprain in the AFC Championship and, although he played through the pain, he was essentially used as a decoy in Super Bowl 46.
2012: Gronkowski broke his left forearm and missed five regular season games. He returned for the playoffs, where he promptly reinjured his forearm. He was inactive when New England lost to Baltimore in the AFC Championship.
2013: This was Gronk's most challenging season, as he suffered an infection on the aforementioned forearm which required two additional surgeries. After returning, Gronk tore his right ACL after taking a hit from Browns safety T.J. Ward. All told, Gronk missed 11 games including two playoff games.
2014: This season marked a return to form for Gronk, who played in every game with the exception of the regular season finale when he was held out for rest. Despite missing one game, Gronk still hauled in 82 receptions for over 1,100 yards while helping lead the Patriots to their fourth Super Bowl victory in franchise history.
2015: Last season, Gronkowski suffered a sprained knee against the Broncos and was forced to miss one game as a result.
2016: This year Gronk suffered a hamstring injury during a preseason practice, which caused him to miss the first two games of the season. Upon return, Gronkowski was still clearly affected by this injury and barely saw the field in Weeks 3 and 4. Over the next five games, Gronk was practically unstoppable, grabbing 33 receptions for 529 yards and three touchdowns. Unfortunately, he suffered a pulmonary contusion after being hit by Seahawks safety Earl Thomas. Gronkowski missed the team's Week 11 win against the 49ers before returning for their Week 12 game against the Jets.
Since drafting Gronkowski in 2010, the Patriots have gone 92-28 straight up — easily the best record in the league over that time. The team has gone 77-21 (78.6%) with Gronk in the lineup and 15-7 (68.2%) without him.
Clearly, Gronk is crucial to New England's success, and that's been particularly true for spread bettors. Since 2010, the Patriots have gone 55-39 ATS (56.2%) with Gronk in the lineup and 11-10-1 ATS (52.4%) without him.
The table below displays the Patriots year-by-year performance without Gronkowski.
| Year | Record (SU) | Record (ATS) |
| --- | --- | --- |
| Overall | 15-7 | 11-10-1 |
| 2010-11 | N/A | N/A |
| 2011-12 | N/A | N/A |
| 2012-13 | 4-2 | 2-3-1 |
| 2013-14 | 8-3 | 6-5 |
| 2014-15 | 0-1 | 0-1 |
| 2015-16 | 0-1 | 0-1 |
| 2016-17 | 3-0 | 3-0 |
These figured shouldn't be surprising, especially given Tom Brady's production with and without a healthy Gronk.
With Gronk: 31.2 PPG, 391.9 total YPG, 279.2 pass YPG
Without Gronk: 26.9 PPG, 382.6 total YPG, 252.4 pass YPG
As you can see, the Patriots offense averaged 26.8 fewer passing yards and 4.3 fewer points per game without Gronk in the lineup. Perhaps that explains why Rob Gronkowski is one of the league's few position players capable of moving the spread — a phenomenon we saw in Week 1 when Gronk was ruled out.
Sportsbooks didn't adjust their spread for this week's game against the Rams because they were already anticipating Gronk's absence, meaning his injury was already built into the spread. That wasn't the case in Week 1 when Gronkowski was ruled out shortly before New England's season opener against Arizona. After Gronk was ruled out, the Patriots immediately dropped from +6.5 to +7, before eventually closing as 9-point underdogs.
Gronk is clearly capable of moving the spread, but bettors may be surprised to know that his season-ending-injury hasn't significantly impacted the Patriots odds of winning the Super Bowl. "New England is certainly a better team with Rob Gronkowski, but they still have a pretty salty tight end in [Martellus] Bennett. They'd prefer two quality tight ends, but they are still better than most teams with just one," said Scott Cooley, an Odds Consultant for the market-setting Bookmaker.eu. "As long as the Patriots have Bill Belichick and Tom Brady, they'll always have a chance. We moved from +230 to +250, but that was mostly because of some action on other teams in the last few hours. We probably adjusted 10 cents on the Pats' Super Bowl odds due to the injury. Spread hasn't budged."
The Patriots are currently listed as 10-point favorites against the Ravens in Week 14, which is the same line that was available before the announcement that Gronk would miss the rest of the season. Although oddsmakers didn't realize the full extent of Gronkowski's injury, it seems like they knew it was serious and that they did not believe he would be active in Week 13 or 14.
Many analysts are writing off New England in the aftermath of this injury, but oddsmakers clearly respect the Patriots. New England remains the favorite to win the Super Bowl, so logically they're also favored to win the AFC Championship (+100) and AFC East (-5750). It's also worth noting that Tom Brady (+315) has the second-best odds of winning the MVP Award, trailing only Cowboys rookie Ezekiel Elliott (+300).
Before the season most sportsbooks had the Patriots win total listed at 10.5, meaning they would need to win just two of their remaining five games to go over the total. They will likely be favored in all five games and could be double-digit favorites in three of these games (vs. Rams, vs. Ravens, vs. Jets).
Week 13: vs. Los Angeles Rams
Week 14: vs. Baltimore Ravens
Week 15: at Denver Broncos
Week 16: vs. New York Jets
Week 17: at Miami Dolphins
Based on past results, I would anticipate that running back LaGarrette Blount could become a focal point of the Patriots offense, especially considering his success this season (212 carries for 869 yards, 12 touchdowns). With more emphasis on the ground game, don't be surprised to see slightly lower totals on Patriots games moving forward.
We will continue to monitor these lines and trends, and it will be interesting to see whether the Patriots offense can maintain their current level of production without their All-Pro tight end. The Patriots have struggled without Gronk in the past, and that's been especially true during the postseason.
For the latest odds, betting trends, injury updates and more, bettors can check out our free NFL odds page.
Have any questions for the staff at Sports Insights? Utilize our live chat to speak with a customer service representative or e-mail us at help@sportsinsights.com.