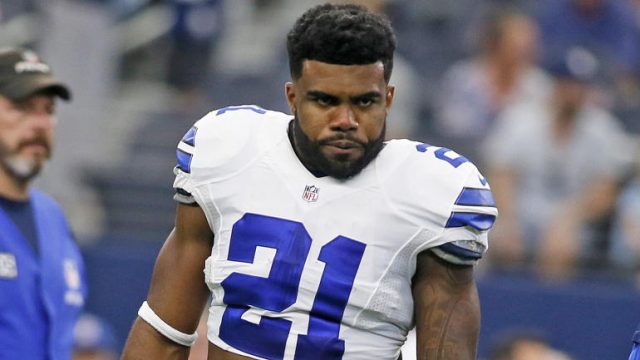 How has Ezekiel Elliott's Return to Week 1 Impacted the Cowboys Giants Game?
Yesterday evening, the ruling on Ezekiel Elliott's suspension appeal was announced and it was…interesting.
BREAKING: Ezekiel Elliott's 6-game suspension has been upheld.

He will be permitted to play vs. Giants on Sunday.

LATEST:
? | @RapSheet pic.twitter.com/Y5UlMZO78y

— NFL Network (@nflnetwork) September 6, 2017
Despite the six game suspension being upheld, Zeke can eat on Sunday against the division rival Giants. However, there's still a chance that the suspension will be held off all year depending on what happens with his restraining order against the league. The decision on that is set to come on Friday.
So now, Ezekiel Elliott awaits ruling from Texas court on his temporary restraining order. If granted, Cowboys likely to have him all year.

— Albert Breer (@AlbertBreer) September 6, 2017
With that being said, the Cowboys futures haven't budged, though there was some initial movement back when the news first broke.
Sunday night's game, on the other hand, has been impacted by the decision, but not as much as you might think. A couple of months ago, we looked at what Elliott's value to the spread would be and learned that in most cases, it was just a half point.
We now have a real life example of that because at both Pinnacle and 5Dimes, the Cowboys have gone from -3.5 to -4. The total at 5Dimes rose from 47.5 to 48, but has remained at 47.5 at Pinnacle.
We have also seen public support on the Cowboys on the rise. On Monday, Dallas was receiving just 23% of spread bets. Even though Elliott isn't worth that much to the spread, bettors were clearly very skeptical of backing the Cowboys without him. When we asked our Twitter followers how valuable they thought he was, many felt that a half point was too low.
POLL: In your opinion, what is Ezekiel Elliott's value to the point spread?

— Sports Insights (@SportsInsights) August 11, 2017
With Elliott back, spread bets on the Cowboys are already up to 39%. If this keeps up, they may end up getting the majority of bets by Sunday night. Whether books see enough action to move Dallas to -4.5 remains to be seen, but the move from 4 to 4.5 is not super significant.
Follow us on Twitter @SportsInsights for more NFL news and content as week 1 kicks off.