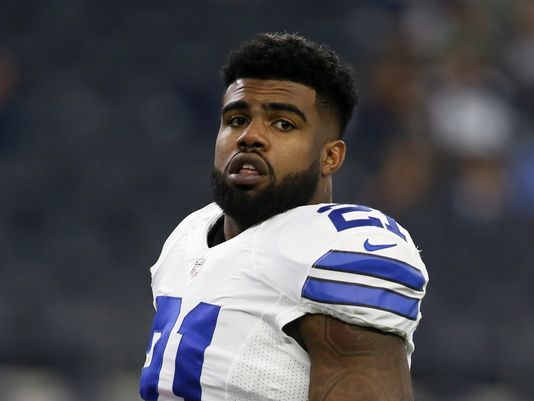 Ezekiel Elliott Suspension Fallout
Following an investigation into domestic violence allegations, the NFL announced a 6-game suspension for Dallas Cowboys star RB Ezekiel Elliott on Friday, August 11. While there have been rumblings of a potential Zeke suspension for almost a month, most were expecting it to be in the range of  1-2 games. Now that the hammer has been dropped (besides the pending appeal), we can take a look at the betting market's reaction to gauge just how significant Elliott's absence will be on the Cowboys' playoff, division, conference and Super Bowl hopes.
We know that Elliott is worth about a 1/2 point to single-game spread but how will that impact futures? Bookmaker doesn't seem to think it affects the Cowboys win total at all, as they remain at 9.5 after the suspension was announced, but the rest of the division saw the juice on their 'Overs' increased. Scott Cooley over at Bookmaker also thinks that the suspension will be reduced from 6 games to 4 games, so that's worth noting as well. Here's how the rest of the futures changed at Bookmaker: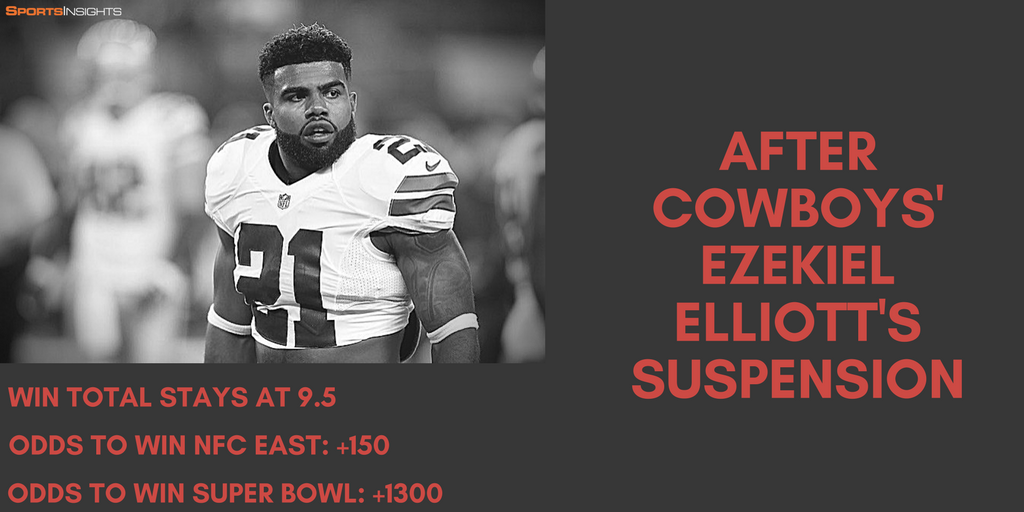 The NFC East odds moving from +130 to +150 are most significant, although most of the market had already been listing Dallas in the +150 range. It's possible that the rest of the market was anticipating a lengthy suspension for Elliott and adjusted odds accordingly. Dallas is also a very public and trendy team to bet on, so sportsbooks don't always need to always offer their true odds.
Their odds to make the playoffs haven't budged. They were listed at -180 at BetOnline before the announcement and remain -180 after the announcement. For what it's worth, Westgate opened their playoff odds at -200 last month.
Elliott's MVP odds remain unchanged at +2000, but it would be hard to imagine winning the award if he misses significant time.
With a 6-game suspension looming, here's a look at the games that Elliott could potentially miss. These are the lookahead lines from CG Technology in April:
Week 1 DAL -5 vs. NYG
Week 2 DAL pk at DEN
Week 3 DAL -2 at ARZ
Week 4 DAL -12.5 vs. LAR
Week 5 DAL -3 vs. GB
Week 6 BYE WEEK
Week 7 DAL -8.5 at SF
Dallas had already moved from -5 to -4 for the Week 1 opener against the Giants since odds first came out. With Elliott most definitely missing at least one game, Bookmaker will only move the line to -3.5:
According to @ByScottCooley, the #Cowboys will likely reopen at -3.5 for Week 1 against the #Giants. Dallas was -4 before Zeke suspension.

— Sports Insights (@SportsInsights) August 11, 2017
Our friends over at Bet Labs generally feel the same way about the impact of the suspension on Dallas' futures, dropping their win expectancy from 9.48 to 9.43.
Do you think the market is adjusting enough for Zeke's suspension or will it hardly be a blip in Dallas' season?