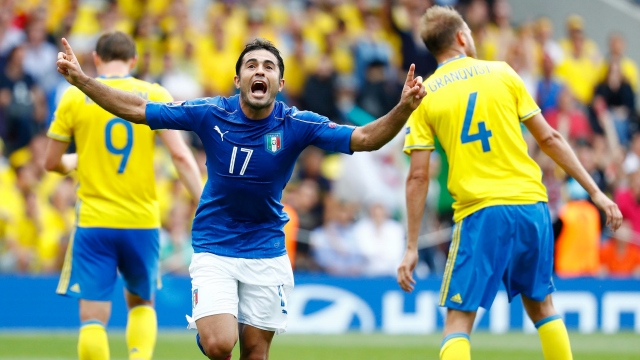 Finding Value in 2018 World Cup Qualifying Playoff Matchups
We're just over eight months away from the 2018 World Cup in Russia and the 32-team field has a number of remaining spots left. Unfortunately one of those spots will not belong to USA, who bowed out embarrassingly in CONCACAF group play. There are 3 places from Africa still to be determined from group play, as well as 4 spots from playoff matchups in Europe and 2 in intercontinental playoff matchups. Quick look at who has qualified: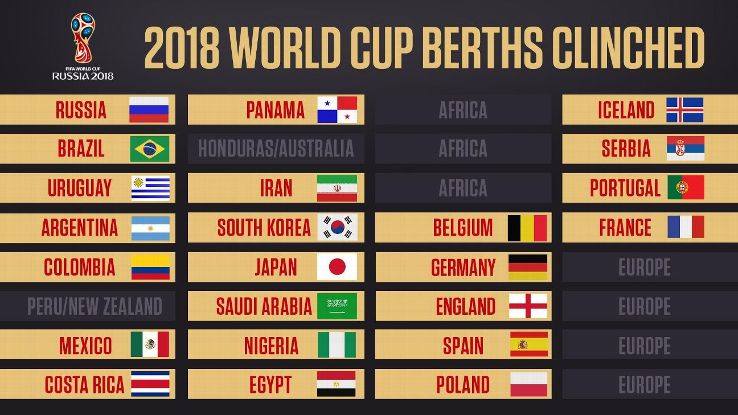 Here's a look at the odds for the remaining playoff matchups where teams will play a 2-game series (home-and-home) to determine who advances to the 2018 World Cup. (Odds via BetOnline)
Matchup
Nov 8 Odds
Oct 25 Odds
Peru vs. New Zealand
Peru -1000
NZ +500
Peru -1200
NZ +600
Australia vs. Honduras
Australia -125
Honduras +105
Australia -120
Honduras +100
Croatia vs. Greece
Croatia -350
Greece +225
Croatia -300
Greece +200
Denmark vs. Ireland
Denmark -140
Ireland +105
Denmark -140
Ireland +105
Switzerland vs. Northern Ireland
Switzerland -300
N Ireland +220
Switzerland -300
N Ireland +220
Italy vs. Sweden
Italy -275
Sweden +210
Italy -275
Sweden +210
The only major changes before the playoff matchups start on Thursday are Peru (-1200 to -1000), Australia (-120 to -125) and Croatia (-300 to -350). The odds drop on Peru occurred after their captain was suspended:
Peru still a threat without captain Guerrero, says NZ coach Hudson https://t.co/kj0DsxIGQH pic.twitter.com/zOWcAIdGfT

— Reuters World (@ReutersWorld) November 6, 2017
Rather than pick who I think will advance after each 2-game playoff series, I prefer to look at the invidividual game matchups one-by-one, starting on Thursday. Action kicks off with Croatia hosting Greece and Northern Ireland playing at home against Switzerland. Bettors are taking their chances on Greece as big +760 road dogs to the tune of over 40% of tickets, but there's been line movement toward Croatia to win. It's certainly shaping up to be a great contrarian spot to take Croatia at -220 odds to take care of business at home in the opening leg.
More than 65% of tickets are coming in on Switzerland +120 to beat Northern Ireland while less than 10% on the draw at +201 odds. The total is listed at just 2 goals with heavy juice on the Under, so we shouldn't expect a 3-3 type of game. However, I would lean toward the draw based on the market %'s and such a low O/U, so I'd expect 0-0 or 1-1.
In Friday's European action, Italy travels to Sweden for the opening leg of their matchup and more than 80% of bettors are taking Italy +135. Again there's a low total of 2 goals so oddsmakers are expecting a tight game, and there's no love for Sweden +240 (10% of bets) or the draw +204 (10% of bets). If you can bet the Sweden spread at +0.5 goals, it's a nice contrarian spot to take a small home underdog. You can likely wait on this line as well since the overwhelming majority of bets and money will likely keep moving the odds away from Sweden. Remember, there are 2 legs to these matchups so it's not a must-win spot for Italy, and the way they play they probably wouldn't mind a draw on the road.
Friday also marks the start of the intercontinental playoff matchups with New Zealand hosting Peru, and Honduras hosting Australia. There hasn't been a ton of betting action for these games yet, but both Peru and Honduras are small favorites, and tickets are balanced on the 3-way moneylines so far.
Saturday wraps up the opening legs and will feature Denmark at home as -140 favorites against Ireland. Betting has been pretty balanced on the 3-way moneyline and I don't see any value anywhere in the opening leg. The 'McGuire' in me will certainly be pulling for Ireland, though.
The second-leg of these matchups will start on Sunday, and obviously there are no odds out yet until the opening match is played. I will be updating the odds to advance when available so we can compare how the opening leg affected the betting market.