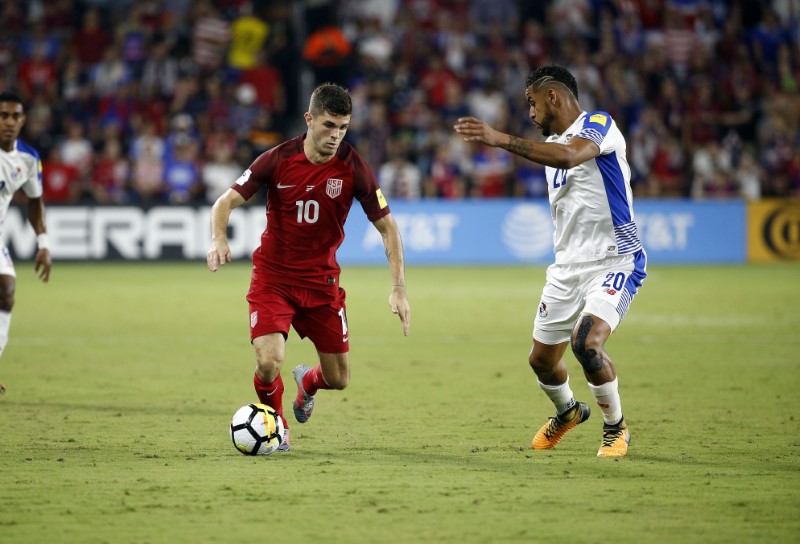 USA Nearly Locked Into World Cup Berth With 1 Game Left
The US men's national team will qualify for the 2018 World Cup if they beat Trinidad & Tobago on Tuesday night, and 99.9% even if they settle for a draw. They can even lose against Trinidad & Tobago and still qualify automatically or into a playoff, assuming the other group matches fall their way. The nightmare scenario that cannot happen: USA loses, Panama beats Costa Rica, and Honduras beats Mexico. The odds of that happening are roughly 40/1, and all those matches kick-off at the same exact time Tuesday night at 8 pm ET.
Here's a look at the current standings in the final CONCACAF group stage:


The US was impressive in their win over Panama last Friday night, particularly 19-year old Christian Pulisic. They won 4-0 in a game that was very open, and Pulisic was able to show his creativity and ability all night. The line was USA -183 with home-field advantage in Orlando, but surprisingly the ticket action wasn't very lopsided on USA. Their odds of -275 for Tuesday night on the road in Trinidad & Tobago should have fans confident again, and I'd expect a large majority of bettors to take the US to win.
The draw is listed at +405 (roughly 20% implied probability) while Trinidad & Tobago is a big +741 underdog. In the other CONCACAF matches, Honduras is +159 to beat Mexico, and Panama is -136 to beat Costa Rica. If you think those odds seem too low, it's because Mexico and Costa Rica have already qualified for the World Cup so not much to play for. Here's a look at all teams around the world that have qualified as of Tuesday morning:
17 World Cup berths clinched so far. Six more will be claimed today.

– FRA/SWE
– SUI/POR
– Three in CONMEBOL
– USA/PAN/HON pic.twitter.com/d3PPycVgm2

— Paul Carr (@PCarrESPN) October 10, 2017
At Bookmaker, USA is getting 72% of tickets while Trinidad & Tobago is getting 16%. That leaves 12% of bets on the draw. These bet splits are somewhat in line with the implied probabilities. Public bettors like taking a shot on the big underdogs to win straight up, and would rather bet USA in a parlay with other teams. A draw is probably good enough for the US to advance to the World Cup, but they should be playing for the victory from the start.
*October 10 afternoon update: USA up to -300 on the moneyline while T & T are +980. There's also been considerable movement on Panama to win (-136 to -169) and Honduras to win (+159 to +144). Bettors are still heavy on both of their opponents, Costa Rica and Mexico, which indicates Panama and Honduras could have some contrarian value.