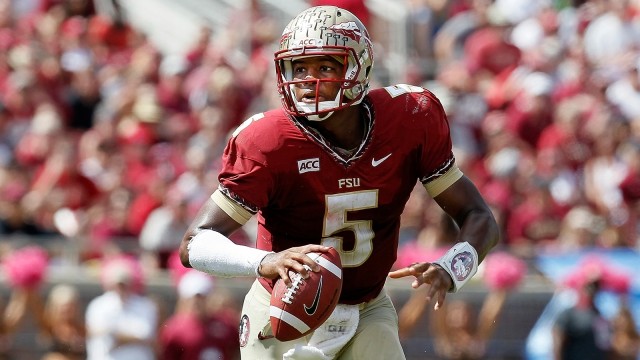 The Effect of Jameis Winston on the Betting Market
Reigning Heisman Trophy winner Jameis Winston has been one of the most polarizing players in College Football over the past two seasons. Although his on-field production has been nothing short of spectacular, the redshirt sophomore quarterback has recently been gaining more notoriety for his off the field behavior.
From sexual assault allegations to firing a BB gun at squirrels to multiple shoplifting incidents, Winston had developed an impressive rap sheet before this season even started. However, recent actions may affect Famous Jameis' status for Saturday night's marquee matchup with Notre Dame — and perhaps his eligibility for the remainder of the season.
Earlier this week reports surfaced that Winston was being investigated for receiving money in exchange for autographs. According to ESPN's Darren Rovell, the James Spence Authentication website claims to have authenticated over 2,000 signatures by the Florida State signal caller.
Despite these claims, Florida State head coach Jimbo Fisher continues to support his quarterback and has no intention of suspending his star player. This is particularly interesting when compared to the situation at Georgia where star running back Todd Gurley was suspended indefinitely for similar infractions.
---
While the folks down in Tallahassee have insisted all week that Winston would play in Saturday's game against Notre Dame, most sportsbooks had not posted lines for this game until late on Friday evening. In fact, as recently as Thursday morning the only oddsmakers hanging lines were Sportsbook.com (FSU -8.5) and the Vegas-based Westgate Superbook (FSU -10).
Although we had Winston listed as probable all week on our free College Football injury page, sportsbooks were understandably weary of hanging a bad line on this game, only to be hammered by bettors with inside information.
On Thursday 5Dimes was offering a line of Florida State -11 but with the stipulation that Jameis Winston must start for action. They were also offering FSU -6.5 if Winston does not play. By Friday afternoon those lines had moved in opposite directions:
Sportsbook currently offering FSU -8.5 vs. Notre Dame. 5Dimes offering FSU -10 (Winston must start) and FSU -7.5 (Winston must not start). — SportsInsights.com (@SportsInsights) October 17, 2014
Similarly, Vegas sportsbook CG Technology (formerly Cantor Gaming) re-opened the Florida State/Notre Dame game on Friday afternoon and they seemed to believe that Winston would play:
The Wynn has put Notre Dame-Florida State back on the board w/ Seminoles listed as 10-point favorites. @CGTechnology_ has FSU -8.5. — David Payne Purdum (@DavidPurdum) October 17, 2014
The general consensus was that Florida State would be between a 10 and 11-point favorite if Winston plays and a 6.5 or 7-point favorite if he sits. These odds are far different from the Game of the Year lines at the Golden Nugget that were released way back in July. Although the limits were comparatively low for these games, it's fascinating to note that the Seminoles were initially projected to be 24-point favorites against the Fighting Irish.
---
Late on Friday afternoon a number of prominent sportsbooks also opened their lines including many market-setting sportsbook. CRIS, which is known as one of the sharpest offshore sportsbooks, opened Florida State as a 10-point favorite at 4:35 PM e.t. The line climbed to -11 within two minutes before being bet back down -9.5 within twenty minutes. The screenshot below displays the line history for this game at CRIS. As you can see, Florida State was initially a 13.5-point favorite before this game was taken off the board on Sunday (10/12) evening.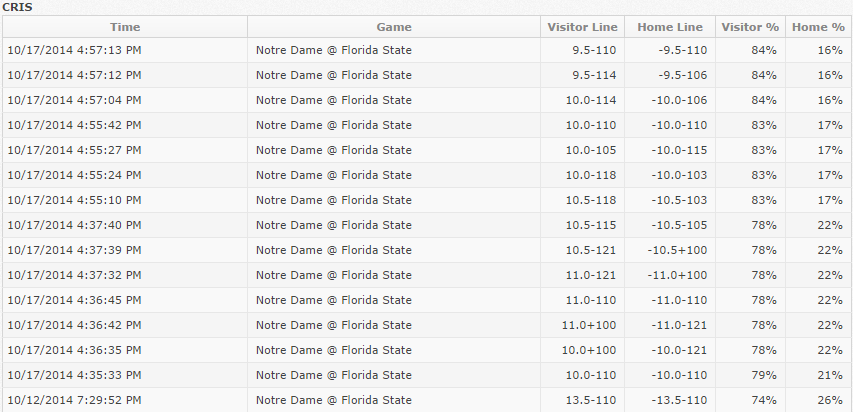 By Saturday morning nearly every sportsbook, including all seven of our contributing sportsbooks, had posted odds for this game with the notable omission of Bovada. In a rare twist, Florida State was receiving just 23% of spread bets as a 9.5-point consensus favorite. The screenshot below displays the public betting trends at each of these contributing sportsbooks.

Not only is it incredibly rare for favorites and ranked teams to qualify as contrarian plays, but it's also shaping up to be the least public support for the Seminoles in our database.
Since 2003 #FloridaState has never received less than 24% of public bets, but they're receiving just 23% of bets today vs. #NotreDame. — Bet Labs Software (@Bet_Labs) October 18, 2014
This is also interesting because when two ranked teams play each other, the favorite has historically been vastly undervalued.
When two ranked teams play each other the favorite has gone 224-179 ATS for +34.78 units won.

— Bet Labs Software (@Bet_Labs) October 18, 2014
Although Winston escaped punishment for his numerous off-field incidents last season, he has not been quite so lucky this year. The 6'4″ quarterback was suspended for the Seminoles September 20th matchup against Clemson following an obscene act on campus which lead to significant line movement.
Winston was initially suspended for only the first half of that game which caused the line to drop from FSU -20 to -17. The school then decided to suspend him for the entire game which sent the line plummeting to -10 at Pinnacle. His absence also caused major movement on the total as the over/under dropped by 5.5 points. The Seminoles struggled for most of the game but held on to win 23-17 in overtime. Clemson easily covered the opening line of +20 and the closing line of +10 with the under (61) also hitting easily.
What intrigues me about this game is that Winston appeared to be worth 10-points to the spread when Florida State faced Clemson, but apparently he's worth just 4.5 points roughly a month later.
The suspension to Winston has also greatly affected his Heisman hopes. Despite opening the season as the +350 favorite and maintaining an undefeated record (6-0), Winston's odds moved to +650 following Week 1 and +2000 after missing that crucial showdown against ACC rival Clemson.
These lines are subject to change, so visit our free College Football odds page for the latest odds and public betting trends, Have any questions for the staff at Sports Insights? Utilize our live chat to speak with a customer service representative or e-mail us at help@sportsinsights.com.
[adrotate group="4″]