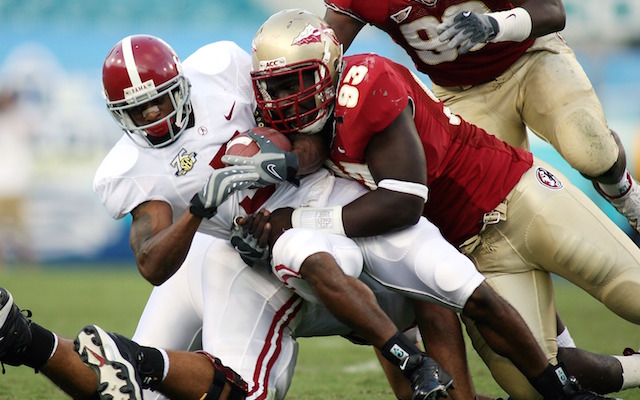 Sharp Bettors Hitting the Alabama/FSU Spread Again
A couple weeks ago we wrote about public bettors hammering FSU, but the line kept increasing in Alabama's favor. The Crimson Tide are expected to be a historically good team this season, but the opener against the Seminoles will be one of their biggest hurdles.
Back in January, the line initially opened Alabama -3.5 at Westgate and Alabama -4 at 5Dimes. Over the course of the summer, public bettors were taking FSU yet the line kept rising to Alabama -7 and -7.5 around the market, signaling sharp money on the Crimson Tide. With the market moving about 4 points since open, sharp bettors were again ready to pounce.
This time, sharper bettors have come in on FSU at +7.5 and +7. The public betting percentages have shifted in favor of Alabama, who are now getting the majority of spread tickets to cover. Here's a look at the betting line and betting percentages at CRIS, one of the leading offshore sportsbooks.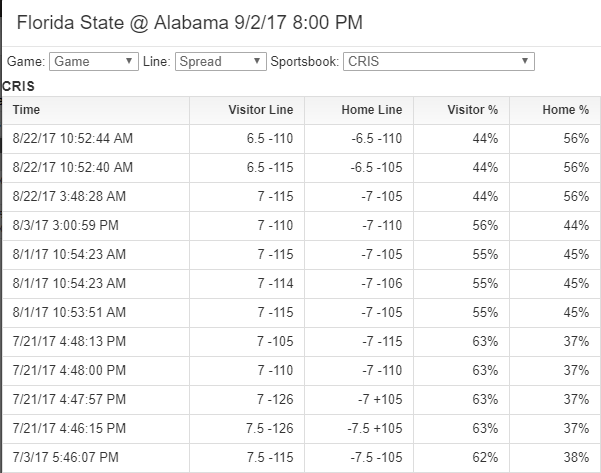 This is basically the opposite of what happened when the line came out, as the public was taking FSU at a worse number and the sharps were pushing Alabama up to a touchdown favorite. It's critical to understand how the market works, especially in prime-time games like Alabama vs. FSU. Often times, you'll hear phrases like "squares vs. sharps" or "Pros vs. Joes" which is great, but it only tells a portion of the story. Sharps typically are looking for the best number (and value) possible, so in a game like this, sharps can be taking Alabama -3.5 and Alabama -4, but sharps are also taking FSU +7.5 and FSU +7.
As you can see from the line history above, public bettors on FSU +7.5 or +7 were already taking the "sharp" side. Now that the line has shifted to +6.5, public bettors have begun taking Alabama again. Some sharp money may hit Alabama at -6.5, but the value of Alabama -3.5 or -4 was long gone over the summer. This game is attracting the most tickets out of any NCAAF game opening weekend, and there will be tons more on game day.
Track all the latest odds, betting percentages, breaking injuries and more with a Premium or Pro membership.