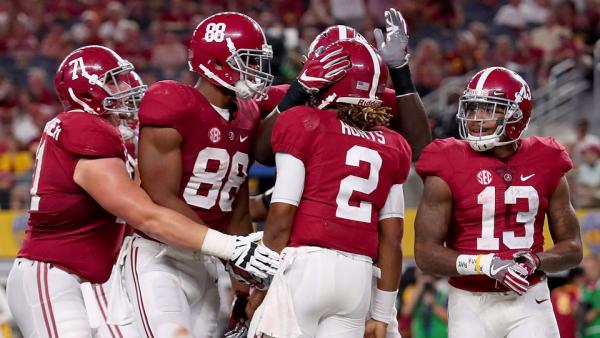 How Good Will Alabama Be This Season?
The Alabama Crimson Tide have been the most consistent college football team since Nick Saban took over ten years ago, going 114-19 and winning 4 National Titles. They've also reached the College Football Playoff in all 3 years of its existence and are big -185 favorites to make it a fourth straight time. Alabama has become so good that sportsbooks are now posting a ton of props and futures for the upcoming season.
Below are Props and Futures available at 5Dimes for Alabama:
Undefeated in SEC regular season and SEC title game: +235
Undefeated in all regular season and SEC title game: +325
15-0 National Champions: +525
15-0 National Champions, all wins by 10+ points: +3500
14-1 National Champions: +700
13-1 National Champions: +1100
Reach National Championship Game: +120
Win National Championship Game: +270
Lose any game by 10+ points: +325
Win at least 9 games by 14+ points: -120
National Champions in 2017-18 and 2018-19: +775
Undefeated in all of 2017-18 and 2018-19: +2000
There are also a few prop bets on the number of points Alabama is expected to outscore their opponents by. In the regular season, Alabama is -299.5 vs their opponents. This means that after adding up the combined scores of all Alabama regular season games, the Crimson Tide are expected to have 299.5 more than their opponents.
It's even higher if you include all games in the entire season (SEC title game, CFB Playoff): Alabama is favored by 329.5 points against their opponents. This is essentially saying that Alabama is expected to outscore their opponents by 30 points over the span of an SEC title game and two playoff games. This makes some sense since sportsbooks have to anticipate Alabama being big favorites in the SEC title game– last year Bama was favored by 21 against Florida and it wasn't that close (Bama won 54-16). The Crimson Tide were also big favorites against both Washington (-15) and Clemson (-7) in the playoff. They covered against Washington but fell 35-31 to Clemson to ruin their perfect season.
Expectations are once again sky high for Alabama this year with a regular season win total of 10.5 (o-160). Alabama opens with a tough game against Florida State on a neutral venue, but the Crimson Tide are -7.5 point favorites. Can anyone actually stop and/or defeat this juggernaut? Feel free to leave your thoughts and comments in the space below.
Join us live Saturday mornings at 11am ET
We're now holding our members-only live Sports Betting Hangouts Saturday mornings to prepare you for a full day of College Football. Members, simply log into your account Saturday morning to access the hangout.
Not a member? Start a trial today to join our Sports Betting Hangouts held six days a week, plus all the other Sportsbook Insider Pro benefits.