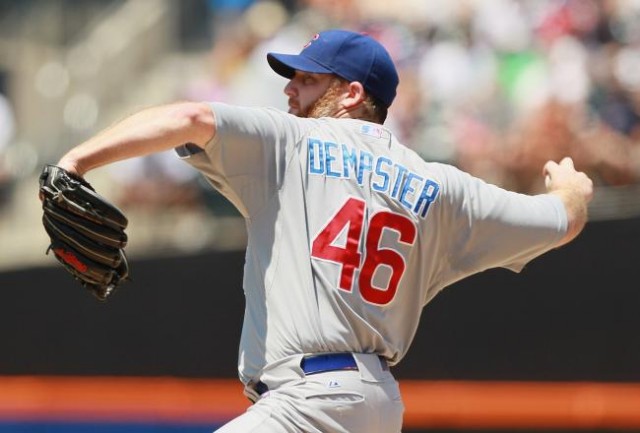 Analyzing the Futures Market Following the MLB Trade Deadline
The trade deadline passed yesterday at 4PM eastern time with a flurry of trades — some of which came down to the final seconds. Big names including Jonathan Broxton, Hunter Pence, Shane Victorino and Ryan Dempster all switched teams, but not every big trade waited until the last minute.
Within the last two weeks the Angels added a former Cy Young winner in Zack Greinke, the Dodgers added a former batting champion in Hanley Ramirez and the Yankees added a former MVP in Ichiro Suzuki. There were a number of unheralded moves as well with the Pirates adding to their lineup (OF Travis Snider and 1B Gaby Sanchez) as well as their rotation (LHP Wandy Rodriguez).
But how to oddsmakers feel these additions affect their title chances? The table below — which uses future odds from Bovada — compares the futures from July 19th and August 1st following the passing of the trade deadline.
| | | | | |
| --- | --- | --- | --- | --- |
| Team | 7/19 Odds | 7/19 Record | 8/1 Odds | 8/1 Record |
| New York Yankees | 17/4 | 58-34 | 19/4 | 60-43 |
| Texas Rangers | 21/4 | 55-36 | 5/1 | 59-43 |
| Los Angeles Angels | 10/1 | 50-42 | 15/2 | 57-47 |
| San Francisco Giants | 10/1 | 51-40 | 12/1 | 56-47 |
| Los Angeles Dodgers | 18/1 | 49-44 | 14/1 | 56-49 |
| Pittsburgh Pirates | 25/1 | 51-40 | 25/1 | 59-44 |
| Cincinnati Reds | 12/1 | 51-40 | 10/1 | 62-41 |
| Philadelphia Phillies | 35/1 | 41-52 | 75/1 | 46-57 |
As you can see, the odds for most teams on this list improved with their deadline acquisitions with the exception of the Phillies and Giants. In fact, Philadelphia may have been the most interesting team to follow this season. They opened the year as the odds on favorites to win the World Series with 11/2 odds, however those odds slipped to 35/1 following the All-Star break, and continued to plummet to 75/1 after their trade deadline fire sale. Many anticipated they would be sellers, and figured free-agent to be Cole Hamels would be their best trading chip, however the team instead signed their young left-hander to the second largest contract a pitcher has ever received (six-years, $144 million).
So what did the 2008 World Series champions do at the deadline? They opted to trade away two outstanding outfielders in Shane Victorino (who was dealt to the Dodgers) and Hunter Pence (who was dealt to the offensively challenged San Francisco Giants). With just 59 games remaining in the season and the team still 13 games out of a wild card spot, it's tough to be surprised by the change in Philly's title chances.
For the Giants, their diminishing World Series probabilites are less about their own player personnel decisions and more about the moves  made by their competitors. With Pablo Sandoval on the disabled list with a hamstring injury, SF was in desperate need of some offensive upgrades. In Hunter Pence, they acquire a career .290 hitter who is in line for his fifth consecutive 20+ home run season. While his power numbers may drop off slightly in the spacious confines of AT&T Park, this is undoubtedly a significant upgrade over the likes of Justin Christian and Gregor Blanco.
Still, the improvements made to the San Fran lineup pale in comparison to those of the Dodgers. With the Marlins looking to shed salary and begin building for the future, Los Angeles was able to scoop up Hanley Ramirez and the $30+ million he is due in 2013 and '14. Although Han-Ram is struggling this season with a .241 batting average, the 28-year old infielder is only three years removed from batting .342 and winning the National League batting title. If this move didn't demonstrate the new ownership groups need to win now, their acquisition of Shane Victorino certainly did. The flyin' Hawaiian, who is in the last year of his current contract, holds a .342 career on-base percentage and should slot in nicely atop the Dodgers lineup. Although they were unable to acquire Ryan Dempster to bolster their pitching rotation, these two moves were enough to move L.A.'s futures from 18/1 to 14/1.
So what about the team that actually acquired Dempster? After the 35-year old righty vetoed a deal to the Braves, word spread that Dempster wanted to be dealt to the Dodgers. After that deal reportedly fell apart, there were rumors abound that Dempster could end up switching leagues and landing with the Yankees. However, just minutes before the zero hour, Chicago's ace was dealt to the a dark horse trade partner — the Texas Rangers. With Colby Lewis out for the season, the AL West leaders were definitely in the market for a starting pitcher and may have landed the best hurler on the market. Before the deadline, Dempster ranked second in the NL with a 2.25 ERA and third with a 1.04 WHIP. It will be interesting to see if he continues that success in the American League, but clearly oddsmakers love the move for Texas. The Rangers have gone just 4-7 since July 19th, yet their World Series odds actually went up from 21/4 to 5/1.
The Yankees weren't involved in any trade deadline deals, however they did make a key acquisition just over a week ago trading for Seattle outfielder Ichiro Suzuki. A former rookie of the year and MVP, Ichiro has been a shell of his former self this season posting just a .261 batting average, however the Yankees hope a change of scenery — and more importantly, the chance to finally play for a contender — will help the slap-happy lefty regain his old form. But if New York upgraded their outfield, why did their odds drop from 17/4 to 19/4 over the past two weeks? Part of that is performance based as NY has managed just a 2-9 record over the past 11 games, but more importantly may be an injury to a key player. Alex Rodriguez will be sidelined for at least six weeks after being struck on the hand by a pitch from Seattle's Felix Hernandez. Although A-Rod is no longer putting up MVP-type numbers, the third baseman had stroked 15 homeruns on the season and was a fixture in the middle of the Yankees lineup.
Also worth noting is the huge move made by yet another California based team — the Los Angeles Angels. After spending big dollars on Albert Pujols and C.J. Wilson this off-season, the Angels opted to make another bold move by dealing away three of their top prospects in exchange for Zack Greinke. This may be a short-term move as the 28-year old right-hander will be a free-agent this off-season, but for now it gives the Angels a scary rotation with Greinke joining Cy Young contender Jered Weaver, Dan Haren and the aforementioned Wilson. This season Greinke has posted a 3.39 ERA and 130 strikeouts in 130 innings, but don't think this is just an NL pitcher. Back in 2009, Greinke won the Cy Young award as a member of the Kansas City Royals when he managed a paltry 2.16 ERA and a staggering 242 K's in 229 innings. With his addition, the Angels maintain the third-best title chances despite the movement in their future odds from 10/1 (+1,000) to 15/2 (+750).
The Reds also made a trade at the deadline, acquiring former closer Jonathan Broxton who will serve as the primary set-up man for Aroldis Chapman. More importantly, they have won 11 of their last 12 games and have seen their odds move from 12/1 to 10/1 which is second in the NL to only the Nationals (who are currently at 9/1 despite remaining silent at the deadline).
Lastly I'd like to take the time to acknowledge the Pittsburgh Pirates. A laughing stock amongst fans and analysts for years, the Pirates currently own a 59-44 record which puts them just atop the wild-card standings and just three games back in the NL Central. This performance has changed Pittsburgh from a perennial deadline seller, to a first-time buyer. The Bucs upgraded their pitching with the acquisition of LHP Wandy Rodriguez — a perpetually overlooked pitcher playing in the obscurity of Houston. Wandy has posted a sub 3.8 ERA in every season since 2008, and could extend that streak to five as he currently possesses a 3.82 ERA. In addition to Rodriguez, the Pirates added two young bats to their lineup acquiring Travis Snider from Toronto and Gaby Sanchez from the Marlins. Pittsburgh's odds have not changed over the last two weeks and still remain at 25/1, but their odds are actually on par with teams like the Red Sox who have six teams ahead of them in the AL wild card standings.
There were some names many analysts expected would be dealt at the trade deadline including Alfonso Soriano and Josh Beckett, but due to their massive (and quite frankly immovable) contracts those players could still be dealt prior to the August 31st waiver deadline. Do you think bookmakers properly adjusted for these deals? Are there any trades minor trades that could have major impact? Were you shocked that any players were not dealt at the deadline? Make sure to leave your comments in the section below.