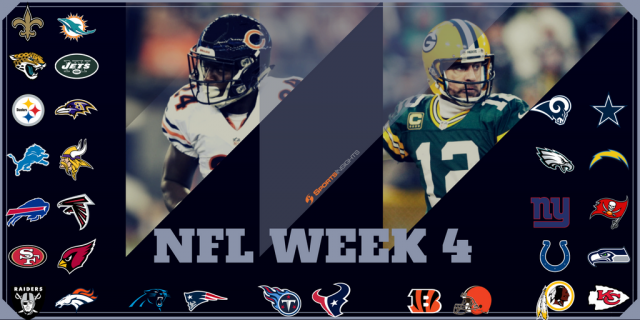 2017 NFL: What Should Bettors Know for Week 4?
It'll hard to top the action we were blessed with in Week 3, but as we know, throwing a few wagers down can put you on the edge of your seat for what would otherwise be relatively boring games. Let's take a look at some line moves and injuries to ensure that you're making the right bets this weekend.
Line Moves
Los Angeles Rams move from +7.5 to +6 at Dallas
In one of many cases of reverse line movement this week, the Rams have gained a point and a half on the spread as they get set to take on the Cowboys. At this point only 40% of bets are coming in on LA, but they've accounted for 72% of the money wagered.

That sharp money has been enough for books to take notice and drop the spread to 6, though they've now juiced up the Dallas side, perhaps an indicator that we could see this line move back to 6.5 before game time.
Minnesota moves from -1 to -2 vs. Detroit
Case Keenum will be starting at quarterback again this week for Minnesota, who have received just 41% of bets after opening at -1. However, this is another case where the money is coming in on the less popular side, with 66% of dollars wagered on the Vikes. Because of that, the line has moved by a full point to the Vikings since opening.

Los Angeles Chargers move from -1 to -2 vs. Philadelphia
It's the same story in this one, as the Chargers have gone from -1 to -2, and even -2.5 at some books, despite receiving 44% of bets.

As you can see, the money is split, so the difference isn't as glaring as some of the other games. But it's enough to tell us that the larger, sharper wagers are coming in on LA. The 0-3 Chargers will be going for their first win and cover of the season, as they've been the victims of a few tough beats this year and are now at 0-2-1 against the spread.
New York Giants move from +4 to +3 at Tampa Bay
Another winless team looking to get off the ground, the Giants have gained a point on the spread against Tampa Bay. No reverse line movement here, though, as the move reflects the 65% of bets that have been placed on New York.
The Giants are coming off a heartbreaking loss to Philly, and are trying to avoid starting 0-4, which they last did in 2013.
New York Jets move from +3.5 to +3 vs. Jacksonville
The other New York team also finds themselves at +3 this Sunday. The Jets, like the first three mentioned games, have only received 26% of bets, making them the second least popular pick (Panthers 21% at New England), so the half point move towards the Jets indicates some sharp action on New York. Both of these teams are coming off impressive Week 3 wins.
Key Injuries
Carlos Hyde (Hip) is questionable Sunday (10/1) at Arizona
Sam Bradford (Knee) is out Sunday (10/1) vs. Detroit
Kelvin Benjamin (Knee) is probable Sunday (10/1) at New England
Melvin Gordon (Knee) is probable Sunday (10/1) vs. Philadelphia
Michael Crabtree (Chest) is questionable Sunday (10/1) at Denver
Adrian Peterson (Knee) is probable Sunday (10/1) vs. Miami
Julio Jones (Back) is probable Sunday (10/1) at Denver
Check out our free injuries page for the complete list.
Weekly Roundup
Kareem Hunt Now the Offensive ROY Favorite