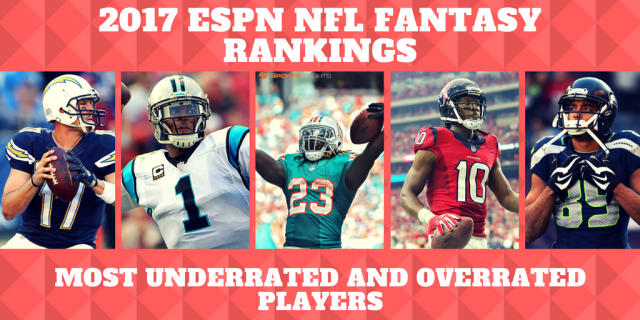 2017 ESPN NFL Fantasy Rankings: Most Underrated and Overrated Players
ESPN is one of the most popular places to play fantasy football…they're called the World Wide Leader in Sports for a reason, folks. They have released their top-200 rankings for the year for standard leagues and with many individual player props and league leader odds posted around the market, it's time to do some comparing. How would oddsmakers assess their leaderboard? Are there any noticeable differences? Let's take a look.
Quarterbacks
Underrated by ESPN: Philip Rivers
The veteran Chargers quarterback is expected to have a terrific season according to oddsmakers, but is just a middle of the pack QB based on ESPN's fantasy rankings. At BetOnline, Rivers has the 5th best over/under for both passing yards and touchdowns. Last year, he threw for the fifth most yards and the fourth most touchdowns despite Keenan Allen missing essentially the entire season. He doesn't add anything in the running game like some of the younger QBs do, but that shouldn't be enough to drop him to 15 on ESPN's QB rankings.
Overrated by ESPN: Cam Newton
A couple years back, Cam Newton won the MVP and led the Panthers to a 15-1 record before ultimately losing in the Super Bowl. Last year, he completed less than 53% of his passes, had a 75.8 passer rating, and ran for by far the fewest yards in his career (359). ESPN clearly thinks that season was a fluke, as they have him as their seventh ranked QB. Oddsmakers don't seem as convinced, though. He has the 18th highest passing yard over/under and the 16th highest passing TD over/under. Plenty of his value lies in how much he contributes on the ground, but he's getting older, his rushing stats are trending down, and he has a new weapon in the backfield in Christian McCaffrey.
Running Backs
Underrated by ESPN: Jay Ajayi
Jay Ajayi entered last season as an unknown, but his back-to-back 200 yard games threw him into the spotlight. With Ezekiel Elliott out for six games, Ajayi has the third highest odds to lead the league in yards and 5th highest odds to lead the league in TDs. He didn't bring a ton to the plate in the passing game last year, but the Dolphins may be relying on him even more this season with Ryan Tannehill out for the year. With all that being said, ESPN ranking him the 8th best running back seems a bit low.
Overrated by ESPN: Nobody
I hate to do this, but I honestly couldn't find a running back on ESPN that wasn't within a spot or two of where they should be. I tried to come up with an argument for a handful of different players, but just couldn't make a strong enough case for any of them. Also, a lot of the top backs add value in the passing game which isn't captured in the rushing props or league leader odds, making it tougher to assess. One of the backs I was thinking about was Devonta Freeman. With Tevin Coleman taking a lot of snaps last year and Atlanta's offense likely due for a bit of a regression, Freeman might not end up as a top five back as ESPN expects him to be.
Wide Receivers 
Underrated by ESPN: DeAndre Hopkins
In his first three seasons, Hopkins' receiving yards went from 802, to 1210, to 1521. Last year, he greatly disappointed fantasy owners by only going for 954 yards and four touchdowns. It seemed very obvious that he and Brock Osweiler were not on the same page and as a result, his stats suffered. However, he did rack up over 250 yards over the final three weeks with Tom Savage under center which bodes well for a bounce-back 2017 season. "Nuk" is ranked as the 15th best wideout at ESPN, but he is just one of nine players at BetOnline listed with a yardage over/under over 1000. We know the explosiveness is there and it shouldn't shock anyone if he returns to form this year.
Overrated by ESPN: Doug Baldwin
If you were asked to name the top ten receivers in the NFL, Doug Baldwin might not come to mind. The oddsmakers at Bookmaker certainly wouldn't, as they have him with the 12th best odds to lead the league in yards and 18th best odds to lead the league in touchdowns. ESPN, however, has him ranked as the 10th best wideout in non-PPR leagues. A solid wideout for sure, but the books don't believe he is one of the elite.
What do you think? Hit us up in the comment section or yell at us on Twitter @SportsInsights.