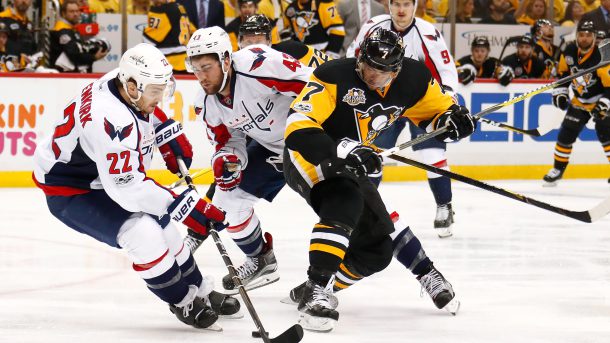 2017-18 NHL Stanley Cup Odds
In the midst of the 2016-17 Stanley Cup Final between Pittsburgh and Nashville, sportsbooks began to release odds for the 2017-18 season. Pittsburgh opened with the best odds at +900 but Washington and Edmonton were right behind at +1000. The Vegas Golden Knights had the longest odds at 100:1. The table below shows the odds
| Team | Oct 4 | Sep 28 | July 31 | July 3 | June 13 | May 30 |
| --- | --- | --- | --- | --- | --- | --- |
| Pittsburgh Penguins | +800 | +800 | +800 | +800 | +800 | +900 |
| Edmonton Oilers | +1000 | +1000 | +1200 | +1100 | +1000 | +1000 |
| Washington Capitals | +1000 | +1200 | +1200 | +1000 | +1000 | +1000 |
| Tampa Bay Lightning | +1000 | +1200 | +1200 | +1200 | +1600 | +2000 |
| Chicago Blackhawks | +1200 | +1200 | +1600 | +1600 | +1400 | +1400 |
| Dallas Stars | +1400 | +1400 | +1800 | +2000 | +2000 | +2500 |
| Anaheim Ducks | +1400 | +1400 | +1200 | +1400 | +1400 | +1400 |
| Nashville Predators | +1400 | +1400 | +1400 | +1400 | +1400 | +1400 |
| Toronto Maple Leafs | +1400 | +1600 | +1600 | +1600 | +1600 | +1800 |
| Montreal Canadiens | +1600 | +1600 | +2000 | +2000 | +2000 | +2000 |
| New York Rangers | +1600 | +1600 | +1600 | +1400 | +1800 | +2000 |
| Boston Bruins | +1800 | +2800 | +1800 | +1800 | +1800 | +1400 |
| Minnesota Wild | +2000 | +2000 | +1400 | +1400 | +1400 | +1400 |
| San Jose Sharks | +2000 | +2000 | +2000 | +2000 | +2000 | +2000 |
| St. Louis Blues | +2500 | +2500 | +2000 | +1600 | +2000 | +1600 |
| Columbus Blue Jackets | +2500 | +2500 | +1600 | +1600 | +2000 | +2000 |
| Los Angeles Kings | +2500 | +2500 | +2000 | +2000 | +1800 | +1800 |
| Calgary Flames | +2800 | +2800 | +2800 | +2800 | +3300 | +3300 |
| Ottawa Senators | +3300 | +3300 | +3300 | +2800 | +2500 | +2500 |
| Florida Panthers | +4000 | +4000 | +4000 | +4000 | +3300 | +3300 |
| New York Islanders | +4000 | +4000 | +2800 | +2800 | +4000 | +4000 |
| Philadelphia Flyers | +4000 | +4000 | +4000 | +4000 | +4000 | +4000 |
| Buffalo Sabres | +5000 | +5000 | +5000 | +5000 | +5000 | +5000 |
| Winnipeg Jets | +6600 | +6600 | +4000 | +4000 | +4000 | +4000 |
| Carolina Hurricanes | +6600 | +6600 | +5000 | +6600 | +6600 | +6600 |
| Arizona Coyotes | +10000 | +10000 | +6600 | +6600 | +8000 | +8000 |
| Detroit Red Wings | +10000 | +10000 | +8000 | +8000 | +8000 | +6600 |
| New Jersey Devils | +10000 | +10000 | +10000 | +10000 | +10000 | +8000 |
| Colorado Avalanche | +12500 | +12500 | +8000 | +8000 | +8000 | +6600 |
| Vancouver Canucks | +12500 | +12500 | +10000 | +10000 | +10000 | +8000 |
| Vegas Golden Knights | +12500 | +12500 | +20000 | +20000 | +15000 | +10000 |
Last season Pittsburgh opened the season around +1000 while Nashville was around +4000. For what it's worth, heading into next season the Flyers, Jets and Islanders opened with those same +4000 odds to lift the Cup. A couple teams listed right ahead at +3300 (Flames and Panthers) are also worthy of keeping an eye on this offseason.
This will be an interesting year since teams lost players to the Vegas expansion draft. There were also a number of moves in free agency including Patrick Marleau to the Leafs, Marcus Johansson to the Devils and Kevin Shattenkirk to the Rangers.
We'll be updating odds throughout the season so be sure to check back in.
Odds to Make and Miss Playoffs