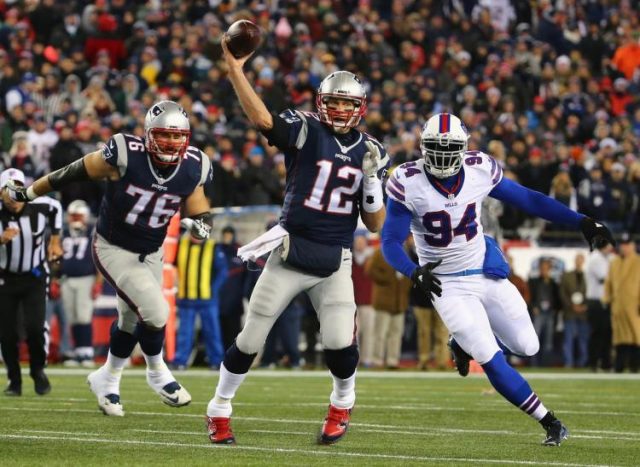 2016 NFL Week 8 Line Moves That Matter
Every week in this space we highlight the most interesting line moves at the market-setting offshore sportsbooks — typically Bookmaker and Pinnacle — which take the highest limits and therefore attract the sharpest bettors. By contrasting the opening and current lines with the public betting trends from our seven contributing offshore sportsbooks, we're able to determine how public betting has affected the line.
We are also proud to announce that in addition to our public betting percentages, we now offer real money percentages, which reflect the percentage of total dollars wagered at one of the sharper offshore sportsbooks. This allows bettors to easily monitor all the factors influencing line movement.
It's important to know which side is receiving the majority of tickets, but it's far more crucial to understand which side is receiving a majority of the money since books are far more likely to adjust their lines if they have significant liability on one side. By waiting until public money has artificially inflated the line, bettors can often capitalize on public perception and find additional line value.
Using the data available to Sportsbook Insider subscribers, I have examined the latest trends to determine what's driving line movement in the most interesting Week 8 matchups.
New England Patriots at Buffalo Bills (Sunday at 1:00 PM eastern)
In this showdown between AFC East rivals, the Patriots opened as 5-point road favorites at the market-setting Pinnacle sportsbook and have received overwhelming public support. This is hardly surprising considering New England has been the most public team in our database, but this level of one-sided support is almost unprecedented.
At the time of publication, the Patriots were receiving 87% of spread tickets and 98% of spread dollars wagered. Assuming these trends persist, this would mark the fourth consecutive game the Patriots have been the week's most popular side.
[click image below to enlarge]

Public money on the Patriots caused the spread to move from NE -5 to -6.5, before there was eventually buyback on the Bills +6.5. This currently ranks as the week's most heavily bet game, so it will be interesting to see whether public money continues to inflate the line.
This season there have only been two instances where a team received at least 80% of spread bets — both of which involved the Patriots. New England has been the most profitable ATS team in our historical database, which means they have been the source of tremendous pain for many sportsbooks. In fact, this season one prominent sportsbook has already thrown in the metaphorical white flag.
Patriots reaching new levels of domination. Barring an injury to Tom Brady, @bookmaker_eu will no longer offer odds on the AFC East winner. pic.twitter.com/gYgh4z7esi

— David Solar (@TheDavidSolar) October 27, 2016
No team has received more than 82% of spread bets this season, and no team has received this level of public support in more than five years (10/23/11, GB -10 at MIN). The Patriots ticket percentage will likely drop slightly before kickoff, but this is one of the most popular NFL teams in recent memory.
Seattle Seahawks at New Orleans Saints (Sunday at 1:00 PM eastern)
The Seahawks opened as 3.5-point road favorites and public betting has been evenly split. It's still fairly early in the week, but Seattle has received 58% of spread tickets and 48% of total dollars wagered. In spite of this balanced public betting, the Seahawks have dropped from -3.5 to -2.5.
[click image below to enlarge]

Many bettors may be perplexed about why the line has moved through a key number despite the evenly split public betting, but the answer is clear for any Sportsbook Insider Pro subscribers. There have been several steam moves triggered on the Saints, causing the line to drop a full point.
It's also worth noting that many bettors like the Saints to win straight up, with 54% of moneyline tickets and 87% of moneyline dollars taking the home underdog (+130). That's actually a sound strategy since 2.5-point underdogs have been more profitable on the moneyline than the spread.
Green Bay Packers at Atlanta Falcons (Sunday at 1:00 PM eastern)
In a potential playoff preview, the NFC South-leading Atlanta Falcons (4-3) will host the Green Bay Packers (4-2). The Falcons opened as 2-point favorites at Pinnacle and have received 54% of spread bets. Despite this evenly split public betting, Atlanta has moved from -2 to -3. This can easily be explained by our money percentages, which indicate the Falcons are receiving 74% of total dollars wagered.
[click image below to enlarge]

The Falcons moved from -2 to -2.5 almost immediately after the line opened on Sunday evening, and public money eventually caused the line to move from ATL -2.5 to -3 late on Wednesday afternoon. The line briefly jumped from -3 to -3.5 before falling back to -3 just 22 minutes later.
You can also see the "+" icon, which indicates there was an injury sustained by a key player. In this instance, Falcons running back Tevin Coleman (Hamstring) was downgraded from questionable to doubtful. The 23-year old has tallied 234 rushing yards, 330 receiving yards and six total touchdowns this season.
Interested in checking out our new money percentages and line charts for every Week 8 game? Sign up now for a 4-day trial of Sportsbook Insider Pro. 
Pro subscribers have access to real-time odds, public betting trends, money percentages, bet signals (including steam moves and reverse line movement alerts), injury alerts, value meter, line watcher, line predictor, and many other unique features.  We have already released two NFL Best Bets for Week 8 including:
Jacksonville Jaguars at Tennessee Titans
Seattle Seahawks at New Orleans Saints
Have any questions for the staff at Sports Insights? Make sure to utilize our live chat or call us directly at 877-838-2853.