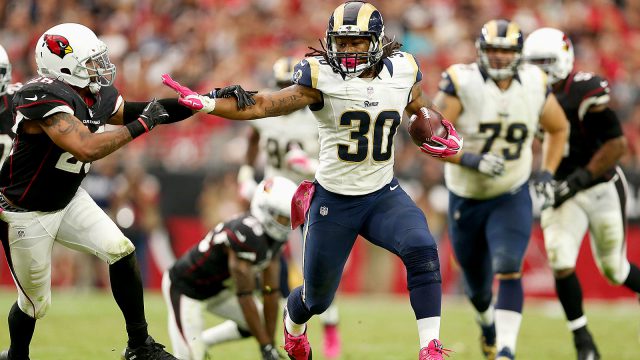 2016 NFL Week 4 Line Moves That Matter
Every week in this space we highlight the most interesting line moves at the market-setting offshore sportsbooks — typically Bookmaker and Pinnacle — which take the highest limits and therefore attract the sharpest bettors. By contrasting the opening and current lines with the public betting trends from our seven contributing offshore sportsbooks, we're able to determine how public betting has affected the line.
We are also proud to announce that in addition to our public betting percentages, we now offer real money percentages, which reflect the percentage of total dollars wagered at one of the sharper offshore sportsbooks. This allows bettors to easily monitor all the factors influencing line movement.
Using the data available to Sportsbook Insider subscribers, I have examined the latest trends to determine what's driving line movement in the most interesting Week 4 matchups.
Cleveland Browns at Washington Redskins (Sunday at 1:00 PM eastern)
In Week 3, Dustin Hopkins kicked five field goals, including a game-winning 37 yarder with less than two minutes remaining, to give the Redskins their first victory of the season. It was also the best game of the young season for Kirk Cousins, who completed 21 of 35 attempts for 296 yards and two touchdowns.
Unfortunately for the Browns, their kicker wasn't quite as productive last week. Cody Parkey, who was signed just one day earlier, missed three field goals including a 46-yarder as time expired in regulation. Although Cleveland easily covered the spread against Miami, they blew an excellent opportunity to grab their first win of the season.
In this week's matchup Washington opened as 10-point favorites at the market-setting Pinnacle sportsbook, but clearly, bettors have been scared to lay that many points. At the time of publication, the Browns were receiving 64% of spread tickets and 86% of total dollars wagered. That one-sided public betting caused Cleveland to drop from +10 to +7.5.
[click image below to enlarge]

The Browns are notoriously one of the least popular teams among bettors, so it's shocking to see nearly two-thirds of all tickets backing them. Since the start of last season, Cleveland has only received a majority of spread bets once (November 30, 2015 against Baltimore). Assuming these levels of public betting continue, it would be the most public support the Browns have received as an underdog in nearly six years!
There may be some bettors who were encouraged by Cody Kessler's performance in Week 3 (21 of 33, 244 yards), but it's more likely that bettors are wary about backing Cousins. Since entering the league, the former Michigan State Spartan has struggled when dealing with lofty expectations.
Kirk Cousins (0-6 ATS) has never covered the spread as a favorite. #Redskins are 7.5-point favorites this week against the #Browns.

— David Solar (@TheDavidSolar) September 27, 2016
With public money pounding the road underdog, we will continue to monitor this line to see whether it moves through the key number of 7. For what it's worth, the preseason lookahead line for this game was Washington -7.5 which is interesting since that line assumed either Griffin or McCown would be starting at quarterback.
Denver Broncos at Tampa Bay Buccaneers (Sunday at 4:05 PM eastern)
In this week's most heavily bet game, Denver opened as 3-point favorites at Pinnacle and early money has been all over the road favorite. At the time of publication, the Broncos were receiving 88% of spread tickets and 88% of total dollars wagered. Although those numbers will likely fluctuate before kick-off, no team has received this level of public support in almost five years (Green Bay received 88% of spread bets against Minnesota back on October 23, 2011).
The screenshot below displays the public betting percentages at each of our contributing sportsbooks.

It's worth noting that the three most "square" books we monitor (BetUs, Sports Interaction, and Sportsbook.com) have all tracked more than 90% of public bets on Denver. Despite this overwhelming public support, Pinnacle has not adjusted the spread all week.
It will be interesting to see whether this line moves off 3, which has been the most common margin of victory since 2003. We will continue to monitor these public betting trends, but Denver will likely be the most popular side of the season.
The 3 most popular NFL bets have all failed to cover this season

Week 3: ARI (77%) at BUF
Week 2: GB (76%) at MIN
Week 3: PIT (75%) at PHI

— David Solar (@TheDavidSolar) September 28, 2016
Los Angeles Rams at Arizona Cardinals (Sunday at 4:25 PM eastern)
Just looking at the ticket count, bettors may struggle to understand what's driving line movement in this matchup. The Cardinals opened as 10-point favorites at Pinnacle, and public betting has been evenly split with roughly 50% of tickets on each side. However, our money percentages indicate that 85% of total dollars wagered have backed the Rams. This helps explain why Arizona has dropped from -10 to -8.
[click image below to enlarge]

It's important to realize that these money percentages can fluctuate significantly, especially later in the week when limits are raised and sharper bettors start taking sides. For more information about this subject, I spoke with Scott Cooley, an Odds Consultant for Bookmaker.eu.
"Our limits are higher than any other book during the week, and then we increase them on Saturday and Sunday," said Cooley. "If there are weekday games then limits will be lifted for those specific games. When we increase, that is when we really begin to see where the sharps are siding opposed to the posturing they might do during the week."
Historically bettors have been prone to taking favorites, and I would assume that Arizona will close with significantly more public support than they're currently receiving. It's also worth noting that 78% of parlays and teasers have taken the Cardinals, which is usually a great indicator of square money.
Interested in checking out our new money percentages and line charts for every Week 4 game? Sign up now for a 4-day trial of Sportsbook Insider Pro. Schedule a one-on-one demo and we'll tack an additional four days onto your subscription for free!
Pro subscribers have access to real-time odds, public betting trends, money percentages, bet signals (including steam moves and reverse line movement alerts), injury alerts, value meter, line watcher, line predictor, and many other unique features. Although we don't have any Best Bets pending right now, those will likely be released within the next 24 hours.
Have any questions for the staff at Sports Insights? Make sure to utilize our live chat or call us directly at 877-838-2853.