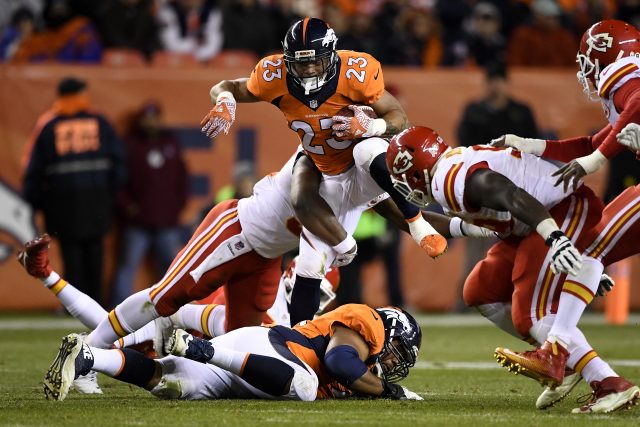 2016 NFL Week 16 Line Moves That Matter
Every week in this space we highlight the most interesting line moves at the market-setting offshore sportsbooks — typically Bookmaker and Pinnacle — which take the highest limits and therefore attract the sharpest bettors. By contrasting the opening and current lines with the public betting trends from our seven contributing offshore sportsbooks, we're able to determine how public betting has affected the line.
We are also proud to announce that in addition to our public betting percentages, we now offer real money percentages, which reflect the percentage of total dollars wagered at one of the sharper offshore sportsbooks. This allows bettors to easily monitor all the factors influencing line movement.
It's important to know which side is receiving the majority of tickets, but it's far more crucial to understand which side is receiving a majority of the money since books are far more likely to adjust their lines if they have significant liability on one side. By waiting until public money has artificially inflated the line, bettors can often capitalize on public perception and find additional line value.
Using the data available to Sportsbook Insider subscribers, I have examined three Week 16 games in which public money has impacted the spread in a unique manner.
Tennessee Titans at Jacksonville Jaguars (Saturday at 1:00 PM eastern)
The Tennessee Titans opened as 3.5-point road favorites at the market-setting Bookmaker.eu and the betting has been extremely one sided all week. As you can see in the line chart below, not only has the percentage of spread tickets (87%) favored the chalk, the percentage of money splits have been even more drastic with 91% of all spread dollars taking Tennessee.
[click image below to enlarge]

With early money pounding the road chalk, the line moved from Tennessee -3.5 to -4.5 within an hour of opening at Bookmaker. That was a very significant move since "4" is actually the fifth most common margin of victory. Since that time, the line has bounced back and forth between 4 and 4.5 before settling in at Titans -4.5. For what it's worth, most offshore sportsbooks are currently offering Tennessee -5 which once again highlights the importance of shopping for the best line.
San Diego Chargers at Cleveland Browns (Saturday at 4:25 PM eastern)
The Cleveland Browns are just two losses away from joining the 2008 Detroit Lions as the only teams to go 0-16. Based on the current odds, it seems like Cleveland will earn that dubious distinction. The Browns are currently +205 on the moneyline against San Diego and +180 to either win or tie one of their final two games.
In this week's matchup, the Browns opened as 6.5-point home underdogs and, not surprisingly, have been widely ignored by the majority of bettors. According to our public betting trends, Cleveland has received just 24% of spread tickets and 8% of spread dollars. Despite that one-sided public betting, Cleveland has actually dropped from +6.5 to +6 at Bookmaker. That reverse line movement indicates that sharp money has been taking the winless Browns.
[click image below to enlarge]

It's worth noting that the line moved from Browns +6.5 to +5.5 within three hours of opening. That indicates that early sharp money liked Cleveland at +6.5 and +6. Since that time, public money has poured in on San Diego, causing the line to move from Browns +5.5 to +6.
Bettors should also realize that sharp money has taken the Browns in several consecutive games, but Cleveland has consistently failed to cover the spread. This season the Browns have gone a league-worst 2-12 ATS and they haven't received the majority of spread bets in a single game. In other words, the public will fade Cleveland regardless of what number sportsbooks post.
Denver Broncos at Kansas City Chiefs (Sunday at 8:30 PM eastern)
Unlike the other games we mentioned, fans and bettors alike will be showing high levels of interest in Monday's primetime AFC West rivalry game between the Denver Broncos and Kansas City Kansas City Chiefs. While this matchup has major implications on the playoff picture, the line movement also tells an interesting story.
The Chiefs opened as 4.5-point favorites at Bookmaker and have received 64% of spread bets. Despite this seemingly one-sided public betting, Kansas City has dropped from -4.5 to -3.5. This can easily be explained by our money percentages, which indicate the Broncos are actually receiving 63% of total dollars. Even though more bettors are taking the favorite, more money has been waged on the underdog and that one-sided public money is responsible for that one-point line move.
[click image below to enlarge]

One factor to monitor in this matchup is the weather forecasts. Meteorologists are predicting strong winds and, as we have previously explained, that has been historically advantageous for betting unders.. There's also a good chance that it rains at some point during Monday's game, and these inclement conditions could be an impediment to scoring.
[click image below to enlarge]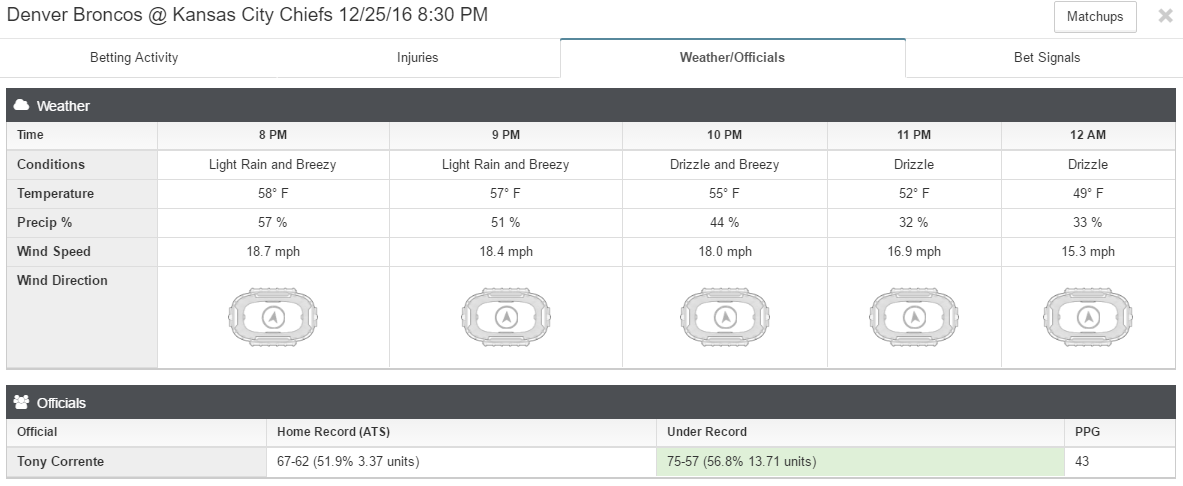 This game features one of the most profitable under officials and divisional rivalries have historically provided value for under bettors. That said, there are several additional factors to consider before placing a wager on the total.
For starters, the current over/under (38) represents the lowest total of the season, tying Jacksonville/Minnesota (Week 14) and Seattle/Los Angeles (Week 2). Past research has also shown that overs actually have value in games with low totals. Finally, it's quite telling that the total hasn't moved despite 86% of money taking the under. That seems to indicate that sportsbooks are comfortable with one-sided betting on the under.
Interested in checking out our new money percentages and line charts for every Week 16 game? Sign up now for a 4-day trial of Sportsbook Insider Pro.
Pro subscribers have access to real-time odds, public betting trends, money percentages, bet signals (including steam moves and reverse line movement alerts), injury alerts, value meter, line watcher, line predictor, and many other unique features. We haven't released NFL Best Bets for Week 16, but we will have several plays over the upcoming days. By signing up immediately, bettors ensure that get the best number possible on our picks.
Have any questions for the staff at Sports Insights? Make sure to utilize our live chat or call us directly at 877-838-2853.