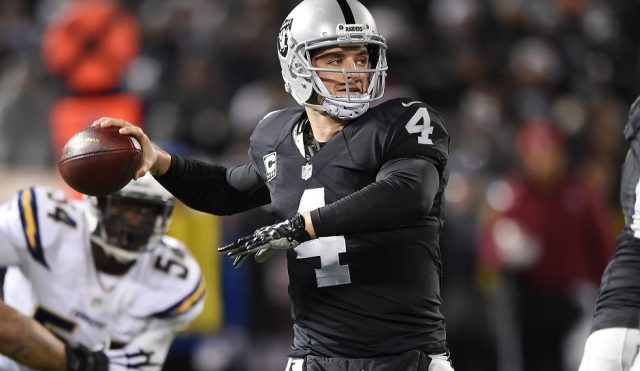 2016 NFL Week 15 Line Moves That Matter
Every week in this space we highlight the most interesting line moves at the market-setting offshore sportsbooks — typically Bookmaker and Pinnacle — which take the highest limits and therefore attract the sharpest bettors. By contrasting the opening and current lines with the public betting trends from our seven contributing offshore sportsbooks, we're able to determine how public betting has affected the line.
We are also proud to announce that in addition to our public betting percentages, we now offer real money percentages, which reflect the percentage of total dollars wagered at one of the sharper offshore sportsbooks. This allows bettors to easily monitor all the factors influencing line movement, but it's also a valuable tool for employing a contrarian betting strategy.
It's important to know which side is receiving the majority of tickets, but it's far more crucial to understand which side is receiving a majority of the money since that's books are far more likely to adjust their lines if they have lots of liability on one side. By waiting until public money has artificially inflated the line, bettors can capitalize on public perception and find additional line value.
This weekend there are several divisional rivalries, which is very interesting from a contrarian viewpoint. This season, underdogs have gone 35-27 ATS (56.5%) against divisional opponents and 66-74 ATS (47.1%) in all other games. Dating back to 2003, underdogs have gone 665-618 ATS (51.8%) against divisional opponents and 1,136-1,142 ATS (49.9%) in all other games.
The unique part about divisional rivalries is that these teams play each other twice during the regular season, but how is public betting affected by the outcome of the first matchup? With several underdogs looking for revenge this weekend, I have used the data available to Sportsbook Insider subscribers to examine the public betting trends in three NFL Week 15 matchups.
Miami Dolphins at New York Jets (Saturday at 8:25 PM eastern)
These two teams previously faced off in Week 8 under dramatically different circumstances. The Dolphins, who were coming off a bye week, were just 3-4 and still had a healthy Ryan Tannehill. The Jets, who were coming off back-to-back victories over the Ravens and Browns, were still starting Ryan Fitzpatrick at quarterback.
In that matchup, public betting was evenly split as the Dolphins closed as 3.5-point home favorites. Fast forward several weeks and the Dolphins are attempting to record their eighth win in nine games with a backup quarterback (Matt Moore) behind center.
The Dolphins opened as 3-points favorites at the market-setting Pinnacle sportsbook and, according to our public betting trends, have received 64% of spread bets and 62% of spread dollars. Despite this one-sided public betting, Miami has dropped from -3 to -2.5. This reverse line movement is a strong indicator that sharp money likes Bryce Petty and the Jets.
[click image below to enlarge]

Even though the majority of tickets and total dollars have taken the Dolphins, large bets from respected bettors have taken the Jets. Although some bettors have speculated that the early line movement was related to Ryan Tannehill's injury, sportsbooks were aware of his status when the opening line was posted.
It's also worth noting that there's been fascinating line movement on this game's total. According to our public betting trends, 58% of tickets and 79% of money has taken the under. It's rare to see the majority of bettors taking the under, but this one-sided public betting has caused the total to drop from 41 to 38 at Pinnacle.
[click image below to enlarge]

Forecasts are calling for 10 mph winds on Saturday evening and, as we have previously explained, strong winds speeds have historically created value on the under. Those strong winds along with the one-sided public betting have caused this 3-point line move.
Green Bay Packers at Chicago Bears (Sunday at 1:00 PM eastern)
Back in Week 6, Aaron Rodgers threw for 326 yards and three touchdowns and backup quarterback Bryan Hoyer suffered broken left thumb as the Packers defeated the Bears 26-10. In that Thursday night showdown, the Packers closed as 9-point home favorites and received 69% of spread tickets.
In this weekend's rematch, the Packers opened as 6.5-point road favorites and bettors have been overwhelmingly pounding the chalk. According to our public betting trends, Green Bay has received 86% of spread tickets, 94% of spread dollars and 91% of all parlays/teasers. Despite this one-sided public betting, Pinnacle has not adjusted the spread once.
[click image below to enlarge]

Based on this lack of line movement, it appears that oddsmakers are worried about taking sharp action on the Bears if they move the spread to 7. That said, there are several square sportsbooks (including SIA and Sportsbook.com) that have already moved onto that key number. This highlights the importance of having access to multiple books and shopping for the best line.
Oakland Raiders at San Diego Chargers (Sunday at 4:25 PM eastern)
In another divisional rematch, the San Diego Chargers will host their in-state rivals, the Oakland Raiders. The last time these two teams squared off, the betting public was evenly split and the Raiders (closed -4) received 54% of spread bets. The Chargers, who had already lost three games in which they led with two minutes remaining, suffered another heartbreaking loss when they botched the snap on a potential game-tying 36-yard field goal late in the fourth quarter.
Although San Diego was still able to cover the spread in that matchup, public bettors are avoiding the Chargers at all costs on Sunday. The Raiders opened as 3-point favorites at Pinnacle and, at the time of publication, were receiving 82% of spread tickets and 97% of spread dollars. Despite this one-sided public betting, oddsmakers haven't moved off the key number of 3.
[click image below to enlarge]

A lot has changed since these teams last played, but it's interesting to see that the Raiders are currently 3-point road favorites when they were only 4-point favorites at home in Week 5. Home-field advantage is usually worth about 2.5 points, which means you would expect to see a 5-point line move based on changing venues.
It's fairly telling that oddsmakers haven't adjusted the spread despite this extreme level of one-sided public betting, and it will be interesting to see what happens when sportsbooks increase their limits later in the week.
Interested in checking out our new money percentages and line charts for every Week 15 game? Sign up now for a 4-day trial of Sportsbook Insider Pro.
Pro subscribers have access to real-time odds, public betting trends, money percentages, bet signals (including steam moves and reverse line movement alerts), injury alerts, value meter, line watcher, line predictor, and many other unique features. We have already released one NFL Best Bets for Week 15, and will likely have several additional plays in the next few days:
Indianapolis Colts at Minnesota Vikings
Have any questions for the staff at Sports Insights? Make sure to utilize our live chat or call us directly at 877-838-2853.