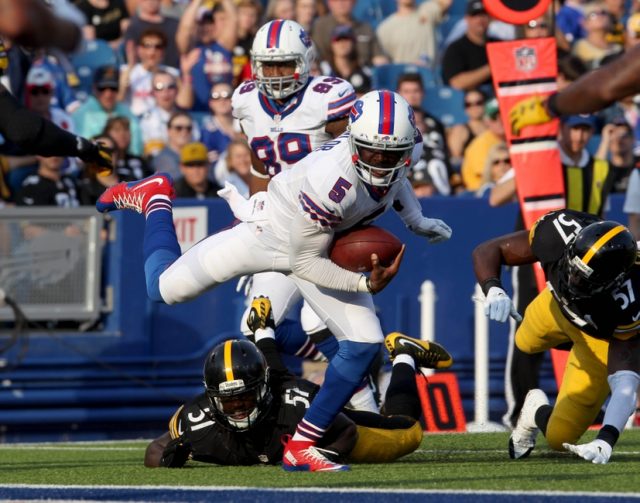 2016 NFL Week 14 Line Moves That Matter
Every week in this space we highlight the most interesting line moves at the market-setting offshore sportsbooks — typically Bookmaker and Pinnacle — which take the highest limits and therefore attract the sharpest bettors. By contrasting the opening and current lines with the public betting trends from our seven contributing offshore sportsbooks, we're able to determine how public betting has affected the line.
We are also proud to announce that in addition to our public betting percentages, we now offer real money percentages, which reflect the percentage of total dollars wagered at one of the sharper offshore sportsbooks. This allows bettors to easily monitor all the factors influencing line movement.
It's important to know which side is receiving the majority of tickets, but it's far more crucial to understand which side is receiving a majority of the money since books are far more likely to adjust their lines if they have significant liability on one side.
By waiting until public money has artificially inflated the line, bettors can often capitalize on public perception and find additional line value. That's why I wanted to examine three games where public money was responsible for moving the line at least a half-point.
Using the data available to Sportsbook Insider subscribers, I have examined three Week 14 games in which public money has impacted the spread.
Cincinnati Bengals at Cleveland Browns (Sunday at 1:00 PM eastern)
Cleveland still hasn't won a game this season and they're +125 to finish the season with a 0-16 record, so it's not entirely surprising to see them being largely ignored by public bettors. The Browns opened as 4-point home underdogs at the market-setting Pinnacle sportsbook, and have received just 13% of spread tickets and 13% of spread dollars. With the majority of bettors loading up on the Bengals, the line has ballooned from 4 to 5.5.
[click image below to enlarge]

With the market steadily pounding the Bengals all week, oddsmakers have been forced to adjust their number multiple times. That said, there was some buyback on the home 'dog once the spread reached Browns +6. This line movement is particularly interesting since the Westgate Superbook posted a lookahead line of Browns +3.5 last Wednesday. That means the Bengals' 18-point victory over the Eagles is largely responsible for this 2-point line move.
It's still unclear who will start at quarterback for the Browns on Sunday, and that announcement will likely impact the spread. Cody Kessler (Concussion) is listed as probable while Robert Griffin (Shoulder) is listed as questionable. Griffin hasn't played since Week 1, but I'd expect him to get the start if he's cleared to play.
The Browns have been a thorn in the side of oddsmakers all year long. They've gone a league-worst 2-10 ATS this season, and they have received less than 50% of spread bets in all 12 games. Coming off a bye, you can guarantee that sportsbooks will be pulling for a Cleveland victory.
Pittsburgh Steelers at Buffalo Bills (Sunday at 1:00 PM eastern)
The Pittsburgh Steelers (7-5) won their third straight game on Sunday and remain tied with the Baltimore Ravens for first place in the AFC North. Conversely, the Bills squandered a 15-point lead last week against the Raiders, which dropped their record to 6-6 on the season. Apparently, these recent results have impacted public perception.
The Steelers opened as 1.5-point favorites at Pinnacle and, according to our public betting trends, have received 89% of spread tickets and 84% of spread dollars. When the spread is less than three-points, bettors often gravitate towards the moneyline, and we have seen similar one-sided public betting on the Steelers to win straight up. At the time of publication, 77% of moneyline tickets and 92% of moneyline dollars had taken the road chalk.
[click image below to enlarge]

While it may seem like public money is responsible for this line move, it's very telling that the Steelers moved from -1.5 to -2 less than five minutes after opening at Pinnacle. It's also worth noting that the current line for this game ranges from Steelers -1 to -2.5 which highlights the importance having access to multiple sportsbooks and shopping for the best line.
It will be interesting to see whether this level of one-sided public betting eventually causes the line to reach the key number of three, however, I can almost guarantee that sharp money would immediately hammer Buffalo +3. That's why it's so important to set up a line watcher alert to ensure you get the optimal number.
It's also worth noting that there's been fascinating line movement on this game's total. According to our public betting trends, 53% of tickets have taken the over but 79% of money has taken the under. With most of the money hammering the under, the total has dropped from 47.5 to 47 at Pinnacle.
[click image below to enlarge]

Bettors should know there's roughly three times more money bet on the spread as opposed to the total, which is why we don't typically advocate betting against the public on the total. However, money percentages that contradict our ticket percentages are usually an excellent indicator of sharp money.
New York Jets at San Francisco 49ers (Sunday at 4:05 PM eastern)
In arguably this week's most unwatchable game, the Colin Kaepernick and the San Francisco 49ers will host Bryce Petty and the New York Jets. San Francisco opened as 1-point favorites at Bookmaker and, at first glance, it would appear that public betting has been fairly even.
According to our public betting trends, the 49ers have received 51% of spread bets, yet they've already moved from -1 to -3 since opening. So what's responsible for that two-point line move across a key number?
[click image below to enlarge]

As you can see from the line chart about, the 49ers have received 82% of total dollars wagered, but that only tells one part of the story. The oddsmakers I have spoken with still believe that Bryce Petty is a downgrade from Ryan Fitzpatrick despite his struggles this season. With public money hammering San Francisco and the announcement that Petty would be starting on Sunday, oddsmakers were forced to adjust the spread (SF -1 to -3) and total (45 to 43.5).
Interested in checking out our new money percentages and line charts for every Week 14 game? Sign up now for a 4-day trial of Sportsbook Insider Pro.
Pro subscribers have access to real-time odds, public betting trends, money percentages, bet signals (including steam moves and reverse line movement alerts), injury alerts, value meter, line watcher, line predictor, and many other unique features. We have already released one NFL Best Bet for Week 14, with several additional plays coming in the upcoming days:
Minnesota Vikings at Jacksonville Jaguars
Have any questions for the staff at Sports Insights? Make sure to utilize our live chat or call us directly at 877-838-2853.