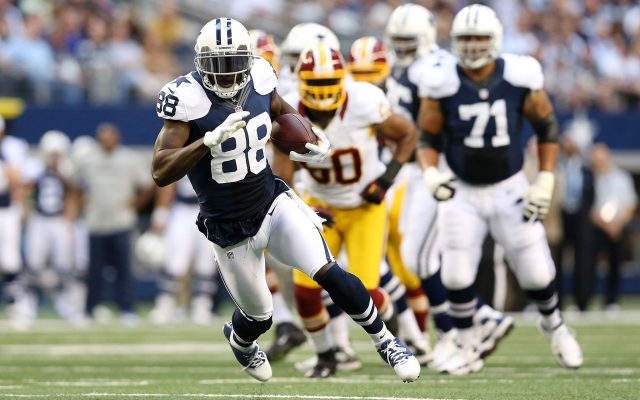 2016 NFL Week 12 Line Moves That Matter
Every week in this space we highlight the most interesting line moves at the market-setting offshore sportsbooks — typically Bookmaker and Pinnacle — which take the highest limits and therefore attract the sharpest bettors. By contrasting the opening and current lines with the public betting trends from our seven contributing offshore sportsbooks, we're able to determine how public betting has affected the line.
We are also proud to announce that in addition to our public betting percentages, we now offer real money percentages, which reflect the percentage of total dollars wagered at one of the sharper offshore sportsbooks. This allows bettors to easily monitor all the factors influencing line movement. It's important to know which side is receiving the majority of tickets, but it's far more crucial to understand which side is receiving a majority of the money since books are far more likely to adjust their lines if they have serious liability on one side.
In this week's edition of Line Moves That Matter, I have utilized the data available to Sportsbook Insider subscribers to analyze the three Thanksgiving Day games and determine which factors are contributing to the line movement.
Minnesota Vikings at Detroit Lions (Thursday at 12:30 PM eastern)
In this battle for supremacy in the NFC North, the Lions opened as 3-point home favorites at the market-setting Bookmaker.eu. Early public betting has been almost perfectly balanced, with Detroit receiving 56% of spread tickets and 47% of spread dollars. Despite these even splits, the Lions have dropped from +3 to +2.5.
[click image below to enlarge]

Although the spread percentages have been evenly split, the majority of moneyline bettors have been taking the Vikings, which is a common occurrence when the spread is 3-point or less. In fact, it's actually been more profitable to take small underdogs on the moneyline as opposed to the spread. According to our public betting trends, the Vikings have received 62% of moneyline tickets and 67% of moneyline dollars.
Washington Redskins at Dallas Cowboys (Thursday at 4:30 PM eastern)
When the Cowboys and Redskins met back in Week 2, Dallas was coming off a tough opening week loss and many were still pessimistic that Dak Prescott could capably replace the injured Tony Romo. With so many question marks surrounding the team, Dallas closed as a 3.5-point underdog. They won that game by 4-points, and haven't stopped winning since.
In Thursday's rematch, the tide has shifted significantly. The Cowboys opened as 7-point favorites at Pinnacle but the spread has been on the move all week. After dropping from Dallas -7 to -6.5 on Monday morning the line shot up to Dallas -7.5. This line movement can be largely explained by our money percentages, as you can see from the screenshot below.
[click image below to enlarge]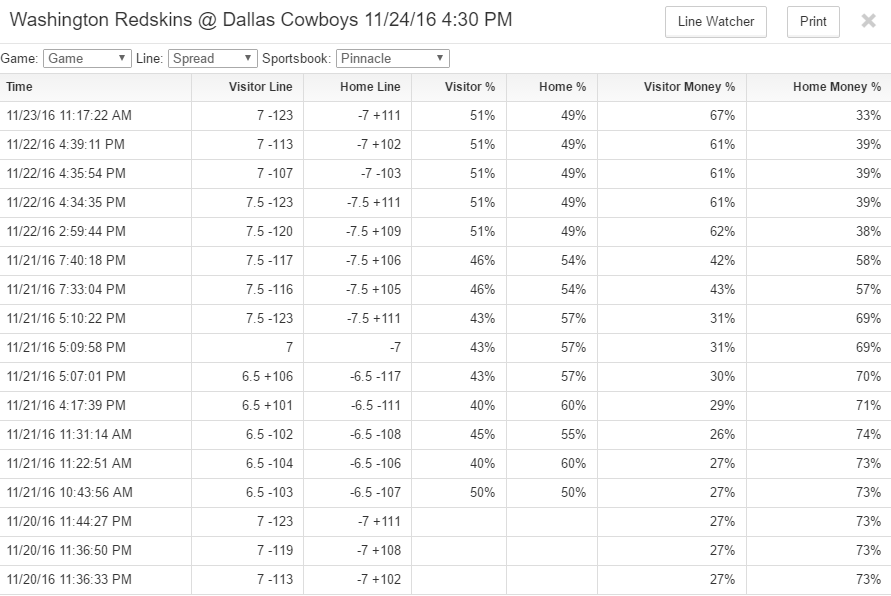 Dallas opened -7 (+102), which indicates oddsmakers were already anticipating the move to 6.5. Once the line hit Dallas -6.5, money started pouring in on the home chalk, which quickly pushed the line through the key number of 7 to a juiced up 7.5. Once the line hit 7.5, there was buyback on the Redskins +7.5, which caused the line to settle at 7.
We have already seen some sharp money on Redskins +7.5, which isn't entirely surprising considering the past success of underdogs in divisional games. Since 2003, underdogs have gone 659-612 ATS (51.8%) against divisional opponents and 1,122-1,122 ATS (50%) in all other games. Road underdogs have provided exceptional value in divisional games, going 448-379 ATS (54.2%) over that stretch.
It's important to note that although sharp bettors hammered Washington +7.5, that number is no longer available. In fact, most sportsbooks have already moved to Washington +6.5 which highlights the importance of shopping for the best line and utilizing tools like our line watcher.
Pittsburgh Steelers at Indianapolis Colts (Thursday at 8:30 PM eastern)
On Monday it was revealed that Colts quarterback Andrew Luck had entered into the NFL's concussion protocol, meaning that veteran Scott Tolzien will run the Colts offense on Thursday night. This breaking news caused both the spread and total to move significantly.
When the line was first posted at Pinnacle on Sunday evening, the Steelers were listed as 2.5-point favorites and they received 67% of early spread tickets and 83% of spread dollars. This one-sided public betting caused the line to move from Pittsburgh -2.5 to -3. When Luck's injury was announced, sportsbooks took this game off the board.
Pinnacle re-opened the line on Tuesday afternoon with the Steelers were listed as 8.5-point favorites. That line movement indicates Andrew Luck is worth between 5.5-6 points to the spread, which falls in line with our preseason valuations. We also saw the total drop from 53.5 (the highest Week 12 total) to 47.
With Andrew Luck sitting, bettors have been avoiding the Colts like the plague. According to our public betting trends, the Steelers have received 73% of spread tickets and 82% of total dollars wagered since the line re-opened. Despite this overwhelming public support, the Steelers have actually dropped from -8.5 to -7.5. That reverse line movement indicates that sharp money actually likes the road underdog in this matchup.
[click image below to enlarge]

As you can see from the line chart, the line touched Colts +10 for about 30 minutes after re-opening on Tuesday evening before sharp money caused the line to drop. It's also worth noting that many bettors are able to completely mitigate risk in this matchup, since bettors who took Steelers -2.5 earlier in the week now have a massive middling opportunity.
Interested in checking out our new money percentages and line charts for every Week 12 game? Sign up now for an extended 6-day trial of Sportsbook Insider Pro. Hurry, this is a limited time offer!
Pro subscribers have access to real-time odds, public betting trends, money percentages, bet signals (including steam moves and reverse line movement alerts), injury alerts, value meter, line watcher, line predictor, and many other unique features.  We have already released four NFL Best Bets for Week 12, with several additional plays coming in the upcoming days:
Minnesota Vikings at Detroit Lions
Washington Redskins at Dallas Cowboys
Tennessee Titans at Chicago bears
San Diego Chargers at Houston Texans
Have any questions for the staff at Sports Insights? Make sure to utilize our live chat or call us directly at 877-838-2853.