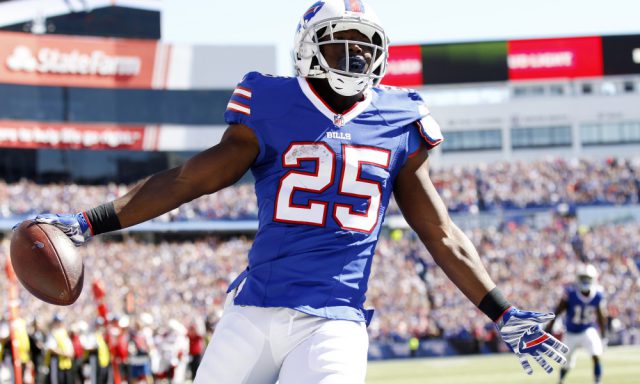 2016 NFL Season: Week 3 Betting Recap
Every Tuesday morning, the team at Sports Insights will examine some of the most interesting trends and results from the past week's NFL action. We'll also look at our betting systems, prop bets, futures movement, bad beats and more.
After going 10-6 ATS in Week 1, and 9-7 ATS in Week 2, underdogs went just 8-8 ATS in Week 3. On the season underdogs have gone 27-21 ATS (56.25%) based on the closing line at Pinnacle.
Underdogs with low totals continue to be profitable. When the closing total is 44 or lower, 'dogs have gone 13-7 ATS (65%) this season including a 4-2 ATS record in Week 3.
Big also underdogs continued their success with underdogs of 3.5+ points going 7-3 ATS in Week 3.
This season a majority of public bettors have taken the favorite in 33 of 48 games (68.75%).
Betting against the public was exceptionally lucrative in Week 3. Teams receiving less than 50% of spread bets went 11-5 ATS, teams receiving less than 40% of spread bets went 7-2 ATS and teams receiving less than 30% of spread bets went 4-1 ATS.
NFL teams receiving less than 30% of spread bets have gone 7-3 ATS this season.

— Sports Insights (@SportsInsights) September 27, 2016
Looking at our newly added money percentages, you can see that it was an exception week for sportsbooks. Teams receiving less than 50% of the money went 12-4 ATS, teams receiving less than 40% of the money went 8-2 ATS and teams receiving less than 30% of the money went 3-0 ATS.
The Arizona Cardinals (closed -5) received 77% of spread bets in Sunday's game against the Buffalo Bills. This marked the most one-sided public betting of the season. The Bills, who fit the criteria for our 2016 NFL Betting Against the Public system, won 33-18.
Bettors would have done well to follow the line movement last week. When the line got worse (i.e. moving from +4 to +3 or -6 to -7), teams went 8-4 ATS.
Typically it's profitable to take teams after a blowout loss, but that wasn't the case in Week 3. Teams coming off a loss of more than 14-points went 0-4 ATS last week (SF, CHI, JAX, TB).
After three weeks there are still five teams who have covered the spread in every game: MIN, PHI, NE, BAL and DEN.
There are only two NFL teams that haven't covered the spread yet: JAX and CHI.
The over went 9-7 in Week 3. For the year, the over has gone 27-21.
Historically it's been more profitable to take the over in games with low totals while it's been better taking the under in games with high totals. This season the over has gone 11-4 when the closing total is less than 43.
This season a majority of public bettors have taken the over in 39 of 48 games (81.25%).
Although underdogs went just 8-8 ATS, they continued their success on the moneyline. Underdogs went 7-9 straight up (+3.19 units) in Week 3, which pushed their record to 23-25 SU with +11.35 units won.
This season underdogs receiving at least 50% of moneyline bets have gone 12-12 SU (+8.66 units).
It's been a fantastic season for rookie quarterbacks and first-time starters:
First-time starters (Wentz, Siemian, Garoppolo, Brissett, Prescott and Kessler) have combined to go 12-1 ATS this season.

— David Solar (@TheDavidSolar) September 27, 2016
Carson Wentz has outperformed expectations, and that has caused the Eagles futures to soar. Since the preseason, Philly's odds of winning the Super Bowl have jumped from +8000 to +1850 at 5Dimes. They're currently +650 to win the NFC Championship.
Biggest moneyline upsets: Minnesota Vikings (+231) over Carolina Panthers, Buffalo Bills (+195) over Arizona Cardinals.
There weren't many bad beats this weekend, but the toughest loss came in Sunday's Chargers/Colts game. San Diego (closed +1.5 at Pinnacle) led 22-20 with less than two minutes remaining, however, Andrew Luck and T.Y. Hilton connected on a 63-yard touchdown pass with 1:17 remaining in the game. That gave Indy the late cover and a 26-22 win.
Need more proof that it's crucial to shop for the best line and get the best of the number? The Lions opened as 8.5-point underdogs and were immediately hammered by sharp money. That caused the line to drop from Detroit +8.5 to +6. Ultimately, they lost to the Packers by 7-points. Anybody who took Detroit early still covered, but anybody who waited until the last minute and took a bad line lost their bet.
Drew Brees leads the league with 1,062 passing yards this season. He was the preseason favorite at +500.
LeGarrette Blount leads the league with 298 rushing yards. Before the season he was 125/1 to lead the league in rushing.
Marvin Jones leads the league with 408 receiving yards. Before the season he was 80/1 to lead the league in receiving.
Two teams from the NFC North played in the Monday Night game, so the odds on the division winner are currently off the board at BetOnline. Here are the odds for the seven other divisions:
Odds to Win AFC South
Houston Texans -115
Indianapolis Colts +200
Jacksonville Jaguars +850
Tennessee Titans +650
Denver Broncos -125
Kansas City Chiefs +200
Oakland Raiders +550
San Diego Chargers +1600
New England Patriots -500
New York Jets +900
Buffalo Bills +1000
Miami Dolphins +1200
Pittsburgh Steelers -130
Baltimore Ravens +240
Cincinnati Bengals +325
Cleveland Browns +20000
Philadelphia Eagles +165
New York Giants +225
Dallas Cowboys +250
Washington Redskins +650
Minnesota Vikings +120
Green Bay Packers -140
Detroit Lions +1800
Chicago Bears +6600
Seattle Seahawks -110
Arizona Cardinals +135
Los Angeles Rams +700
San Francisco 49ers +3300
Before the season, the Eagles (+600) had the worst odds of winning the NFC East. They're now the favorite at +165.
There are several key injuries that we'll be tracking throughout the week including: Sammy Watkins (Ankle), Cam Newton (Ankle), Dez Bryant (Knee), Jamaal Charles (Knee) and Russell Wilson (Knee). Check out the latest updates on our free NFL injury page.
Make sure to bookmark our free NFL odds page for the latest lines, public betting trends, futures and more.
Have any questions for the staff at Sports Insights? Utilize our live chat to speak with a customer service representative or e-mail us at help@sportsinsights.com.