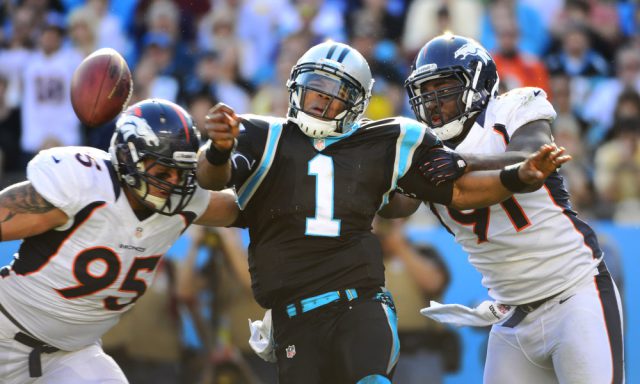 2016 NFL Season: Way Too Early Week 1 Preview
Let's be honest, the NFL is now a yearlong league. The sport's popularity has never been greater, and oddsmakers have taken advantage by releasing lines for nearly every game next season along with countless prop betting opportunities. Much like HBO's Game of Thrones, football is both brutal and beloved.
During the regular season, we highlight the most interesting line moves at the market-setting offshore sportsbooks in our weekly "Line Moves That Matter" series. By contrasting the line movement at books like CRIS and Pinnacle with the public betting trends from our seven contributing offshore sportsbooks, we're able to explain what factors are influencing line movement and which teams are offering value.
This season, we're excited to announce that we will have money percentages for the spread, moneyline and total (over/under).This information will help provide a more complete overview of the sports betting marketplace.
Although the start of the regular season is still nearly three months away, there's often value placing your bets this early. It's not typically advisable to have a bet pending for several months, but this is a unique opportunity. Even with lower limits than usual, there are three teams that look to be good Week 1 bets.
Carolina Panthers at Denver Broncos (Thursday, September 8th at 8:30 PM eastern)
In this Super Bowl rematch, the defending champion Denver Broncos opened as 2.5-point favorites at the market-setting Bookmaker.eu. Despite their success last season, bettors are clearly skeptical about the Broncos quarterback situation. After Peyton Manning retired and Brock Osweiler signed with the Texans, Denver signed journeyman Mark Sanchez at their starting quarterback.
Public bettors clearly don't believe in the "Sanchize" with 80% of early spread bets taking the Panthers. This one-sided public betting has caused the line to flip from Broncos -2.5 to Carolina -2.5.
The line graph below, which is available to Sportsbook Insider subscribers, shows how public betting has affected the spread at CRIS.

Some sportsbooks, including the Westgate Superbook, opened this game Denver -3 and immediately got hammered by sharp money on Carolina. That line is long gone, and this seems like an ideal opportunity to buy low on the Broncos.
The value derived from betting against the public is directly correlated with the number of bets placed on a game. That's one of the reasons that our contrarian strategies, including our vaunted 80/20 betting system, have had the best success in the NFL. This will likely be the most heavily bet game of Week 1, and right now it's also one of the most lopsided in terms of public betting.
This is a team that succeeded in spite of their offense last season — not because of it. The Broncos defense dominated their opposition and completely shut down Cam Newton in the Super Bowl. The fact that they're only receiving 20% of spread bets is shocking, and has created excellent contrarian value.
Since 2003, teams receiving no more than 25% of spread bets have gone 162-128 ATS (55.9%) in heavily bet games. When that low level of public support caused the line to improve by at least a half-point (i.e. moving from +2.5 to +3), that team has gone 88-49 ATS (64.2%) with a 25.6% return on investment (ROI).
Some offshore sportsbooks (including ABC) are offering Broncos +3. That's the single most important key number for football bettors, and it highlights the importance of always shopping for the best line. I don't think books will still be hanging that line on opening day, so bettors may need to act soon.
Chicago Bears at Houston Texans (Sunday, September 11th at 1:00 PM eastern)
The offseason additions of Brock Osweiler and Lamar Miller have provided renewed optimism for Texans fans, but bettors still remain dubious. Houston opened as a 5-point favorite at Bookmaker and has received just 45% of spread bets. Despite this fairly even public betting, the Texans have moved from -5 to -6. That's because sharp money has already hammered the home favorite.
At the time of publication, there have been four bet signals triggered on the Texans including a smart money alert at SBG. The SBG reverse line move has gone 101-73 ATS (58%) since their inception in 2007 including a 14-7 ATS record (66.7%) last season.
It's also important to point out that although the Texans are only receiving 46% of tickets, they have received 98% of total dollars wagered. That number will likely shrink dramatically before kick-off, but it validates these early sharp money indicators.
Many offshore sportsbooks are still offering Houston -5.5 which is noteworthy because "6" is the fourth most common margin of victory. If this line does drop, "5" is considered a dead number. If the line increases, bettors would get a bad number on this game. For that reason, it might be worth taking Houston -5.5 to ensure that you get the best line possible.
Green Bay Packers at Jacksonville Jaguars (Sunday, September 11th at 1:00 PM eastern)
This is the perfect example of "Sharps vs. Squares" and "Pros vs. Joes". The Green Bay Packers have been one of the league's most storied franchises while the Jacksonville Jaguars haven't posted a winning season since 2007. Casual bettors love to take winning teams, so it hardly comes as a surprise that the Packers have received overwhelming public support.
The Packers opened as 4.5-point favorites at Bookmaker and have received 76% of spread bets. Despite this one-sided public betting, Green Bay has dropped from -4.5 to -4. That reverse line movement is a strong indicator that sharp money has taken the Jaguars +4.5.
Perhaps the moneyline betting trends have been even more interesting. Although only 40% of bettors think Jacksonville (+175) will win straight up, they have received 89% of total dollars wagered. That indicates that Blake Bortles and company could shock the world in Week 1.
As mentioned earlier, teams receiving no more than 25% of spread bets have gone 162-128 ATS (55.9%) in heavily bet games which indicates spread value on Jacksonville. This public support for the Packers will not waver, which means the Jaguars should continue providing contrarian value in their Week 1 game.
It's also worth noting that square sportsbooks (like BetUs, Sportsbook.com and SIA) have seen extreme levels of public support on the Packers while sharper books (like 5Dimes and GT Bets) have been far more balance. That also supports our lean towards Jacksonville +4.5.

Since public money will continue to pound Green Bay, I don't think it's necessary to take the line right now. It is worth point out that "5" is considered a dead number, which means that a half-point line move would mean very little. It also seems unlikely that this line will drop below 4, so bettors can likely wait until opening week before taking the Jags.
The Jaguars win total has already increased from 6 to 7.5 since they were released back in February, which means sharp bettors are optimistic about league's perennial punching bag. Casual bettors still view Jacksonville as a laughing stock, but this team is far more talented than people realize.
---
These numbers are subject to change before kickoff, so bettors should be sure to visit our free NFL odds page for the latest lines, injuries, public betting trends and more.
Have any questions for the staff at Sports Insights? Utilize our live chat to speak with a customer service representative or e-mail us at help@sportsinsights.com.