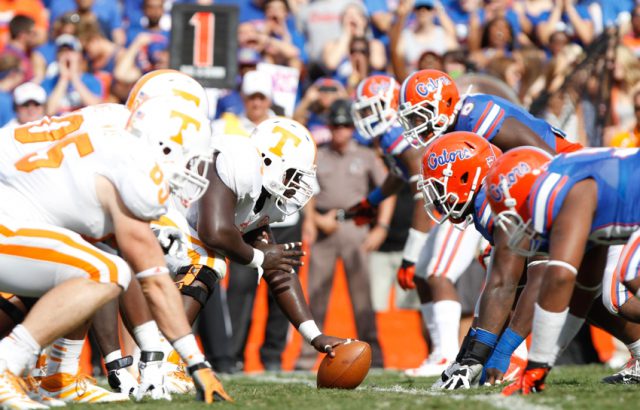 2016 College Football Week 4 Line Moves That Matter
Although there were a number of high profile games last week, there were relatively few exciting moments. After seeing several exciting upsets in the first two weeks of the season, underdogs went just 7-57 straight up in Week 3. That was highlighted by Akron (closed +674 at Pinnacle) defeating Marshall.
In the past, we have explained how it's profitable to fade (bet against) the trendy underdog, particularly in college athletics. Since 2003, college football favorites have gone 106-92 ATS (53.5%) in regular season games where they receive less than 35% of spread bets. We have also mentioned that the value derived from betting against the public is directly correlated with the number of bets. In fact, the same contrarian favorites have gone 66-44 ATS (60%) in regular season games where the number of bets placed is at least equal to the daily average.
No teams fit those exact criteria in Week 3, but several trendy underdogs covered last week including Michigan State (+7.5 at Notre Dame), Texas A&M (+1 at Auburn) and BYU (+3.5 vs. UCLA). Overall, underdogs receiving at least 50% of spread bets have gone 13-19 ATS this season. By fading these teams, bettors would have earned +5.11 units.
At the time of publication, there were twelve games with an underdog garnering the majority of public support. Using the information available to Sportsbook Insider subscribers, I have examined the line movement for three of these games to determine what's responsible for early line movement.
Florida at Tennessee (Saturday at 3:30 PM eastern)
In one of this weekend's most heavily bet games, Tennessee opened as 8-point home favorites against Florida. Although the public typically gravitates towards betting favorites, Florida is one of the nation's most public teams and bettors have been lining up to take the Gators plus the points.
At the time of publication, Florida was receiving 74% of spread tickets and 87% of total dollars wagered. This one-sided public betting caused the Gators to drop from +8 to +6.5. That 1.5-point line move is particularly noteworthy since it crossed one of the most significant key numbers at 7.
[click image below to enlarge]
Since the start of the 2005 season, Florida has closed as an underdog in 30 games. Shockingly, they have only received a majority of spread bets in four of those games. Even more surprisingly, Florida has never received more than 57% of spread bets as an underdog (that occurred in the 2006 Outback Bowl against the Iowa Hawkeyes).
As game time approaches, it will be worth watching to see whether this level of one-sided public betting continues. More importantly, it will be interesting to see whether there's eventually buyback on Tennessee, or whether public money continues to move the line.
Oklahoma State at Baylor (Saturday at 7:30 PM eastern)
After three games, #16 Baylor remains the only undefeated team in the Big 12 Conference. They will attempt to continue their perfect run on Saturday evening against Oklahoma State, whose lone loss came on a miraculous last-second play (which should have never counted) against Central Michigan.
The Cowboys opened as 10-point underdogs at Pinnacle and although the ticket count has been fairly even, the money has been pretty one-sided. According to our public betting trends, Oklahoma State has received 58% of tickets and 76% of total dollars wagered. With more than three-fourths of the money taking the road 'dog, Oklahoma State has dropped from +10 to +7.5.
[click image below to enlarge]

The line chart shows that Oklahoma State moved from +10 to +9.5 less than 20 minutes after opening. They have continued to receive public money throughout the week, which has caused the line to plummet. The line hasn't met any resistance all week, so I will be curious to see whether the line eventually hits 7.
South Carolina at Kentucky (Saturday at 7:30 PM eastern)
In a showdown between SEC rivals, Kentucky opened as 1-point home favorites at the market-setting Bookmaker sportsbook. Although Kentucky has received just 44% of spread tickets at our contributing sportsbooks, they have received over 60% of total dollars wagered. This influx of public money has caused the line to move from UK -1 to -2.5.
[click image below to enlarge]

As you can see, the line ticked up from Kentucky -1 to -2 almost immediately after opening. That's particularly interesting since the Wildcats starting quarterback, Drew Barker, is currently listed as doubtful with a back injury. It's also worth noting that Kentucky opened as 2-point underdogs at Bookmaker.
Since most college football bettors place their wagers on the spread, there are additional betting trends worth noting in this game. The parlay percentage is typically an excellent indicator or square money, and South Carolina is receiving 74% of parlay and teaser bets. Additionally, the Gamecocks are receiving 85% of moneyline tickets but only 45% of total dollars wagered on the moneyline.
Interested in checking out our new money percentages and line charts for the entire slate of Week 4 games? Sign up now for a 4-day trial of Sportsbook Insider Pro.
In addition to the features shown in this post, subscribers also have access to our entire suite of live odds, public betting trends, steam moves, smart money alerts and our in-house Best Bet picks. We currently have five pending NCAAF Best Bets including:
Penn State at Michigan
Pittsburgh at North Carolina
Southern Miss at UTEP
Have any questions for the staff at Sports Insights? Make sure to utilize our live chat or call us directly at 877-838-2853.