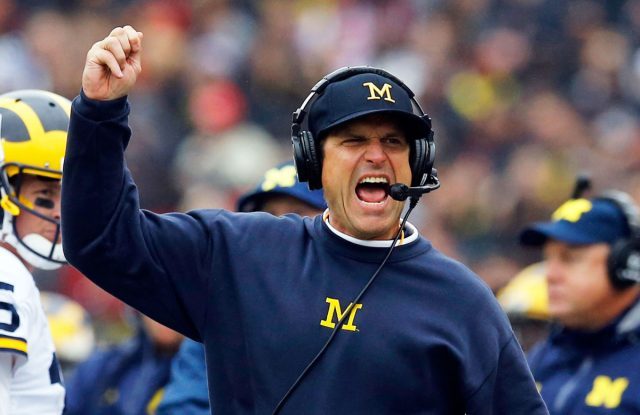 2016 College Football Week 12 Line Moves That Matter
Every week in this space we highlight the most interesting line moves at the market-setting offshore sportsbooks — typically Bookmaker and Pinnacle — which take the highest limits and therefore attract the sharpest bettors. By contrasting the opening and current lines with the public betting trends from our seven contributing offshore sportsbooks, we're able to determine how public betting has affected the line.
We are also proud to announce that in addition to our public betting percentages, we now offer real money percentages, which reflect the percentage of total dollars wagered at one of the sharper offshore sportsbooks. This allows bettors to easily monitor all the factors influencing line movement.
It's important to know which side is receiving the majority of tickets, but it's far more crucial to understand which side is receiving a majority of the money since books are far more likely to adjust their lines if they have significant liability on one side. By waiting until public money has artificially inflated the line, bettors can often capitalize on public perception and find additional line value.
In most games, the ticket percentages and money percentages will match up fairly closely, but it's quite telling when there's a large discrepancy between these two numbers. This information, which is available exclusively to Sportsbook Insider subscribers, is essential in determining what's causing the line to move.
This week's edition of Line Moves That Matter identifies three different ways that our ticket and money percentages can be used to explain line movement.
Oregon Ducks at #12 Utah Utes (Saturday at 2:00 PM eastern)
In this weekend's most heavily bet college football game, Utah opened as 12-point favorites against Oregon at the market-setting Pinnacle sportsbook. The Ducks have arguably been the biggest disappointment in the nation, going just 3-7 straight up and 1-8 ATS. Conversely, the Utes have gone 8-2 straight up and now find themselves ranked 12th in the latest College Football Playoff Rankings. Not surprisingly, this has caused bettors to pound the home chalk.
According to our public betting trends, Utah has received 86% of spread tickets and 92% of total dollars wagered. This one-sided public betting has caused the Utes to move from -12 to -14 at Pinnacle. In other words, public money is largely responsible for this two-point line move.
[click image below to enlarge]

As mentioned earlier, we have tracked more bets on this game than any other Week 12 matchup, and past research has found there's more value betting against the public in the most heavily bet games. We're not advocating that bettors take Oregon plus the points, but it's certainly an important factor to consider.
Indiana Hoosiers at #3 Michigan Wolverines (Saturday at 3:30 PM eastern)
Despite closing as 24-point favorites last weekend, the Wolverines suffered their first loss of the season when Iowa freshman Keith Duncan kicked a game-winning 33-yard field goal as time expired. Clearly, that upset loss is still fresh in the minds of bettors, as Michigan is receiving less than 50% of spread tickets for the second time this season.
After opening as 25-point home favorites, Michigan has received just 48% of early spread tickets in this week's game against Indiana. Despite this relatively even public betting, Jim Harbaugh's squad has dropped from +25 to +23. That two-point swing can be easily explained by our money percentages, which show that Indiana is actually receiving 79% of total dollars wagered.
[click image below to enlarge]

This line movement is fascinating for several reasons, but it's particularly noteworthy since it's rare that underdogs receive more than 50% of spread tickets. Since 2005, the 'dog has received the majority of spread bets in just 16% of all regular season games. For what it's worth, contrarian favorites have gone 72-57 ATS this season.
Weather is another important consideration for bettors, and it's worth noting that forecasts call for low temperatures and strong wind speeds on Saturday. Historically double-digit wind speeds have led to low-scoring games, yet 69% of tickets have taken Over 53 in this Big Ten matchup.
[click image below to enlarge]

Arkansas Razorbacks at Mississippi State Bulldogs (Saturday at 7:00 PM eastern)
In this showdown of SEC rivals, Mississippi State opened as 1-point home underdogs at the market-setting Pinnacle sportsbook. Although the Bulldogs are receiving just 36% of spread tickets, they have actually moved from +1 to -2.5. This reverse line movement can be easily explained by our money percentages, which show that Mississippi State is receiving 62% of total dollars wagered.
[click image below to enlarge]

The line chart above, which is available to Sportsbook Insider Pro subscribers, shows there was a steam move and reverse line movement alert triggered on Mississippi State +1 on Monday morning. This caused the line to move from Mississippi State +1 to -1. Since that time, the Bulldogs have continued to receive the majority of spread money and the line has moved from Mississippi State -1 to -2.5.
Assuming the majority of spread money continues hammering Mississippi State, it will be interesting to see what happens when sportsbooks increase their limits later in the week — especially considering that "3" is the most important key number for football bettors.<
Interested in checking out our new money percentages and line charts for the entire slate of Week 12 games? Sign up now for a 4-day trial of Sportsbook Insider Pro.
In addition to the features shown in this post, subscribers also have access to our entire suite of live odds, public betting trends, steam moves, smart money alerts and our in-house Best Bet picks. This week we have six pending college football Best Bets including:
Arkansas at Mississippi State
Iowa at Illinois
Missouri at Tennessee
Have any questions for the staff at Sports Insights? Make sure to utilize our live chat or call us directly at 877-838-2853.