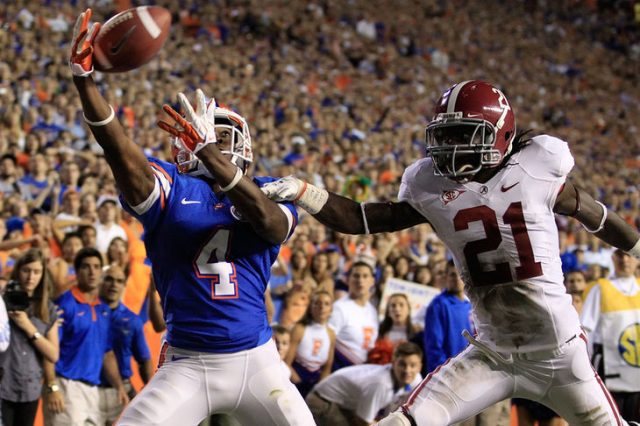 2016 College Football Conference Championship Line Moves That Matter
Every week in this space we highlight the most interesting line moves at the market-setting offshore sportsbooks — typically Bookmaker and Pinnacle — which take the highest limits and therefore attract the sharpest bettors. By contrasting the opening and current lines with the public betting trends from our seven contributing offshore sportsbooks, we are able to determine how public betting has affected the line.
We are also proud to announce that in addition to our public betting percentages, we now offer real money percentages, which reflect the percentage of total dollars wagered at one of the sharper offshore sportsbooks. This allows bettors to easily monitor all the factors influencing line movement.
It's important to know which side is receiving the majority of tickets, but it's far more crucial to understand which side is receiving a majority of the money. Sportsbooks are far more likely to adjust their lines if they have significant liability on one side, and that's particularly true this weekend given the increased handle on these conference championship games.
The value derived by betting against the public is increased in the day's most heavily bet games and by waiting until public money has artificially inflated the line, bettors can often capitalize on public perception and find additional line value. Since 2005, teams receiving less than 50% of spread bets have gone 35-26 ATS (57.4%) in conference championship games. That win rate improves to 60% when either team is receiving less than 40% of spread bets.
Although the only picks we officially endorse are our Best Bets, I wanted to examine two heavily bet conference championship games involving one-sided public betting. Using the information available to Sportsbook Insider subscribers, I have examined the latest public betting trends to determine what's moving the line in two conference championship games.
SEC Championship: Florida vs. Alabama (Saturday at 4:00 PM eastern)
Alabama is the odds-on favorite to win the national championship, and the Crimson Tide would likely still earn a spot in the College Football Playoff with a loss on Saturday. Based on the current odds and betting trends, a loss to No. 15 Florida seems highly unlikely.
Seeking to become the first team to win three straight SEC championships since Florida in the mid-90's, Alabama opened as 21.5-point favorites at Pinnacle. Although bettors are increasingly willing to back the underdog when two ranked teams face off, that hasn't been the case in Saturday's matchup.
According to our public betting trends, Alabama has received 70% of spread tickets and 74% of spread dollars. With the market steadily pounding the chalk, oddsmakers have been forced to adjust their number multiple times, eventually landing at the current line of Alabama -24.
[click image below to enlarge]

As you can see from the line chart above, the spread moved from Alabama -21.5 to -22 within minutes of opening and continued to rise until reaching Alabama -24, at which point there was buyback on Florida. However, with money continuing to come down on Alabama, oddsmakers were forced to once again adjust their line from Alabama -23.5 to -24.
No conference championship has featured a larger spread since the 2013 ACC Championship when Florida State closed as 30-point favorites against Duke. That matchup between Florida State and Duke represents one of just two instances in which a ranked team was favorited by at least 24-points against a ranked opponent. (For what it's worth, No. 2 Oregon closed as 26-point favorites against No. 23 Washington back on October 6, 2012.)
It's also interesting to note that there's been similar one-sided public betting on the over/under. The total opened at 40 and, according to our public betting trends, 82% of tickets and 79% of total dollars wagered have taken the over. This one-sided public betting caused the total to increase from 40 to 41 at Pinnacle.
[click image below to enlarge]

Big Ten Championship: Penn State vs. Wisconsin (Saturday at 8:00 PM eastern)
In this weekend's most heavily bet game, No. 7 Wisconsin Badgers (10-2, 7-2) will face off against No. 6 Penn State Nittany Lions. Although it's highly unlikely, the winner of this game has an outside chance of slipping into the four-team College Football Playoff. In all likelihood, the winner of this game would need both Clemson and Washington to lose in order to sneak into the playoffs — and even then Michigan could have a stronger claim. Ironically, this matchup actually showcases the third and fourth best teams in the conference according to the most recent CFP Rankings.
Riding a six-game winning streak, the Badgers opened as 3-point favorites and have been hammered by public money. According to our public betting trends, Wisconsin has received 68% of early spread tickets and 75% of spread dollars. Despite this one-sided public betting, Wisconsin has actually dropped from -3 to -2.5 at Pinnacle. This reverse line movement would normally indicate that sharp money likes Penn State, but there's another factor at play.
[click image below to enlarge]

As you can see, Penn State moved from +3 to +1.5 shortly after it was announced that Saquon Barkley was expected to play. The sophomore running back, who left Saturday's game against Michigan State with a foot injury, has been vital to the Nittany Lions offensive success this season. In twelve games, Barkley has tallied over 1,500 total yards and 17 touchdowns.
With public money pouring in on Wisconsin, oddsmakers have subsequently been forced to adjust the spread from Penn State +1.5 to +2.5. Assuming this level of one-sided public betting continues, it will be interesting to see whether the line hits 3 before kickoff — particularly when the limits are increased later in the week.
Interested in checking out our new money percentages and line charts for the entire slate of Week 14 games? Sign up now for an extended 6-day trial of Sportsbook Insider Pro.
In addition to the features shown in this post, subscribers also have access to our entire suite of live odds, public betting trends, steam moves, smart money alerts and our in-house Best Bet picks. This week we have two pending college football Best Bets including:
Colorado vs. Washington
Troy at Georgia Southern
Have any questions for the staff at Sports Insights? Make sure to utilize our live chat or call us directly at 877-838-2853.