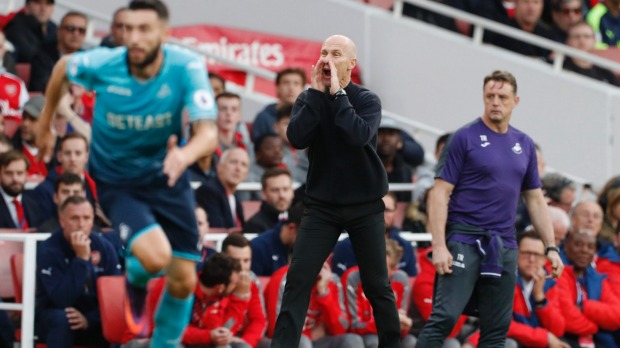 2016-17 Premier League: Week 9 Betting Preview
We're now through 8 of the 38 weeks of the Premier League season, and value plays went 2-0 last week for a very respectable +2.75 units. Bournemouth crushed Hull 6-1 as small -117 favorites, and my +189 moneyline parlay of Arsenal/Chelsea/Southampton cashed with all three winning. On the season, value plays are now up +8.88 units.
Week 8 Results
Arsenal -365 vs. Swansea
Southampton -250 vs. Burnley
Chelsea -170 vs. Leicester
Bournemouth -117 vs. Hull
Stoke -106 vs. Sunderland
Liverpool/Manchester Utd Draw +225
West Ham +250 at Crystal Palace
Watford +266 at Middlesbrough
West Brom/Tottenham Draw +290
Manchester City/Everton Draw +361
Season Trends
Home: 33 wins of 80 (-5.49 units)
Away: 27 wins of 80 (-13.46 units)
Draw: 20 wins of 80 (-5.61 units)
First let's get to the marquee matchup of the week, Chelsea vs. Manchester United. This line is very similar to last week's Liverpool/United match, one of the worst games of the season which ended 0-0. Chelsea is a slight +125 favorite this weekend with Manchester United +270 and the Draw +230. Chelsea is coming off a nice 3-0 win over Leicester last weekend and have the advantage of not playing a midweek Europa Lg or Champions Lg game. As of Friday morning, nearly 60% of the market is taking Chelsea to win straight up but they've moved from +115 to +125 since opening. Roughly 30% of tickets are taking United which is right on par with their actual probability of winning. However, there has been less than 10% of tickets on the Draw which has moved from +254 to +230 since opening:

From the line graph you can tell that the odds on the draw have come down over the past several days at Pinnacle. This indicates some sharper early money coming down on the Draw, and that'll be my first value play of the weekend at +230 odds.
The next play will be on another draw, this time for Swansea/Watford. Last weekend was tough for Swansea as they traveled to Arsenal for their first game under new manager Bob Bradley. Despite getting outplayed all game, they hung around and only lost 3-2, which has to be an encouraging sign moving forward. Watford got a big road road over Middlesbrough last weekend to move to 11 points, 7 clear ahead of Swansea. One would think Watford would have the advantage, but Swansea opened as the "favorites" in this game at +129 and should have a reinvigorated home crowd behind them. While I think both teams are heading in the right direction, I don't see either coming away with a victory so at +235 I like these teams to draw.
Last value play will be on another close game between Leicester City and Crystal Palace. Right now the public is heavy on the home side Leicester, but they've actually moved from -106 to +110 since opening at Pinnacle. Leicester have been incredibly impressive in the Champions League this season, but haven't had the same success in the Premier League. Leicester could really use a win at home in the EPL to boost their place in the standings, but Palace are no walkovers. I think this is another great opportunity to fade the public once again and take the Draw at +240 in a game which should be very competitive.
Lastly, here are the latest Premier League standings and title odds:
Man City +120 (19 pts)
Arsenal +450 (19)
Liverpool +450 (17)
Tottenham +1000 (18)
Chelsea +1050 (16)
Man United +1400 (14)
Everton +20000 (15)
Most Lopsided: 78% on West Ham, 77% on Stoke, 74% on Tottenham
Biggest Line Moves: West Ham (-114 to -147) vs. Sunderland, Everton (-122 to -148) at Burnley, Stoke (+182 to +149) at Hull
Value Plays: Chelsea/Manchester United Draw +230, Swansea/Watford Draw +235, Leicester/Crystal Palace Draw +240