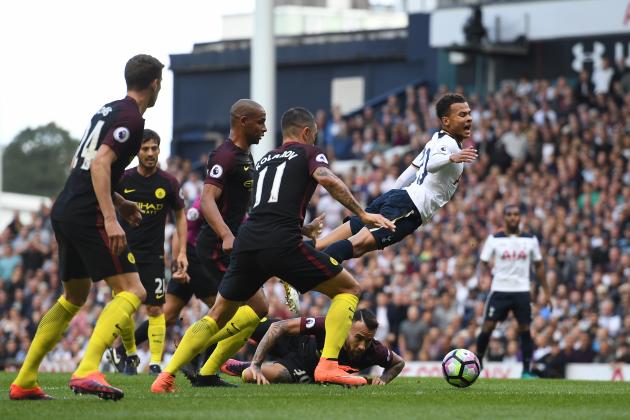 2016-17 Premier League: Week 8 Betting Preview
Week 7 was another success, hitting 2 of 3 draws to earn +3.55 units. On the season, value plays are now +6.13 units (risking 1 unit each match). Here are the Week 7 results and Season Trends so far:
Week 7 Results
Arsenal -290 at Burnley
Liverpool -215 at Swansea
Chelsea -215 at Hull
Tottenham +202 vs. Manchester City
Sunderland/West Brom Draw +216
Watford/Bournemouth Draw +236
Leicester/Southampton Draw +238
West Ham/Middlebrough Draw +253
Everton/Crystal Palace Draw +270
Stoke/Manchester United Draw +480
Season Trends
Home: 28 wins of 70 (-3.55 units)
Away: 25 wins of 70 (-10.62 units)
Draw: 17 wins of 70 (-7.34 units)
The biggest matchup of Week 8 is definitely Liverpool/Manchester United, where Liverpool are -120 home favorites. Bookmakers have adjusted each teams' title odds and they view Liverpool (+400) with a much better chance than United (+1750), which I just don't agree with. We're only 7 games into the season and in my opinion, United have at least the same title hopes as Liverpool. If they can get a win at Liverpool, they'll be level on points and bookmakers will have to over-adjust again. I'm passing on this game, but just a heads-up that oddsmakers tend to overreact and over-adjust on title odds like these based on just 1 or 2 matches.
Leicester, Swansea, Burnley, and Hull are trendy popular road underdogs in Week 8, which usually makes for great fade material. We'll also see Swansea play their first game under new manager Bob Bradley, the first American manager in Premier League history. The Swans are big 12:1 underdogs at Arsenal this weekend which leads me into part of my first value play.
I like Arsenal to keep rolling and beat Swansea, but the moneyline alone (-357) is too high to risk 1 unit on. I'm also not confident enough to bet Arsenal on the goal line at -1.5, so I'm throwing the Gunners into a moneyline parlay along with Chelsea (-168) and Southampton (-242). An Arsenal/Chelsea/Southampton moneyline parlay pays out +189, so you're risking 1 unit to make 1.89 units. These moneyline parlays will be rare for me throughout the season, but each week presents something different. Last week I loved the draws and there ended up being 6 in 10 matches. This week there are a number of big favorites who I think take care of business, hence the reason for a moneyline parlay. I normally wouldn't make a bet like this but all three favorites are going against the public: Arsenal (35%), Chelsea (37%), and Southampton (31%). Since I already liked these teams straight up before seeing the market percentages, these betting trends simply validate the bet for me.
The other pick I'm making is on Bournemouth -117 vs. Hull City, and again I'm fading the public here on a big trendy road underdog. Despite Hull's struggles, they're getting nearly half of all moneyline tickets despite being a big +390 underdog. Converting their odds to implied probabilities and Hull should win about 20% of the time, so they're getting more support than they should be. Only 28% of tickets are on Bournemouth (-117) despite having roughly a 55% chance of winning. This is a great opportunity to fade the public, especially when they're backing an inferior opponent, and take Bournemouth -117 at home to win outright.
Most Lopsided: 78% on Tottenham (-137), 62% on Burnley (+809), 50% on Swansea (+1000)
Biggest Line Moves: Burnley (+900 to +809), Crystal Palace (+118 to +100), Man Utd (+268 to +235)
Value Plays: Arsenal/Chelsea/Southampton parlay +189, Bournemouth -117