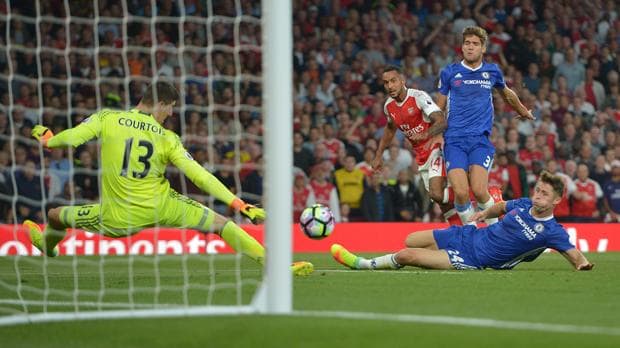 2016-17 Premier League: Week 7 Betting Preview
It was nearly another sweep in Week 6 but Hull gave up a goal in stoppage time to draw 1-1 with West Brom. However, another win from Arsenal (+140) over Chelsea, and Bournemouth played a great game against Everton and won 1-0, covering the 0.5 goal line. Value plays earned +1.23 units in Week 6 and are now up +2.58 units on the season (risking 1 unit on each bet).
Below shows Week 6 results along with trends so far this season, and a preview of Week 7 with value picks, lopsided games, and market line movement.
Week 6 Results
Manchester United -150 vs. Leicester City
Liverpool -400 vs. Hull
Man City -290 at Swansea
Tottenham +111 at Middlesbrough
Arsenal +140 vs. Chelsea
Southampton +140 at West Ham
Crystal Palace +213 at Sunderland
Bournemouth +233 vs. Everton
Burnley +240 vs. Watford
Stoke/WBA Draw +243
Season Trends
Home: 27 wins of 60 (+3.43 units)
Away: 22 wins of 60 (-4.95 units)
Draw: 11 wins of 60 (-20.27 units)
Over the last two weeks, home teams have dominated in the Premier League while draws have been hard to come by. For me that changes a little bit this week, and there are three value plays I like which all happen to be on the draw.
First up is Sunderland/West Brom, two teams that I bet on along with Swansea to be relegated this season. West Brom have actually been OK while Sunderland have been awful. Despite Sunderland gaining just 1 point so far this season, they're actually slight 'favorites' in this match and should have won last week before blowing a 2-0 lead. West Brom salvaged a point on the road at Hull in a game they probably didn't deserve anything from, so Sunderland being slight faves this week makes a bit of sense. Right now more than 50% of tickets are on West Brom to win outright, and about 35% on Sunderland to get the victory. I really do want to back Sunderland here because I think they'll play well again, but I simply can't trust them. There's only about 15% of tickets on the draw with a very low total of just 2 goals. I think 1-1 is the most plausible outcome, so backing the draw at +215 is my first value play.
The next two value plays are on Sunday and should be very entertaining matches. I like the draw in both Leicester City/Southampton (+240) and Manchester City/Tottenham (+250), and both are fading the public in these prime time games.
Leicester City were impressive yet again in the Champions League in midweek at home against Porto, while Southampton were just blah at Hapoel Beer Sheva in Israel. Based on those results and travel situations there should be a distinct edge for Leicester and bettors agree. Nearly 66% of tickets at CRIS are taking the home favorites with 25% on Southampton. This means less than 10% of tickets are taking the draw despite the probability of that outcome being around 30%. There's also been some reverse-line movement so far on the draw at both CRIS and Pinnacle, another good indicator of sharp money on the draw. This is another game I could see ending 1-1, so draw +240 is the play.
Last game is Manchester City hosting Tottenham, an important one for the title race. City are unblemished in the EPL so far but looked a little vulnerable at Celtic in Champions League. Tottenham have been very difficult to score against and one of the few teams I have some confidence in against the most talented team in Man City. Again just 16% of tickets are taking the draw while the public is pounding Man City (62%) and the Over 2.5 goals (85%). This should be a tight match and at +250 odds there's some nice value in taking the draw.
I always aim to win every bet I make, but it's important to look at ROI and know that this will be a long season. This week even if only 1 of 3 bets hits, I'll have earned a small profit, and doing that every week will add up while minimizing risk. Everyone has their own strategy but in the end it's about knowing your own strengths and weaknesses, and finding whatever works best.
Most Lopsided around the Market: Chelsea 86%, Watford 80%, West Ham 78%
Biggest Line Moves at Pinnacle: Tottenham (+244 to +198), Bournemouth (+235 to +221), Leicester/Southampton Draw (+245 to +233)
Value Plays: Sunderland/West Brom Draw +215, Leicester City/Southampton Draw +240, Manchester City/Tottenham Draw +250