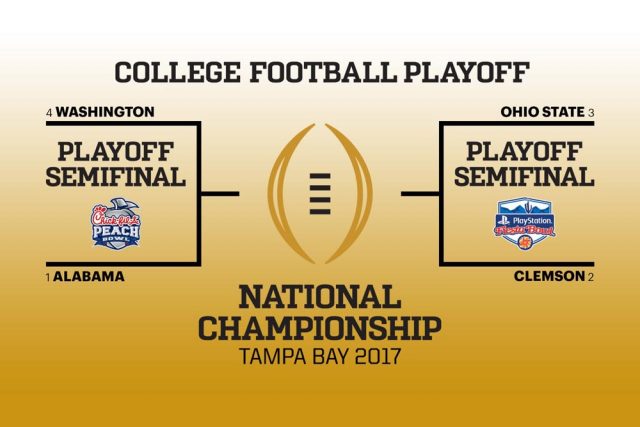 2016-17 College Football Playoff Betting Preview
On New Year's Eve, more than four months after the college football season kicked off, the field has been whittled down to just four teams. This will be the third edition of the College Football Playoff and, although Penn State would likely disagree, the selection committee did an excellent job selecting the four most deserving schools.
Alabama earned the top overall seed in the four-team playoff, and they will begin their quest to repeat as national champions against #4 Washington in the Peach Bowl. Ohio State, who won the 2014 National Championship, will host last season's runner-up, Clemson, in the Fiesta Bowl. The winners will face off in the National Championship the following Monday.
Alabama, Clemson, and Ohio State were all viewed as strong national championship contenders before the season, but Washington's success has come as a tremendous surprise. The Crimson Tide (+535) were listed as the pre-season favorites to win the national championship, but the Huskies were listed as 66/1 long shots.
The table below displays how each team's odds have fluctuated throughout the season.
| Team | Dec 28 | Nov 28 | Nov 25 | Nov 15 | Nov 7 | Oct 31 | Oct 27 | Oct 20 | Oct 13 | Oct 6 | Sep 22 | Sep 15 | Sep 5 |
| --- | --- | --- | --- | --- | --- | --- | --- | --- | --- | --- | --- | --- | --- |
| Alabama | -205 | -140 | -150 | -130 | +120 | +150 | +185 | +225 | +240 | +255 | +385 | +400 | +535 |
| Ohio St | +420 | +200 | +260 | +300 | +600 | +600 | +500 | +350 | +325 | +380 | +425 | +750 | +800 |
| Clemson | +675 | +600 | +800 | +1200 | +750 | +550 | +750 | +650 | +500 | +500 | +800 | +825 | +800 |
| Washington | +1275 | +800 | +2000 | +3000 | +800 | +550 | +700 | +700 | +600 | +1100 | +2000 | +2800 | +6600 |
Alabama is the odds-on favorite to win the national championship and they're currently -650 on the moneyline for Saturday's game against Washington, which works out to an 86.7% implied probability. Alabama is a complete team that led the SEC in both scoring offense and scoring defense. Many analysts have stated this is the best team they've had under Nick Saban, with some joking that they could compete with the Cleveland Browns. For most it's not a question of whether Alabama will win, but by how many points.
Throughout the season, we have used the tools available to Sportsbook Insider subscribers in order to determine which factors are influencing line movement. Although it's important to understand which side is receiving the majority of tickets, it's far more important to understand which side is receiving a majority of the money since that's what's responsible for major line moves. That's one reason our newly added money percentages are essential for sports bettors.
As we have previously stated, the value derived from betting against the public is directly correlated with the number of bets placed on each game and marquee bowl games (like BCS Bowls or College Football Playoff game) receive nearly six times more bets than the average regular season game. By waiting until public money has artificially inflated the line, shrewd bettors are able to capitalize on public perception and find additional line value. This is all part of our contrarian philosophy, which has been particularly profitable during bowl season — especially considering that these lines have been posted for nearly a full month.
Both of Saturday's College Football Playoff games have seen one-sided ticket percentages, but only one game has seen one-sided money percentages. That's crucial information since teams receiving less than 35% of spread dollars have gone 5-1 ATS during the 2016-17 bowl season.
In most games, the ticket percentages and money percentages will match up fairly closely, but it's quite telling when there's a large discrepancy between these two numbers. This information is essential in determining what's causing the line to move.
#4 Washington vs. #1 Alabama (Saturday at 3:00 PM eastern)
Alabama opened as 13.5-point favorites at the market-setting Pinnacle sportsbook and the betting has been extremely one-sided over the past few weeks. As you can see in the line chart below, not only has the percentage of spread tickets (63%) favored the Crimson Tide, the percentage of money splits have been even more drastic with 74% of all spread dollars taking Alabama.
[click image below to enlarge]

With the market steadily pounding Alabama, oddsmakers were forced to adjust their number multiple times, moving the spread from Alabama -13.5 to -16.5 less than 24 hours after opening. The line remained unchanged at Alabama -16.5 for an entire week before there was finally buyback on Washington. That was an interesting development since bettors were likely waiting for the line to reach the key number of 17 before taking the underdog.
This is currently the most heavily bet bowl game, and Alabama is receiving the majority of spread tickets and spread dollars. Public money was responsible for the initial three-point line move, and sharp money on Washington caused the line to drop from 16.5 to 14. That said, there are still several square sportsbooks (including Bovada and SBG) which are still hanging Washington +14.5. Once again, this highlights the importance of having access to multiple sportsbooks and always shopping for the best line.
The screenshot below displays the breakdown of our ticket percentages at contributing sportsbooks.

#3 Ohio State vs. #2 Clemson (Saturday at 7:00 PM eastern)
The other half of the College Football Playoff National Championship will be determined in the PlayStation Fiesta Bowl with Clemson taking on Ohio State. Both teams have suffered just one loss this season, and feature talented, veteran quarterbacks.
Ohio State opened as 3-point favorites but, in a rare twist, the majority of public bettors have been backing the underdog. According to our public betting trends, Clemson has actually received 61% of spread tickets and 58% of spread dollars. Although the line is currently listed Ohio State -3, there has been plenty of line movement. Early sharp money pushed Ohio State from -3 to -3.5, but public money on Clemson has caused that line to drop.
[click image below to enlarge]

Although casual bettors overwhelmingly take favorites during the regular season, they're far more apt to take underdogs during the postseason. Since 2005, the majority of spread bettors have taken the underdog in just 16.1% of all regular season games. Over that same period, the majority of spread bettors have taken the 'dog in roughly 20% of bowl games.
Bettors naturally assume that any team of playoff quality must be very skilled. If that's the case, it would seem logical to simply take the points and hope for a competitive game. Historically that's been a highly flawed strategy. Although underdogs have gone 207-189 ATS (52.3%) during bowl season, underdogs receiving the majority of spread tickets have gone just 34-43 ATS (44.2%).
When we look at more extreme levels of public betting, that record gets even worse. Since 2005, underdogs receiving at least 60% of spread tickets have gone just 5-15 ATS. These betting percentages could still change before kick-off, but there's plenty of reason to be wary about backing Clemson as a trendy underdog.
Interested in checking out our new money percentages and line charts for every bowl game? Sign up now for a 4-day trial of Sportsbook Insider Pro.
In addition to the features shown in this post, subscribers also have access to our entire suite of live odds, public betting trends, steam moves, smart money alerts and our in-house Best Bet picks. During bowl season our Best Bets have gone 7-1 ATS this year and 88-52 ATS (62.86%) since their inception in 2007.
Have any questions for the staff at Sports Insights? Make sure to utilize our live chat or call us directly at 877-838-2853.