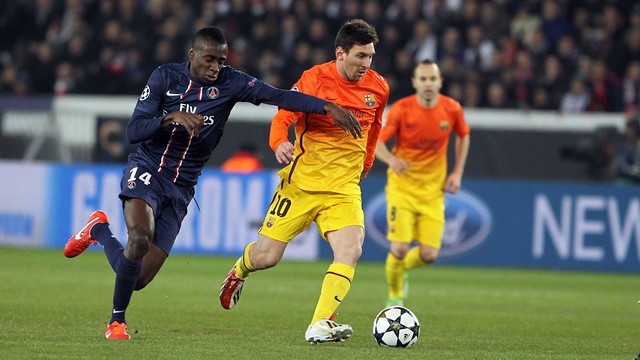 2016-17 Champions League: Round of 16 Betting Preview
The Champions League Round of 16 begins on February 14th with some notable (though redundant) matchups including Barcelona/PSG and Bayern Munich/Arsenal. Westgate sportsbook in Las Vegas was one of the first sportsbooks to post odds to advance from the Round of 16:
Barcelona -380 vs. PSG +320
Dortmund -335 vs. Benfica +275
Real Madrid -360 vs. Napoli +300
Bayern Munich -265 vs. Arsenal +225
Atletico Madrid -380 vs. Leverkusen +320
Man City -300 vs. Monaco +250
Juventus -280 vs. FC Porto +240
Sevilla -180 vs. Leicester +160
Over the last month and a half, odds have fluctuated due to betting, team performance, injuries and more. Here are the latest odds to advance from the Round of 16 from Bovada:
Barcelona -350 vs. PSG +250
Dortmund -300 vs. Benfica +220
Real Madrid -550 vs. Napoli +350
Bayern Munich -300 vs. Arsenal +220
Atletico Madrid -400 vs. Leverkusen +275
Man City -375 vs. Monaco +260
Juventus -275 vs. FC Porto +200
Sevilla -225 vs. Leicester +170
These are the 16 best European teams yet the tightest matchup is Sevilla/Leicester. Talented squads such as Arsenal, Napoli, and PSG are big underdogs just to advance, which further proves how good the top 3 teams are (Bayern Munich, Barcelona, and Real Madrid.
Now, are any of these teams offering value to advance to the Quarterfinals? I'd love to bet on Arsenal +220 to advance, but this is the stage of the tournament where they underwhelm every year. Arsenal play the first leg away and they'll need a really solid result. If you like Arsenal, I think you're better off waiting until after the first leg to place a bet to see what happens.
One underdog that I will be taking before the Round of 16 is Monaco +260 against Manchester City. Monaco are really playing well lately while Manchester City have begun to fall apart a little this year. Monaco has eliminated English teams in this round before, bouncing Arsenal in the 2014-15 season. Manchester City have been difficult to trust in this tournament, so it's hard to believe their odds to advance are so high. As for big favorites, I like Juventus -275, Barcelona -350, and Real Madrid -550 to advance.
Here was our preview of the Group Stage, and here's the latest Champions League title odds. Are there any clubs offering value to advance? Feel free to leave your thoughts and comments below.