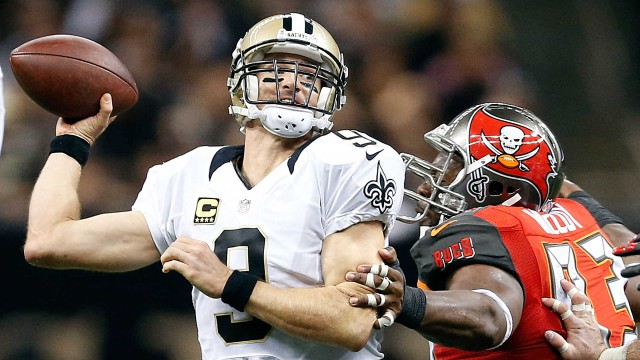 2015 NFL Season: How Have QB Injuries Affected Week 3 Lines?
Perhaps the largest storyline this weekend involves players that won't be on the field, as four teams will be starting a different quarterback than last week.
Last Sunday two former Pro Bowlers suffered serious injuries with the Cowboys losing Tony Romo for 8-10 weeks due to a fractured clavicle and the Bears losing Jay Cutler for at least two weeks due to a hamstring injury. They will be replaced by Brandon Weeden and Jimmy Clausen, respectively.
We spoke about the impact of Tony Romo's injury in our Week 3 Line Moves That Matter article, but the Bears line is fairly interesting as well. Before the season Chicago was expected to be a 9-point underdog in Sunday's game against Seattle but, at the time of publication, most sportsbooks were offering Chicago at +14 or +14.5. It's fascinating to see that oddsmakers believe the drop off from Cutler to Clausen is worth 5.5-points to the spread, especially when you look at Cutler's poor performance against the spread (ATS).
It has been more profitable to fade Jay Cutler (73-46, +24.49 units) than the 2nd and 3rd worst quarterbacks combined (80-54, 22.19 units).

— Sports Insights (@SportsInsights) September 18, 2015
The Seahawks (63-39 ATS, +21.36 units) have been far and away the best home team in our database and will potentially welcome back safety Kam Chancellor who ended his holdout earlier this week. That said, there are a number of factors which favor Chicago.
The Bears are receiving just 29% of spread bets and we always advocate buying on bad news and selling on good. When you factor in the historical performance of double-digit underdogs, it would appear that Chicago is offering value to bettors.
Since 2003, double-digit NFL underdogs have gone 216-186 ATS (53.7%) with +17.28 units won during the regular season.

— Bet Labs Sports (@Bet_Labs) September 25, 2015
Perhaps the most surprising shake-up took place in Cleveland where Josh McCown, who cleared the league's concussion protocol on Wednesday, was given the nod over Johnny Manziel. Although McCown won the job coming out of training camp, Johnny Football led Cleveland to a 28-14 victory over the Tennessee Titans last week. Considering the team spent a first round draft pick on Manziel, it's shocking that they're not determined to see if he's capable of being a franchise quarterback.
It's also interesting to note that bettors do not seem to believe that there is a difference between Manziel and McCown. Cleveland was receiving 34% of spread of spread bets as 3.5-point favorites when Manziel was expected to start. At the time of publication, Cleveland was receiving 37% of spread bets as 3.5-point favorites.

Another potential game of interest is Denver/Detroit, which was off the board until Wednesday afternoon when Matthew Stafford (ribs) was upgraded to probable. Denver opened as a 3-point road favorite at CRIS and have received 77% of spread bets. In spite of this lopsided pubic betting, the line remains unchanged at Denver -3.
Perhaps the most interesting situation involves the New Orleans Saints. Early in the week New Orleans was listed as a 3-point underdog before oddsmakers took the game off the board due to a shoulder injury to 9-time Pro Bowler Drew Brees. This injury prevented oddsmakers from posting lines until early on Friday morning when Sportsbook.com opened New Orleans as a 6.5-point underdog at Carolina with an over/under of 43.
This line was somewhat surprising for a number of reasons. Although Sportsbook.com takes fairly low limits, it's still unusual to see an oddsmaker hang a line without knowing the status of one of the league's most valuable players. Since New Orleans opened as a 3-point 'dog and we can estimate that Brees is worth roughly 6 or 7 points to the spread, this would seem to indicate that Sportsbook.com was hedging their bets in an attempt to attract action on the game.
On Friday afternoon, Coach Sean Payton held a press conference where he announced that Brees would be inactive on Sunday and that veteran Luke McCown would get the start in his place.
Payton said Drew Brees is OUT for Sunday

— New Orleans Saints (@Saints) September 25, 2015
Drew Brees (103-89 ATS, +10.37 units) has been the eighth most profitable quarterback in our database while Luke McCown has struggled in his limited NFL experience (2-7 ATS, -4.96 units). With such a significant drop off, the Saints re-opened as 9-point underdogs at one of the prominent Las Vegas sportsbooks. This confirmed our belief that Brees is worth roughly 6-points to the spread.
Vegas book @CGTechnology_ moves Carolina -9 vs. the Saints, after Drew Brees ruled out. Panthers were -6.5, prior to news.

— David Payne Purdum (@DavidPurdum) September 25, 2015
Offshore there were some serious discrepancies — even between some of the market-setting sportsbooks. CRIS opened Carolina -7.5 before quickly moving to -8. 5Dimes opened Carolina -9 before moving to a juiced up -9.5 (+105). This was likely done to prevent bettors from teasing Carolina down to -3.
These numbers are subject to change before kickoff, so bettors should be sure to visit our free NFL odds page for the latest lines, injuries, public betting trends and more. Bettors can view the latest updates and breaking news by visiting our free NFL injury page.

Have any questions for the staff at Sports Insights? Utilize our live chat to speak with a customer service representative or e-mail us at help@sportsinsights.com.
David Solar is the Content Manager for Sports Insights and can be reached directly at David@sportsinsights.com.