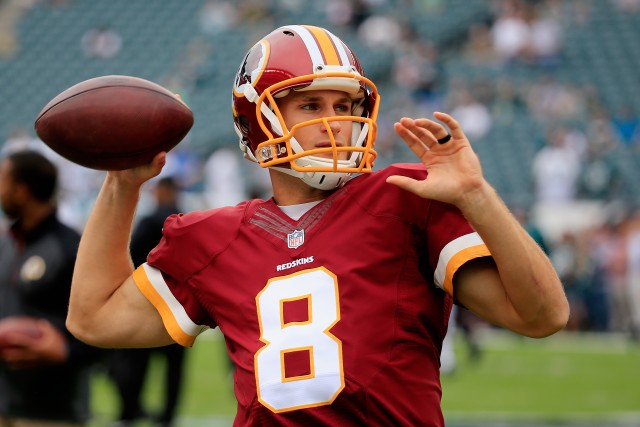 2015 NFL Betting: Week 1 Line Moves That Matter
Many offshore sportsbooks posted odds for Week 1 of the NFL season way back in May and, although they typically charge a higher juice and/or accept lower limits, this allows for some particularly interesting line movement. It also gives square bettors more time to place their bets, which typically leads to an influx of public money and additional value betting against the public.
Using our most basic contrarian filter (teams receiving less than 50% of spread bets), Week 1 is actually the third most profitable week of the season (83-73, +7.09 units). If we look at teams receiving less than 25% of spread bets, Week 1 is the most profitable in our database (22-16 ATS, +5.48 units).
At the time of publication, five teams (Chicago, Buffalo, Washington, St. Louis and San Francisco) were receiving less than 25% of spread bets at our contributing sportsbooks. This certainly makes each game noteworthy, but there are three line moves that we believe bettors should be aware of before placing any wagers.
Miami Dolphins at Washington Redskins (Sunday at 1:00PM eastern)
It's interesting to note that despite the lopsided public betting in a number of games this weekend, we still haven't observed any reverse line movement at Pinnacle. Typically this is one of the best sharp money indicators, but there are other ways for NFL bettors to find value.
On many occasions we have discussed the 80/20 rule which explains how bettors can win by fading large public favorites. Since 2005, teams receiving no more than 20% of spread bets have gone 101-81 ATS (55.5%) during the regular season. When that lopsided public betting creates at least a half-point of artificial value (i.e. moving from +3 to +3.5 or -7 to -6.5), that record improves to 62-42 ATS (59.6%).

At the time of publication, the Redskins were receiving just 15% of spread bets and had moved from +1.5 to +3.5 at Pinnacle. For those who are curious, Washington was receiving 17% of bets as a 3.5-point underdog back on August 30th when Robert Griffin III was listed as the starting quarterback. This indicates that the oddsmakers don't believe there is any discernible difference between Griffin and Kirk Cousins.
New Orleans Saints at Arizona Cardinals (Sunday at 4:05 PM eastern)
The Arizona Cardinals opened as 2.5-point favorites at Pinnacle and are currently receiving 70% of spread bets. Despite this schism in public betting, Arizona is still listed at -2.5 as oddsmakers are reticent to move to the key number of 3.
Public betting briefly pushed Arizona to -3 at Pinnacle back on August 20th, but eleven days one of our bet signals was triggered on New Orleans +3 which pushed line down to 2.5 where it seems to have settled.

What's particularly interesting about this game isn't the lack of line movement; it's the lack of public support for New Orleans. The Saints haven't received less than 30% of spread bets since October 15, 2006 — Drew Brees' first season with the team. Dating back to 2005 Brees has been the sixth most profitable quarterback for bettors, posting a 103-87 ATS record with +12.37 units won.
New Orleans currently fits the criteria for a moneyline betting system featured on ESPN, which indicates that bettors may want to take the Saints +118 to win straight up rather than betting the spread.
Minnesota Vikings at San Francisco 49ers (Monday at 10:20PM eastern)
Back on May 15th, the 49ers opened as 4-point favorites at the market-setting Pinnacle sportsbooks. Since then, one could argue that San Francisco has had one of the worst offseason's of all-time. The team parted ways with head coach Jim Harbaugh, even though he posted a 49-22 record in four seasons, which included three playoff berths. Anthony Davis, Chris Borland and Patrick Willis unexpectedly retired, Frank Gore and Mike Iupati left via free agency and former Pro Bowler Aldon Smith was released after yet another arrest.
This avalanche of bad news has clearly affected public sentiment as 75% of spread bets have taken the Vikings. The lopsided public betting has moved the line 6.5-points from Minnesota +4 to -2.5. In fact, if you shop for the best line you can find Minnesota -3 at Bovada.
In our database, there have been two other Week 1 games featuring a line move of at least 6.5-points at Pinnacle:
9/7/14: Carolina Panthers at Tampa Bay Buccaneers (+2 to -5.5)
9/9/12: Miami Dolphins at Houston Texans (-6.5 to -13)
In last season's Panthers game, Cam Newton was held out due to a rib injury that he sustained during the preseason. According to oddsmakers, the drop off from Newton to backup Derek Anderson was worth roughly 7.5-points.
In that 2012 season opener between the Dolphins and Texans there was no major injury causing the 6.5-point line move, however, oddsmakers may have been surprised to see rookie quarterback Ryan Tannehill getting the start over a veteran like Matt Moore. It should also be noted that 78% of spread bets took Houston which could be responsible for some of that movement.
Based on the contrarian value we would likely lean towards San Francisco in this matchup, but the only picks we fully endorse are our Best Bet picks which are available to all Sportsbook Insider Pro subscribers. The table below displays the breakdown of our seven contributing sportsbooks.

These numbers are subject to change before kickoff, so bettors should be sure to visit our free NFL odds page for the latest lines, injuries, public betting trends and more.
Have any questions for the staff at Sports Insights? Utilize our live chat to speak with a customer service representative or e-mail us at help@sportsinsights.com.
David Solar is the Content Manager for Sports Insights and can be reached directly at David@sportsinsights.com.