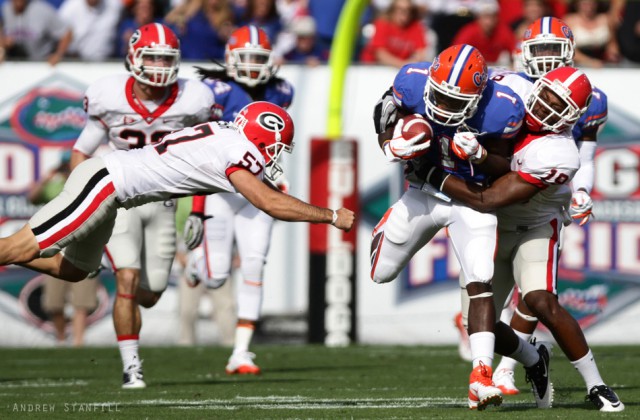 2015 College Football: Week 9 Line Moves That Matter
Last week was miserable for the little guy, with underdogs going 22-32 (-11.24 units) on the spread and just 11-42 (-24.88 units) on the moneyline. In fact, there were only two underdogs of at least +200 that managed to eek out a victory — Washington State and Northwestern.
While underdogs struggled, betting against the public proved to be a successful strategy. Teams receiving less than 50% of spread bets went just 24-29 ATS, but teams from the five major conferences went 13-12 ATS in those games. We have stressed that the number of bets is a key component to betting against the public, which is why focusing on major conference games is so important.
Last week teams receiving less than 40% of spread bets were 17-16 ATS, but teams from the ACC, Big Ten, Big 12, Pac-12 and SEC fitting these criteria went 8-5 ATS. On the season, these teams have gone 47-41 ATS.
In our Week 8 Line Moves That Matter, we identified sharp money on Clemson (-6.5), Mississippi (-6) and USC (-3.5) while pointing to potential contrarian value on Rutgers. Although Ohio State blew out Rutgers, all three of our sharp money indicators came through.
Clemson destroyed Miami 58-0, leading to the Hurricanes firing head coach Al Golden. Ole Miss held a potent Texas A&M offense to just 3-points in an easy cover. USC bounced back from their loss to Notre Dame by beating Utah 42-24. In fact, on Saturday morning there was massive movement across the sports betting marketplace, with sharp money pounding USC.
Huge steam hits the market, moving USC from -3.5 to -7. Particularly interesting since the Trojans are receiving just 24% of spread bets.

— Sports Insights (@SportsInsights) October 24, 2015
The common denominator between the sharp money indicators that we identified last week is that they all focused on Saturday's most heavily bet games. This week, we chose to compare the ticket count at our contributing offshore sportsbooks with the ticket count at the Las Vegas based William Hill sportsbook.
The table below compares the most popular games offshore with the most popular games in Vegas to determine which games are being pounded with public money this weekend.
| William Hill Tickets | Contributing Books | Number of Bets |
| --- | --- | --- |
| 1. West Virginia/TCU | 1. West Virginia/TCU | 5,574 |
| 2. Vanderbilt/Houston | 2. Georgia/Florida | 5,201 |
| 3. Clemson/NC State | 3. Vanderbilt/Houston | 5,185 |
| 4. USC/California | 4. Clemson/NC State | 4,118 |
Since the game is being played early in the week, it's not surprising to see that Thursday night's West Virginia/TCU game has received the highest volume of bets both offshore and in Las Vegas. However, it is interesting to see that Georgia/Florida received the second most bets at our contributing sportsbooks, but didn't even crack the top four at William Hill.
In this week's edition, we chose to examine three of these heavily bet games and determine how the influx of public money has affected the line.
Clemson at NC State (Saturday at 3:30 PM eastern)
Last week Clemson embarrassed Miami, defeating the Hurricanes 58-0. This impressive blowout has clearly been influencing public perception in this week's matchup. Clemson opened as a 10-point favorite at CRIS and have received 80% of spread bets. Despite this one-sided public betting, the line remains unchanged at Clemson -10.

Based on this line graph, which is available exclusively to Sportsbook Insider subscribers, you can see Clemson actually dropped from -10 to -9.5 immediately after opening, which could indicate early sharp money. However, public money continued to pound Clemson which pushed the line back to -10 and even -10.5 for a brief period. Buyback on NC State has helped the line settle at -10 although a number of square sportsbooks are offering NC State between +10.5 and +11.5.
William Hill trends: Clemson receiving 93% of tickets and 97% of total dollars wagered.
Georgia vs. Florida (Saturday at 3:30 PM eastern)
In one of the great annual rivalries, Florida will face off against SEC-rival Georgia in the World's Largest Outdoor Cocktail Party. Florida opened as a 1-point favorite at CRIS and have received 76% of early spread bets. This public money has moved the Gators from -1 to -3.
The table below displays the public betting trends at all seven of our contributing sportsbooks:

William Hill trends: Florida receiving 77% of tickets and 88% of total dollars wagered.
Vanderbilt at Houston (Saturday at 7:00 PM eastern)
In one of this week's most interesting matchups, undefeated and 18th-ranked Houston will host Vanderbilt. The Cougars opened as 13.5-point favorites at CRIS and have received 82% of spread bets. Despite this one-sided public betting, Houston has actually dropped from -13.5 to -11.5. This reverse line movement is a strong indicator that sharp money likes Vandy as a road dog.
This information is validated by the current betting trends at William Hill. Although Houston is receiving 87% of tickets, they're only receiving 54% of total dollars wagered. This disparity between the ticket count and dollar amount indicates that wise guys and/or betting syndicates have hammered Vanderbilt in early betting. This game exemplifies the "Pros vs. Joes" model.
---
These numbers are subject to change before kickoff, so bettors should be sure to visit our free College Football odds page for the latest lines, injuries, public betting trends and more.
We would like to stress that the only picks we fully endorse are our Best Bets which are available to Sportsbook Insider Pro subscribers. Bettors can access these picks plus real-time odds, public betting trends, steam moves, reverse line movement alerts and more by signing up for a 4-day Pro trial.
Interested in adding more time to your subscription? Schedule a one-on-one demo with our customer service manager and receive an additional four days for free!
Have any questions for the staff at Sports Insights? Utilize or live chat to speak with a customer service representative or e-mail us at help@sportsinsights.com.