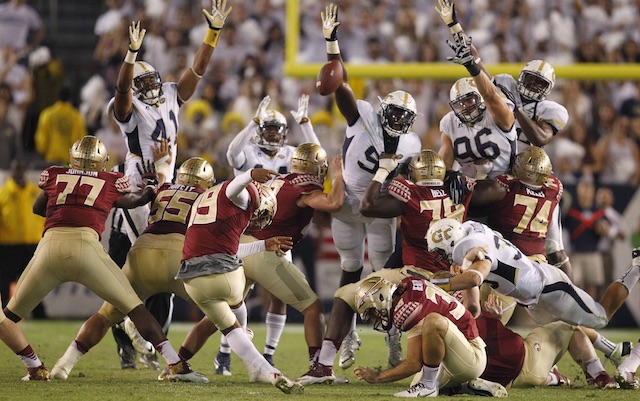 2015 College Football: Week 8 Betting Recap
We're now more than halfway through the season and this week brought us some great finishes, quadruple-overtime games and more.
-Biggest moneyline upsets:
Washington State +238 at Arizona
Northwestern +230 at Nebraska
-Underdogs lost -26 units on the moneyline this past weekend, and there were only two upsets (Wash St and Northwestern) above +200.
-Underdogs went just 22-32 ATS, so it was a solid week for favorites and probably parlays/teasers. Home teams went 30-23 ATS.
High total: ARZ-WSU 75 (went over, ended WSU 45-42)
Low total: MIZZ-VAN 34 (went under, ended Vandy 10-3)
High spread: BYU -50.5 (BYU covered, winning 70-6)
-The total of 34 for Mizzou-Vanderbilt was the lowest total we've ever tracked in Bet Labs dating back to 2005. Previous low was just two weeks ago between BC and Wake Forest, a game that ended 3-0.
-The major line move of the week was on Saturday morning when USC moved from -3.5 to -7 against 3rd-ranked Utah. This was a clear indication of sharp, respected money on the Trojans as they were getting just 24% of spread bets and 11% of moneyline bets from the public in the most bet game of the weekend. USC easily covered the opening and closing spread, defeating Utah 42-24. This was the first time since 2007 that an unranked team was a favorite against a top-5 opponent.
-Toledo is now the only remaining team without an ATS loss this season (6-0-1). Old Dominion still the lone team without an ATS win this year (0-7).
-There were 11 teams with a chance to go over their Season Win Total this week but the only one to do so was Bowling Green (5.5 wins before the year).
-Miami FL got clobbered by Clemson at home, 58-0. This was the Hurricanes worst-ever loss and on Sunday head coach Al Golden was fired.
-Central Florida gave up 45 unanswered points in 15 minutes of game time against Houston in their 59-10 loss. On Sunday, head coach George O'Leary resigned.
-Thursday night Temple came back to win at ECU and it's now the first time in school history that they've started 7-0.
-There were two 4-overtime games Saturday. Duke beat Virginia Tech 45-43 while Arkansas defeated Auburn 46-38. Arkansas closed -7 and getting the game to the 4th overtime was just about the only way they were going to have a chance to cover (teams must go for 2 after the third overtime).
Heisman Watch: LSU RB Leonard Fournette entered the week as a -240 favorite and rushed for another 150 yards and a touchdown vs. WKU.
Major Injuries: Baylor QB Seth Russell suffered a broken bone in his neck and will be sidelined indefinitely. It's an unfortunate injury for anyone, especially a Heisman candidate on a top-5 team.
Videos/Vines of the Week:
-Georgia Tech upsets Florida State on a last-second blocked field goal and return for a touchdown:
Georgia Tech beats Florida State 22-16 on this blocked kick. Unreal. pic.twitter.com/Nd3y2dV8EX

— Dr. Saturday (@YahooDrSaturday) October 25, 2015
-Bowling Green WR Roger Lewis makes a great catch in the end zone in their rout over Kent:
Bowling Green's Roger Lewis? Yeah, he's good. Check out this ridiculous TD catch: https://t.co/EnfhnUvYgu pic.twitter.com/OoJHSGjh6c — CBS Sports CFB (@CBSSportsCFB) October 24, 2015
-Friday night brought us a great pee-wee-looking fumble between San Diego State and Utah State:
Just because the game is called football doesn't mean you can kick it anywhere you want pic.twitter.com/vxOQEiVKua

— Deadspin (@Deadspin) October 24, 2015
-Friday night also gave us a great hail mary at the end of the half to keep Tulsa close with Memphis, but it didn't last:
Tulsa completes completes crazy Hail Mary to end first half against Memphis https://t.co/lrCKNyCYt4 pic.twitter.com/hu4A0xXIU4 — CBS Sports CFB (@CBSSportsCFB) October 24, 2015