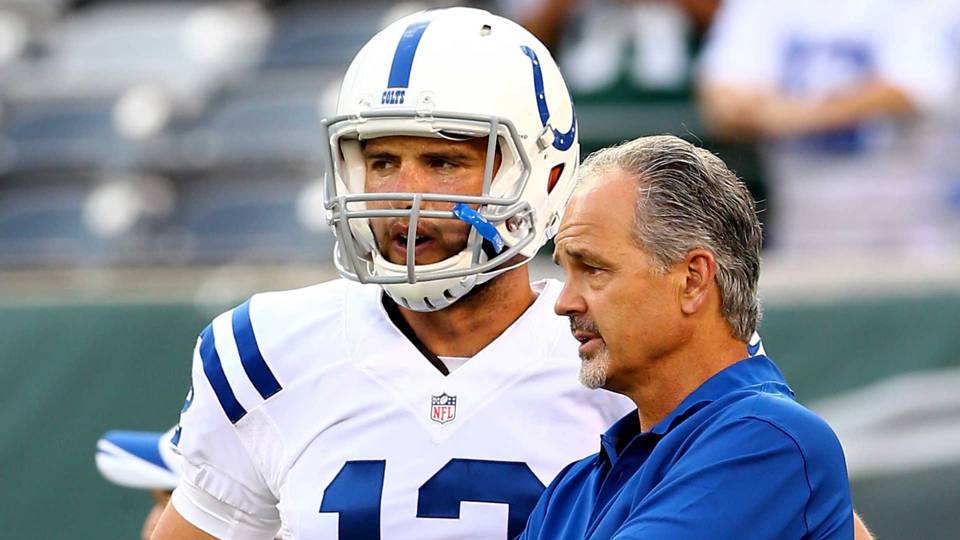 Which NFL Head Coach Will Be Fired First in the 2017-18 Season?
Not all props and futures deal with good news– 5Dimes released odds back in July on which NFL head coach would be the first to be fired during the 2017-18 season. Sportsbooks may have different rules on this prop, but 5Dimes specified that the head coach must coach in Week 1 for action. The rules also specified that "firing" includes dismissal, resignation and retirement.
Last season it was Jeff Fisher to be the first head coach fired (which occurred on December 12th, 2016 by the LA Rams). Before the 2016-17 season he was listed at +700 to be the first coach gone while Jim Caldwell (DET) was the favorite. Unfortunately for Jim Caldwell, he was still near the top of the list once again heading into the 2017-18 season, but things have changed. Here's a look at updated odds (via CRIS):
Coach
November 21
(CRIS)
September 7
(5Dimes)
August 10
(5Dimes)
July 3
(5Dimes)
Chuck Pagano (IND)
+120
+630
+1050
+1050
Ben McAdoo (NYG)
+150
+1700
+1700
+1700
Hue Jackson (CLE)
+300
+525
+525
+525
Todd Bowles (NYJ)
+750
+320
+320
+500
Marvin Lewis (CIN)
+1500
+1200
+1200
+1200
'Field'
+3000
N/A
N/A
N/A
Jim Caldwell (DET)
N/A
+875
+1050
+1050
Doug Marrone (JAX)
N/A
+2800
+2800
+2800
Jay Gruden (WAS)
N/A
+1800
+1800
+2800
Adam Gase (MIA)
N/A
+1500
+1500
+1500
Mike Zimmer (MIN)
N/A
+2300
+2300
+2300
Mike Mularkey (TEN)
N/A
+2300
+2300
+2300
Dan Quinn (ATL)
N/A
+2300
+2300
+2300
Mike McCarthy (GB)
N/A
+2300
+2300
+2300
Sean McDermott (BUF)
N/A
+2700
+2700
+2700
Doug Pederson (PHI)
N/A
+2800
+2800
+2800
John Fox (CHI)
N/A
+700
+825
+825
Ron Rivera (CAR)
N/A
+3300
+3300
+3300
Sean McVay (LAR)
N/A
+3300
+3300
+3300
Bill O'Brien (HOU)
N/A
+1200
+1200
+1200
Dirk Koetter (TB)
N/A
+3300
+3300
+3300
Vance Joseph (DEN)
N/A
+5500
+5500
+5500
Anthony Lynn (LAC)
N/A
+5500
+5500
+5500
Bruce Arians (ARZ)
N/A
+5500
+5500
+5500
Jack Del Rio (OAK)
N/A
+5500
+5500
+5500
John Harbaugh (BAL)
N/A
+5500
+5500
+5500
Mike Tomlin (PIT)
N/A
+5500
+5500
+5500
Kyle Shanahan (SF)
N/A
+7500
+7500
+7500
Andy Reid (KC)
N/A
+8500
+8500
+8500
Pete Carroll (SEA)
N/A
+15000
+15000
+15000
Bill Belichick (NE)
N/A
+50000
+50000
+50000
Jason Garrett (DAL)
N/A
+3300
+3300
+3300
Sean Payton (NO)
v
+1400
+1400
+1400
Pagano is now the +120 favorite, and I wrote about the value on him at +1050 before the year which is written below. I also thought Marvin Lewis had a decent chance to be the first head coach gone, but his odds are at +1500 now. Even though others may go first, there's a very real possibility Marvin Lewis isn't back for 2018.
The Jets have been mildly impressive this season but Bowles is still at +750. The Browns are being the Browns again and Hue Jackson is +300, but hard to really put the blame on him. Ben McAdoo of the Giants is right behind Pagano at +150, but it seems premature for NY to let him go so quickly.
Below was written on August 10, 2017:
There's no surprise at the very top with Todd Bowles (NYJ) and Hue Jackson (CLE), as the Jets and Browns are expected to be two of the worst teams this year. The Jets have had a miserable off-season, which spells even more doom for Bowles and New York, moving from +500 to +320 to be first head coach canned.
A couple head coaches worth keeping an eye on are Chuck Pagano (IND) and Marvin Lewis (CIN). Pagano is coming off back-to-back disappointing .500 seasons and missing the playoffs in a weak AFC South. The Colts do have a favorable schedule early on for 2017-18, but a slow start could just add fuel to the fire.
As for Lewis, he led the Bengals to five straight playoff appearances but has never won a playoff game, and Cincy went just 6-9-1 last season while missing the playoffs entirely. Cincinnati is expected to turn it around in 2017-18, but those expectations could ultimately mean the end for Lewis. If the Bengals struggle again, especially early in the season, Cincinnati may not wait to make a change.
Are there any head coaches you think are worth making a bet on? Leave your thoughts and comments in the space below.
Join us live Sundays at noon ET
We're now holding our members-only live Sports Betting Hangouts Sunday mornings to prepare you for a full day of NFL games. Members, simply log into your account Sunday morning to access the hangout.
Not a member? Start a trial today to join our Sports Betting Hangouts held six days a week, plus all the other Sportsbook Insider Pro benefits.