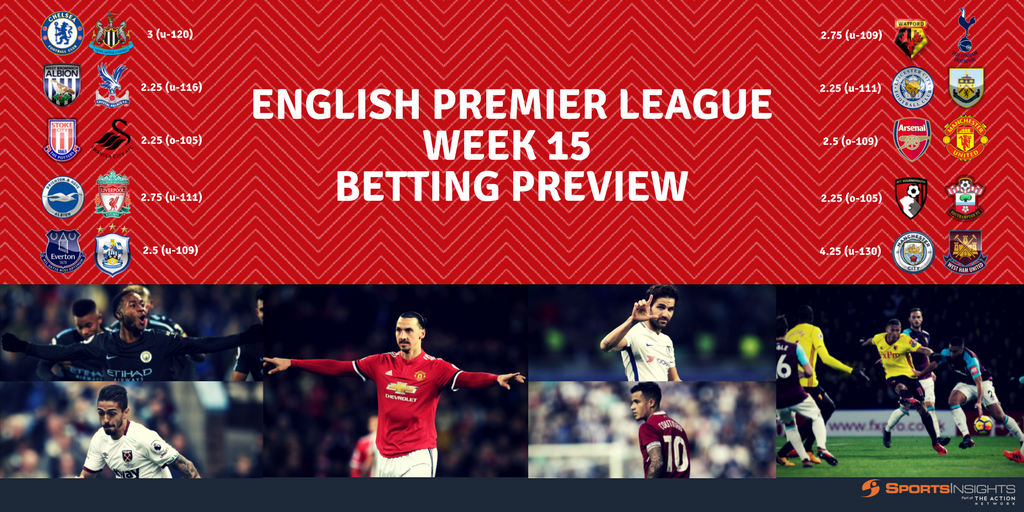 Premier League Week 15 Betting Preview: Sharp Money on Arsenal?
We were so close on hitting the draw at +730 odds between Man City and Southampton on Wednesday, but Raheem Sterling ripped our hearts out with no time left:
Raheem Sterling wins it for Manchester City in the 96th minute. #MCFC's 12th win in a row in the Premier League #MCISOU pic.twitter.com/mdapLZkLmW

— Joe Prince-Wright (@JPW_NBCSports) November 29, 2017
However, Week 14 was still very profitable with both the Crystal Palace/Stoke Draw +214 and West Brom/Newcastle Draw +215 cashing on Tuesday. Value plays are now +17.08 units on the season, good for a 54% ROI.
Week 14 was full of big favorites and they all came through except for Tottenham, who lost 2-1 at Leicester City. Spurs now find themselves 16 points behind Manchester City for the title and were passed in the table by Burnley (25 points) this week. Here's a look at the most recent results, season trends, title odds, and a preview for Week 15.
Week 14 Results:
Home 5 of 10 (+1.39 units)
Away 3 of 10 (-2.76 units)
Draw 2 of 10 (-3.80 units)
Season Results:
Home 64 of 140 (+1.04 units)
Away 43 of 140 (-12.15 units)
Draw 33 of 140 (-8.64 units)
Title Odds via Paddy Power:
Man City -1000 (40 points)
Man Utd +1200 (32 points)
Chelsea +2000 (29 points)
Tottenham +3300 (24 points)
Arsenal +5000 (28 points)
Liverpool +5000 (26 points)
Burnley +200000 (25 points)
Manchester City are just 3 wins away from breaking Arsenal's consecutive win streak of 14 set in 2001-02, and they're massive -925 favorites vs. West Ham on Sunday.
A month later, odds are now at +250 to do it. Man City have won 12 straight matches, 3 more to break the record.

— ArsenalDMC (@ArsenalDMC) November 30, 2017
As an Arsenal supporter I'm certainly hoping for Man City to lose in order to keep the Gunners' historical record in tact, but that may have to wait until next weekend when they face Man United. Speaking of Arsenal and Manchester United, they are featured in the marquee match of the weekend on Saturday afternoon at 12:30 pm ET. This is always a nervy match for Arsenal fans since Manchester United have dominated the head-to-head matchup, but Arsenal are actually the favorites (+149) this weekend. We've also seen some reverse-line movement toward Arsenal as the public has been betting heavily on Man United (+208), and this could be a decent spot for Arsenal to take all 3 points. But keep an eye on where the draw line is moving on game day, because that's where the true value may lie.
As for Week 15 value plays, let's start with what keeps working: Crystal Palace/West Brom Draw +215. The Over/Under opened at 2 (-126) and the juice has actually dropped to -117, meaning there's been movement toward the Under. This is great news for draw bettors, especially since the 3-way moneylines are all very close. Both clubs have been playing well over the last couple matches, but I'm still surprised to see public bettors taking a side in this one. West Brom have just 1 home win all year, and Crystal Palace are the worst road team in the league this season. I think we should be expecting a 0-0 or 1-1 draw, so take the +215 odds.
The other value play will be a 3-team moneyline parlay on Liverpool/Everton/Tottenham which pays out +340. At the time of publication, the public action has actually come in on the underdogs in each of the matchups, and I tend to steer away from those trendy underdogs. For example, Brighton (+650) are getting more than 50% of the tickets to beat Liverpool as huge underdogs, while Liverpool (-202) are getting just 33% of the bets. We've seen some reverse-line movement on Liverpool from -191 to -202, but public bettors keep taking Brighton at a great price. We've also seen similar reverse-line movement on Everton (-114 to -136) and Tottenham (-137 to -146), but bettors keep backing the big underdogs. I expect Tottenham to bounce back after losing at Leicester last week, while Everton finally put together a solid match overall. I don't normally bet on favorites but when they're contrarian favorites I have no problem doing so.
Most Lopsided Action
75% on Stoke City (-108) vs. Swansea
58% on Watford (+425) vs. Tottenham
Biggest Line Moves
Everton (-114 to -139) vs. Huddersfield
Southampton (+217 to +148) at Bournemouth
Value Plays (16-16 season record, +17.08 units, 54% ROI)
Crystal Palace/West Brom Draw +215
Liverpool/Tottenham/Everton Parlay +340
As always, you can track all the latest Premier League line moves, betting percentages, market data and more with a Premium or Pro membership.