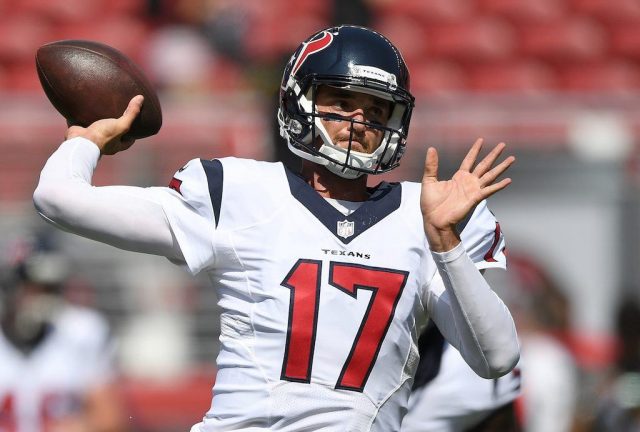 What's Moving the Raiders/Texans Line for Saturday's Wild-Card Matchup?
Although it's receiving fewer bets than any other playoff game, there are some fascinating trends for Saturday's AFC wild-card matchup between the Oakland Raiders (12-4) and Houston Texans (9-7). Both teams are making late-season adjustments at quarterback with Brock Osweiler replacing Tom Savage for Houston and third-string rookie Connor Cook getting the nod for Oakland.
This season the Texans went 7-1 straight up (SU) and 4-3-1 against the spread (ATS) at home while going just 2-6 SU and 2-5 ATS on the road. In an interesting twist, the Raiders have actually been better on the road (6-2 SU, 6-2 ATS) than they have been at home (6-2 SU, 3-4 ATS). Despite winning three fewer games than their opponent, Houston gets to play at home after winning their division.
The Texans opened as 3-point favorites at the market-setting Pinnacle sportsbook when this line was first released on Monday morning. Early public money pounded the home chalk, with Houston receiving 62% of spread tickets and 72% of spread dollars. It may appear as though public money is responsible for this one-point line move, but there are other factors at play.
[Click image to enlarge]

As you can see, the Texans opened at -3 and moved to -3.5 roughly five hours later. That's particularly significant since "3" is considered to be the most important key number for spread bettors. Since that time, public money has continued to hammer Houston which caused the line to move from -3.5 to -4.
When this line was first released, it was unclear whether Matt McGloin (Shoulder) would be cleared to play on Saturday. In six career starts, the Penn State product has gone just 1-5 SU and 2-4 ATS. Despite those struggles, oddsmakers were much more comfortable with the veteran McGloin as opposed to the inexperienced Cook. In fact, the move from Oakland +3 to +3.5 came almost immediately after McGloin was downgraded to doubtful.
"We did adjust a half point due to the public perception of a rookie making his first start in a playoff game," said Scott Cooley, an Odds Consultant for Bookmaker.eu. "It's hard to tell what the dropoff between the two is as far as performance, but obviously McGloin has experience and Cook does not."
A quick look at the individual betting percentages reveals that the majority of spread tickets have taken Houston at six of our seven contributing sportsbooks. It's interesting to note that the majority of spread tickets at Carib have actually taken Oakland.
[Click image to enlarge]

Following Derek Carr's injury in Week 16, multiple oddsmakers informed me that Carr is valued at between 3-5 points to the spread depending on the situation. In fact, one of those individuals said that Oakland would likely be a 2.5-point road favorite in Saturday's matchup if their franchise quarterback was healthy.
Interestingly, these two teams actually played each other in Mexico City back in Week 11. In that game, Oakland opened as 5-point favorites and, behind 69% of spread tickets, ultimately closed as 6.5-point favorites. For what it's worth, home-field advantage is usually valued at roughly 3-points.
While the line movement on the spread is intriguing, the more interesting storyline involves the over/under. Pinnacle opened the total for this game at 37, which is the lowest opening total since December 28, 2014. In that game, the Arizona Cardinals/San Francisco 49ers total opened at 36.5. Although the total moved from 37 to 37.5 shortly after opening, it quickly dropped back down to 37. Assuming it closes at 37, it would be the lowest playoff total in nearly five years (the Texans/Ravens total closed at 37 back on January 15. 2012).
In an even more bizarre twist, the majority of tickets (57%) and total dollars wagered (63%) have taken the under. It's human nature to root for winners and scoring, and recreational bettors love betting overs. Since 2003, the majority of public bettors have taken the under in just 11.8% of regular season games and 7.2% of playoff games which makes this an incredibly rare occurrence.
Since 2003, there have been 13 NFL playoff games with a total of 37 or lower. The majority of bettors have taken the over in all 13 games.

— Sports Insights (@SportsInsights) January 4, 2017
It's worth noting that Raiders overs went 11-4 with Derek Carr behind center and 0-1 in Matt McGloin's lone start. The Texans, who have both an incompetent offense and a stout defense, were one of the most profitable under teams this season. Obviously the poor quarterback play is one of the main reasons this total is so low, but inclement weather is also a contributing factor.
As we mentioned in a previous article, it's been very profitable to take the under when there are strong wind speeds. At the time of publication, forecasts are calling for wind speeds ranging between 7-9 miles per hour. That said, it's important to note that Saturday's game is being played at a stadium with a retractable roof.
[Click image to enlarge]

Interested in analyzing this data for the rest of the NFL wild-card games? Sign up for a 4-day trial of our Sportsbook Insider Pro software, for instant access to all of our betting/money percentages, Bet Signals and Best Bet picks for all sports.
Have any questions for the staff at Sports Insights? Make sure to utilize our live chat or call us directly at 877-838-2853.