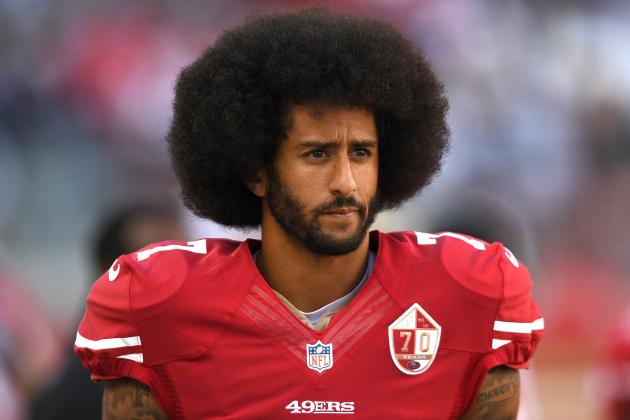 What Team Will Colin Kaepernick be on in Week 1?
The New York Mets…just kidding, they're not an option for some god forsaken reason.
MyBookie has gone ahead and posted odds on a number of teams for our entertainment. At the moment, it doesn't appear that Colin Kaepernick is drawing much interest from any teams. Last year with the 49ers, he started 11 games and actually didn't do all that bad. His 90.7 passer rating was better than he had done in his previous two campaigns and his 16:4 touchdown to interception ratio wasn't too shabby either.
Does he deserve a shot at a job with someone? Definitely. However, most teams probably don't want to deal with the media frenzy that will accompany his signing. Any team that would potentially sign him likely wouldn't benefit that much in the standings and probably wouldn't mind a nice high draft pick next year.
Here are the odds…he has to be on the team by week 1 for action.
| Team | 8/16 (MyBookie) |
| --- | --- |
| Cleveland | +200 |
| Indianapolis | +300 |
| Seattle | +300 |
| LA Rams | +400 |
| New Orleans | +500 |
| Buffalo | +500 |
| Houston | +600 |
| NY Jets | +700 |
| Field | +300 |
Ah, the Browns. What do ya know? I figured they were all set at the QB position as they always are. Depending on how poorly all of their quarterbacks play in the preseason, they might give Kap a call. If he does sign there, he should probably have his retirement papers ready for next offseason.
The Colts and the Seahawks might surprise some people, but they have two of the worst backup quarterbacks in the league according to oddsmakers. If Andrew Luck or Russell Wilson go down, these teams are screwed. There's no doubt that they would benefit by having Kaepernick on the bench in case of emergency.
The Jets are the last listed team at 7/1…what?!? I'm surprised that they aren't closer to the top of the list because he could honestly be better than any of the schmucks they're rolling out this year. Like I said though, they may just want to tank and potentially grab the #1 pick so signing Kaepernick wouldn't really be beneficial in the long run.
What team do you think he'll land a job with? Other than the Mets, that is.
Give us a holler on Twitter @SportsInsights with your thoughts.