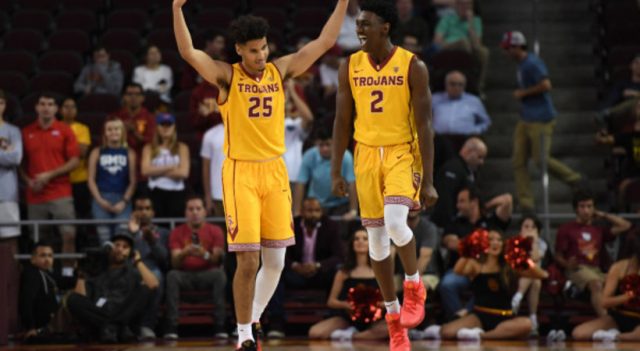 What Should Bettors Know About the USC/Baylor Line Movement?
After opening at -6.5 on Friday, Baylor sat steady for an entire day before moving to -7 last night. Based on the initial movement, one would think that Baylor was the way to go.
However, this morning, Baylor fell from -7 back to -6.5. Then to -6…then to -5.5. Why has the line moved so much towards USC?
Let's look at the percentages offered on the Sportsbook Insider.

Despite being a #11 seed, USC is getting the majority of the bets on both the spread and moneyline. They are also getting about 10% more spread dollars than spread bets, which is an indication of larger and likely sharper bets. This can help explain the line moving a point and a half over the course of the morning.
It isn't often that public and sharper bettors are both on an underdog like this during the regular season, but trendy dogs do seem to pop up more often in the NCAA Tournament. People try to look for those Cinderella teams, but as our research has shown, betting on trendy dogs hasn't been profitable in years past.
This game is very similar to yesterday's Middle Tennessee State/Butler game. The public and sharps were both on MTSU, pushing their line from +4.5 to +2.5 by closing. However, fading them ended up being the way to go, as they lost by 9.
Want access to dollar percentages, bet signals, and best bet picks for college basketball and the other major sports? Try out our Sportsbook Insider Pro membership.
If you have any thoughts or questions, feel free to reach out to the Sports Insights staff by utilizing our live chat feature, commenting below, or emailing us at help@sportsinsights.com.