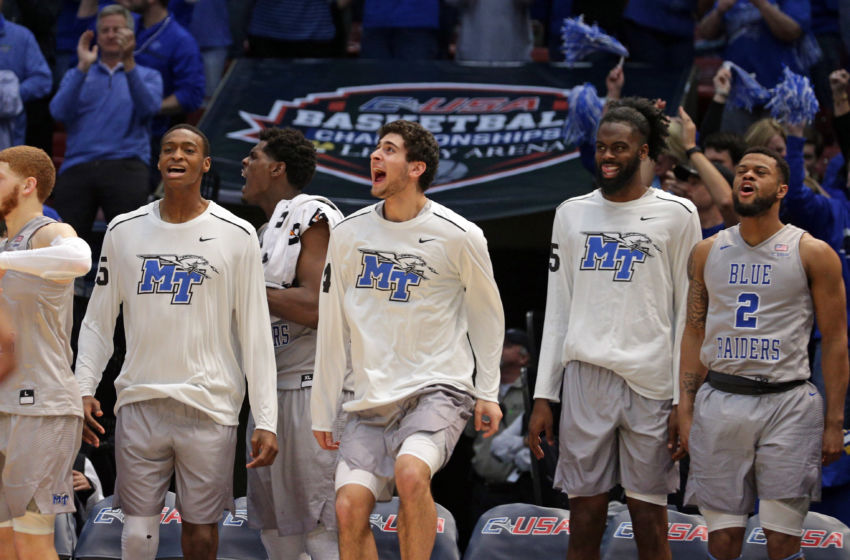 Middle Tennessee State is a trendy underdog again– should you fade or follow?
Middle Tennessee State made noise in last year's tournament, and has already defeated #5-seed Minnesota in the opening round this year. They were a trendy "upset" pick to win in the Round of 64 (they opened as underdogs but closed as the favorites), and they're getting a ton of attention again in the Round of 32 against Butler.
#12-seed MTSU is 24-10 ATS this season, 3rd best in the nation behind only SMU and Gonzaga. Bettors are gladly backing these moneymakers, and they're getting 62% of spread tickets against Butler. This one-sided ticket action on the underdog has helped move MTSU from +4.5 to +3 since opening at Pinnacle. Here's a glimpse of the market and how the line has moved with heavy action on MTSU:

In addition to the majority of spread tickets, MTSU is also getting more than 70% of the spread dollars. This means that sportsbooks need to move their lines, especially since this game will attract so many wagers. Sharper bettors could come in on #4-seed Butler now that the line has dropped to -3 but we haven't seen that happen yet.
Now, should bettors continue to back these trendy underdogs? Historically dogs have struggled in the NCAA Tournament when getting the majority of public support, going just 85-112 ATS including 3-7 ATS this season. That record is even worse when looking strictly at the Round of 32: underdogs getting at least 50% of tickets have gone just 17-32 ATS including 0-3 ATS last season. If you still like MTSU you probably lost the value on +4.5 or +4, but now could be the time to jump on Butler -3 and fade the trendy Cinderella pick. We have plenty of features such as the Line Watcher or Line Predictor to help bettors distinguish the best time to place their wagers.
Want access to all odds, betting %'s, bet signals, injuries, picks and more? Try our Pro membership today and start making smarter bets.