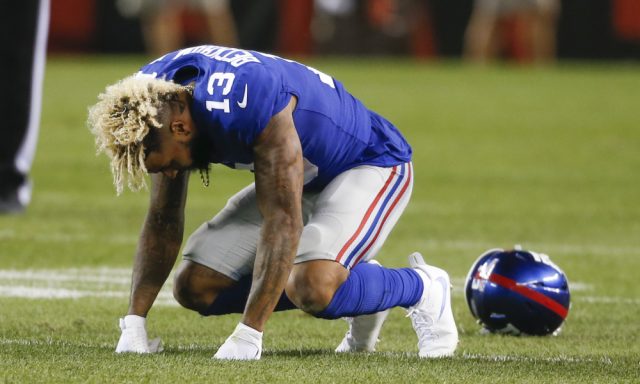 What Does Odell Beckham's Injury Mean for Tonight's Game?
All week, Odell Beckham's status was up in the air and it became evident earlier today that chances of him playing were not very good at all.
Asked chances of OBJ playing tonight vs. Cowboys, one source texted, "What are the chances of you going to Cuba next month for vacation?"

— Adam Schefter (@AdamSchefter) September 10, 2017

With that being said, both the spread and total for tonight's game have been in flux over the past couple of days. When he was originally injured during the preseason, the game was taken off the board at a number of books.
When I reached out to Scott Cooley of BookMaker.eu to ask him what Beckham's value to the spread would be, he said, "In the end, we may adjust a half point, but maybe nothing at all because we know the bettors will overreact and supply the adjustment for us."
In terms of his worth compared to other receivers in the league, Cooley said, "There are a few receivers worth maybe a half point, depending on the circumstance, but in most cases they aren't worth anything. Beckham would be one of the top guys, considering his complimentary receivers."
Before Ezekiel Elliott's suspension ruling came down, the Cowboys sat at -3.5 with a total of 47.5 at Bookmaker. Since Wednesday, everything has been going Dallas's way, though.
With Elliott set to play and Beckham now officially out, the Cowboys have moved to -5.5. The total has also dropped to 46.5. With both players worth around a half a point., this line movement makes sense. The public has been all over the Cowboys since the Elliott news, too, further moving the line.

In the red box, you can see that both percent of bets and dollars on the Giants have sharply declined in recent days. As Cooley said, books don't really need to adjust the line on their own because the market will determine just how much the line eventually moves.
Bookmark our free NFL odds page so you can follow the line up until game time. Follow us on Twitter @SportsInsights for all breaking injury news, NFL betting trends, and much more.