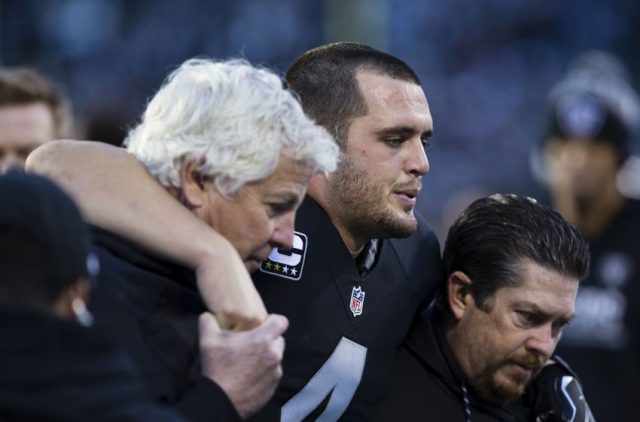 What Does Derek Carr's Injury Mean for the Raiders?
With just one game remaining in the regular season, the Oakland Raiders actually have a chance at home-field advantage throughout the AFC playoffs. Not many people would have guessed that. However, that is probably the last thing that Raiders fans have on their minds.
In the 4th quarter of Saturday's game against the Colts, Derek Carr went down with an injury that was later revealed to be a fractured fibula. While the Raiders' season isn't over, their chances at a deep playoff run have greatly diminished.
Before the injury took place, the Raiders were 12/1 to win the Super Bowl at Westgate, good enough for fifth-best odds in the league. With Carr now essentially out for the rest of the year, the Raiders odds have more than doubled, ballooning up to 25/1. That is the highest that their odds have been since October 24th and even higher than their preseason odds.
Filling in for Carr in Week 17 and likely all of Oakland's playoff games will be Matt McGloin. McGloin started a five-game stretch for the Raiders back at the end of the 2013 season, going 1-4 overall and 2-3 against the spread. He hasn't started since then, though. If McGloin falters, the Raiders can also turn to rookie QB Connor Cook out of Michigan State. Cook has yet to play a snap in the NFL at this point, so they would be asking a ton out of him if they were to give him the nod in the postseason.
Despite the massive talent dropoff from MVP-candidate Carr to McGloin, the Raiders line against the Broncos this week has some unexpected line movement. One week ago, Westgate posted their Week 17 early lines, with the Broncos two-point favorites against the Carr-led Raiders. Right now, the Broncos are just one point favorites against the McGloin-led Raiders.
There are several possible reasons as to why this line has moved. First, when this line was posted a week ago, the Broncos were still in playoff contention. That's not the case anymore, so the Broncos don't really have much to play for at this point unless they want to spoil the Raiders' chances at the division title. Also, the Broncos will be giving Paxton Lynch another look at QB this week over Trevor Semien, which would result in a small line adjustment.
We also have to account for how the books are adjusting to early bettors. CRIS opened with Denver at -3.5, but had already moved the line to -2.5 before Lynch was announced as the starting QB. With the total set at just 40, bettors may have felt that even without Carr, giving the Raiders three and a half points was too much for what should be a low-scoring game.
What probably matters the most is how the lines will look for the Raiders' playoff games.
Thought it would be higher but according to @ByScottCooley @bookmaker_eu the drop-off from Derek Carr to Matt McGloin is worth 3-5 points.

— David Solar (@TheDavidSolar) December 27, 2016
According to Scott Cooley of Bookmaker, Carr is worth between three and five points. This would make him a tier three quarterback according to our player value article written before the season. Depending on how the Raiders play this week, we could probably make an educated guess at how different the line will look for their first playoff game.
I think the most important thing for the Raiders will ultimately be winning their division. By doing that, they would only need to win two playoff games with Matt McGloin to reach the Super Bowl rather than three, which is a huge difference. Don't get your hopes too high if you're a Raiders fan, but Carr doesn't necessarily feel that he is done for the season.
.@DCarr8 on his brother Derek Carr, pre-surgery thinking 6-8 weeks: "He quickly does the math in his head thinking, 'that's the Super Bowl'"

— Ian Rapoport (@RapSheet) December 27, 2016
Though they could easily be looking at a one-and-done situation, which their Super Bowl odds reflect, they could be getting back their best player if the team can rally around McGloin.
Looking for the latest odds, public betting trends and breaking news updates? Make sure to check out our free NFL odds page.
If you have any thoughts or questions, feel free to reach out to the Sports Insights staff by utilizing our live chat feature, commenting below, or emailing us at help@sportsinsights.com.