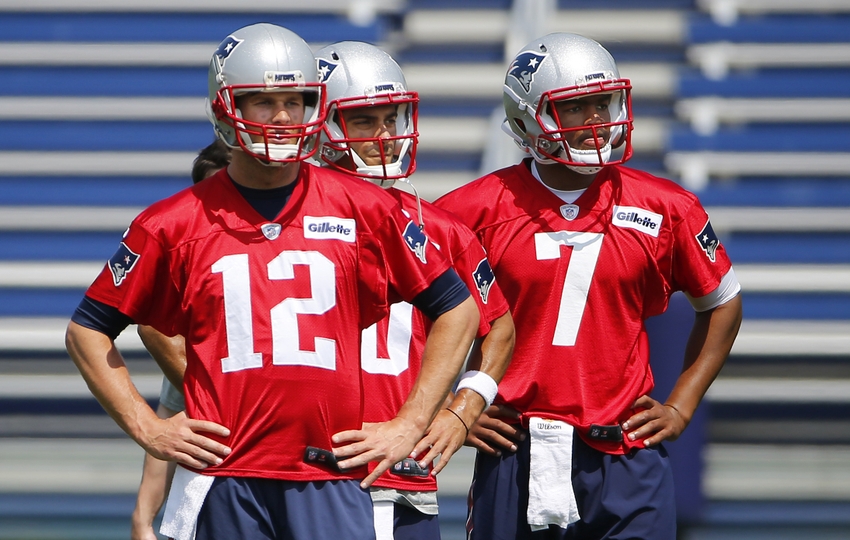 2016 NFL Week 2 Quarterback Injury Fallout
Yesterday, there were a few notable injuries around the NFL, two of which involved "starting" quarterbacks. One of them is the current placeholder and possible successor to an all-time great on a Super Bowl contending team, while the other is a veteran journeyman on one of the worst teams in the league. Both injuries, however, mean big things for next week's spread.
After marching the Patriots up the field with ease three times on Sunday, Jimmy Garoppolo suffered a right shoulder injury on an awkward hit in the second quarter. After much speculation, it was revealed later that he sprained his AC joint. Jacoby Brissett, New England's 2016 3rd round pick, took over for the rest of the game. Brissett went 6-9 for 92 yards, was sacked twice, and fumbled the ball once.
There are varying reports on the duration of Garoppolo's injury, but it is highly unlikely that he will play this Thursday on short rest against Houston. There is a chance he will return for Week 4, the final game before Tom Brady returns from his suspension.
Given Garoppolo's success during his brief stint as the Patriots' starting QB, it should come as no surprise that the books significantly adjusted their Week 3 line once he was injured.
On Friday, the #Patriots were 3.5-point favorites vs. HOU on the lookahead line at @LVSuperBook. They're currently 2.5-point underdogs.

— David Solar (@TheDavidSolar) September 19, 2016
That is a six point swing on the spread for a player with just one full game under his belt. In a study done over the summer, it was found that only around 10 players could be responsible for line movements that high. So could this be an overreaction?
According to Scott Cooley, Odds Consultant for Bookmaker.eu, "Garoppolo's value has certainly increased as he made quite an impression these first couple of games. There is a dropoff between the two considering you've got a rookie instead of a guy with a few years of experience in this league, but the dropoff isn't huge because of the system within which they operate."

So far, 60% of the market is taking Houston minus the points, but they are also getting more than three-quarters of total dollars wagered. Dating back to 2003, the Patriots are 25-9 ATS when getting between 0 and 9 points, including 3-1 ATS at home, so it should be interesting to see how the line changes over the week.
The Cleveland Browns also had a quarterback injury yesterday and will have a new starter next Sunday. No, this isn't a typo. The Browns are going through quarterbacks at an alarming rate. Even considering the average shelf life for a QB in Cleveland, one per week is pretty extreme.
Josh McCown also sprained his shoulder yesterday, albeit his non-throwing shoulder, and is listed as week-to-week according to the team. They will also be starting a rookie, Cody Kessler, in McCown's place. Kessler, who played his college ball at USC, was selected just two picks after Brissett in this year's draft.
When McCown replaced Robert Griffin III last week, the line quickly jumped from +6 to +7, but was ultimately bet down to +4.5. This week's QB injury for the Browns has resulted in an even bigger point swing.

After opening at +7 in Miami, the Browns quickly moved to +10 after it was announced around noon eastern that McCown would be out next week. Most early bettors have taken Miami, which could be due to the McCown injury or Ryan Tannehill's strong showing in New England yesterday. It should be interesting to see if this is an overreaction like last week and whether or not we see that line fall back down.
Have any questions for the staff at Sports Insights? Utilize our live chat to speak with a customer service representative or e-mail us at help@sportsinsights.com.