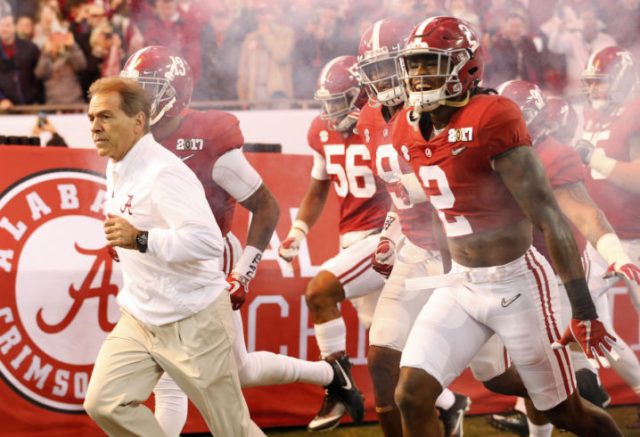 Week 1 College Football Totals On the Move
At around noon today, BookMaker released totals on the remainder of the college football Week 1 matchups (they'd already released totals for the five games this Saturday). It didn't take long for bettors to jump all over them, changing some totals by as much as 11 (yes, eleven) points. Here are the biggest changes in the notable Week 1 games.
Visitor
Home
BookMaker Open
(8/21, 12:30 PM EST)
BookMaker
(8/21, 3:45 PM EST)
BookMaker
(8/28, 5:00 PM EST)
Total Change Since Open
Ohio State
Indiana
53
50
58
+5
New Mexico State
Arizona State
67
70.5
71.5
+4.5
Washington
Rutgers
58.5
52.5
51.5
-7
Navy
Florida Atlantic
65
69.5
68.5
+3.5
Boston College
Northern Illinois
51
46.5
51.5
+0.5
Colorado State
Colorado
66.5
63.5
66
-0.5
UTEP
Oklahoma
69.5
62.5
62
-7.5
Califonia
North Carolina
66
55
53
-13
Western Michigan
USC
55.5
58.5
57.5
+2
BYU
LSU
44.5
48.5
48
+3.5
Houston
UTSA
54.5
51.5
51.5
-3
South Carolina
NC State
51
48.5
52.5
+1.5
Michigan
Florida
47.5
45
45
-2.5
Florida State
Alabama
53
49.5
49.5
-3.5
Tennessee
Georgia Tech
59.5
57
56
-3.5
It's pretty clear that bettors feel the opening totals were set too high, with 11 of the 15 listed games decreasing their point total. Sure, there are many games that aren't on the list, but these were the only ones with a notable point swing, so they serve as an appropriate sample.
The biggest change was the mentioned 11 point drop in the UNC-Cal matchup. In just three hours, the total went from 66 to 55, showing that bettors might have little faith in the Trubisky-less Tar Heel offense. UNC overs went 4-8 in 2016, though Cal overs were just the opposite, going 8-4.
The next two largest changes both came from pretty lopsided games in which the favorite is an AP Top 10 team. Washington is a -30.5 favorite at Rutgers, and Ohio State is -20 at Indiana. Bettors might be nervous about the underdogs being able to put points on the board against their respective opponents.
On the other side, the largest positive point swing came from the BYU-LSU matchup, jumping from 44.5 to 48.5 since earlier this afternoon. This one comes as quite a surprise to me, as both teams struggled to hit their overs in 2016. LSU overs went 2-7-2, and BYU was even worse at 3-9.
In both of the two most highly anticipated games on the Week 1 schedule (FSU vs. Alabama and Michigan vs. Florida), the total dropped by a few points. It seems in general that bettors have a lot more faith in defenses rather than offenses, perhaps expecting more rust on the offensive side. If last season is any indication, they might be onto something. The under went 50-35 in Week 1 of 2016.
What do you think? Will we see a repeat of 2016 or will the over come out on top this year? Feel free to leave your thoughts and predictions in the comment section.
Update August 28th
One week later and these totals are still jumping all over the place. Several games continued to follow the same trend as the day they opened, while others have gone the complete opposite direction.
Most notably, the Ohio State-Indiana total, which decreased from 53 to 50 right after opening, shot back up to 58 over the past seven days. To a lesser extent, the BC-Northern Illinois and South Carolina-NC State games saw the same pattern, with each total increasing by at least four points since the initial drop.
The largest total change continues to be that of the Cal-UNC matchup, which has decreased by another 2 points since last Monday. It has now dropped from 66 at opening all the way down to 53, and some books now have it listed at 52.5, so look for further continuation of that trend.
The next two largest changes also continued their opening trends, with the Washington-Rutgers total dropping another point to 51.5, and the UTEP-Oklahoma matchup falling another half point to 62.
Following their impressive 58-27 shootout win vs. Oregon State, Colorado State has seen their total rise by 2.5 points over the past week. They'll be taking on the Buffaloes in the Rocky Mountain Showdown at Mile High.