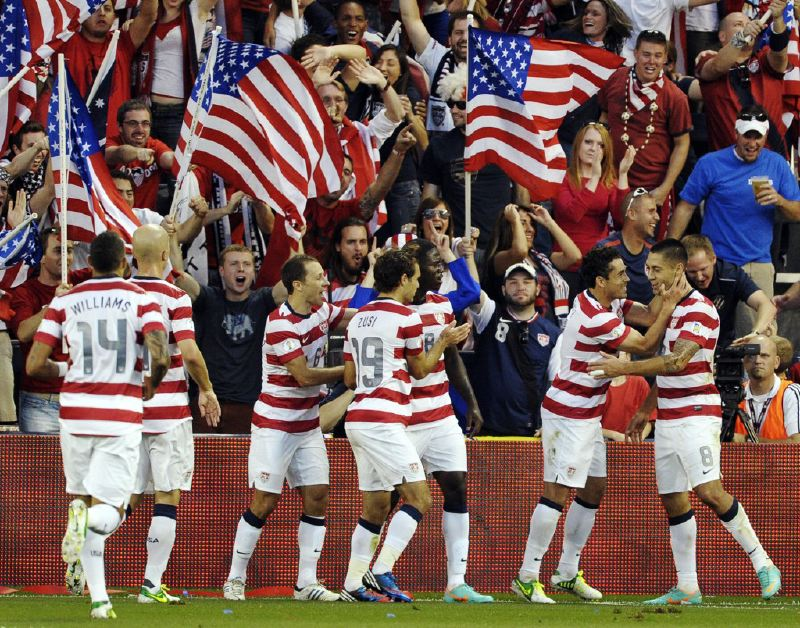 USA World Cup Betting Odds
Expectations for the USA at this year's World Cup may not have been as high as they were in the past, but there's plenty of buzz surrounding the squad after their opening 2-1 win over Ghana. Easily one of the best players to ever play for the USA, Landon Donovan, was left off the final 23-man roster for Brazil. While most pundits have been rightfully critical of the omission, it shows that the US is producing younger, talented attacking players like Aron Johansson and Julian Green who made the team over Donovan (View all 32 team rosters here). Though the United States is in arguably the toughest group (Germany, Portugal, and Ghana) of the tournament, the Americans have a great chance of advancing after their quality result against their nemesis Ghana in the opening match.
Below shows a look at how the USA performed in the last two World Cups:
2006 World Cup:
Odds to win Group: +1500
Odds to Qualify from Group: Yes +400 / No -600
Odds to win World Cup: +4500
Group: USA +300, Draw +220, Czech Republic -111 (Czech Republic won 3-0)
Group: USA +600, Draw +300, Italy -250 (Drew 1-1)
Group: USA +175, Draw +225, Ghana +120 (Ghana won 2-1)
2010 World Cup:
Odds to Win Group: +450
Odds to Qualify from Group: Yes -150 / No +120
Odds to win World Cup: +6600
Group: USA +112, Draw +217, Slovenia +269 (Drew 2-2)
Group: USA +594, Draw +305, England -200 (Drew 1-1)
Group: USA -118, Draw +257, Algeria +326 (USA won 1-0)
Round of 16: USA +138, Draw +206, Ghana +225 (Drew 1-1, Ghana won 2-1 in ET)
A successful '02 World Cup provided some hope for '06 but the US lost 2 games and drew 1, failing to advance beyond the group stage. In 2010 they were in a much more manageable group and the US beat Algeria in a must-win game to win Group G. They also drew the other two group games as well as the second round game in regular time before losing in extra time to Ghana 2-1. Over the last two World Cups, betting the draw on every US game has resulted in a +7 units profit.
In the 2014 World Cup, the United States opened against Ghana with odds USA +195, Draw +215, Ghana +155. 63% of bettors took the USA and were ecstatic when substitute defender John Brooks headed in the winner. In their next game against Portugal, just 9 % were on the draw +285 and were happy to see the Portuguese tie it on the last play of the game. Keep track of all the latest odds moves and betting percentages around the market.
2014 World Cup:
Odds to Win Group: +1150
Odds to Qualify from Group: Yes +250 / No -500
Odds to win World Cup: +15250
Group: USA +195, Draw +215, Ghana +155 (USA won 2-1)
Group: USA +347, Draw +285, Portugal -116 (Drew 2-2)
Group: USA +650, Draw +400, Germany -315 (Germany won 1-0)
Round of 16: USA +330, Draw +240, Belgium -110
Prior to the World Cup, USA was a +1150 longshot to win Group G and +250 just to qualify from the group into the second round. They managed to finish 2nd in the group behind Germany and will now face a beatable Belgium team in the Round of 16.
Below shows the odds before the tournament on the stage of elimination that the USA would reach at offshore sportsbook CRIS:

As you can see, the odds on the USA to win the 2014 World Cup were listed at +15250 at CRIS, meaning a $100 bet on the USA would net $15,200 if they did go all the way. Despite their incredibly long chances, however, bettors in Las Vegas have not been shy about putting their money on the USA:
Have some disparity on odds for #USMNT to win #WorldCup2014 : LVH 80-1, Wynn 60-1, Stations 50-1, Cantor 40-1, Mirage 10-1, & Caesars 7-1

— Todd Fuhrman (@ToddFuhrman) May 7, 2014
Even offshore oddsmaker BetOnline has been getting hammered by US bets and has received nearly as much support on the US than all other teams combined:
"There are almost as many bets placed on #USMNT (WC Futures) as all of the other teams combined. About 45/55 ratio now " – @DaveMasonBOL

— Todd Fuhrman (@ToddFuhrman) June 11, 2014
 You can also view the odds and percentage of future bets to win the World Cup for the USA and all teams from three prominent offshore sportsbooks. There are some major odds differences across the market so be sure that you're getting the best line possible before placing a future bet. If you have any questions we can be reached by phone (877-838-2853), Live Chat, or email (help@sportsinsights.com).
[adrotate group="4″]