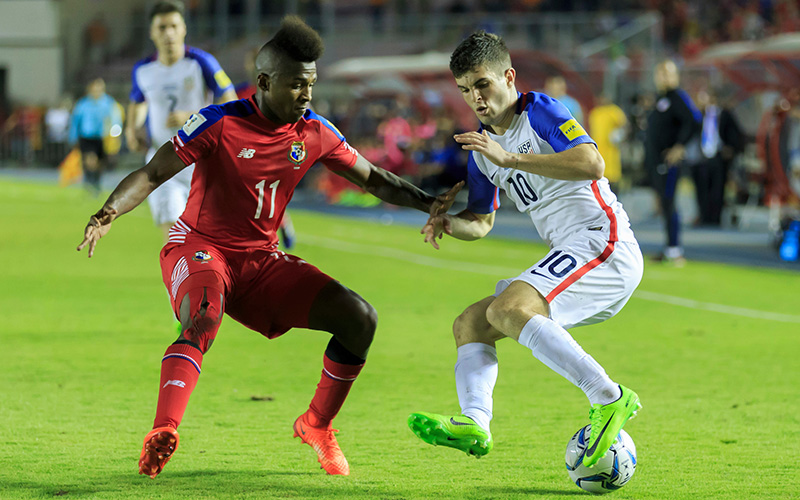 Crucial World Cup Qualifier for USA vs. Panama
The US men's national team will play a pivotal World Cup qualifying match against Panama Friday night in Orlando, Florida, and fans are rightfully nervous. They made things difficult on themselves to start the final round of qualifying and switched coaches from Jurgen Klinsmann to Bruce Arena. However, if USA can just win their two remaining qualifying games against Panama and Trinidad & Tobago, then they'll be in the 2018 World Cup no matter what else happens. There are tons of other scenarios if they don't win both games, all dependent on how the other group games finish. Here's a look at the current group standings with two games remaining:

And here are the projections for USA based on the result against Panama, independent of other results in the group (via Paul Carr of ESPN):
How #USMNT's SPI chances to qualify for the World Cup will change based on Friday's result.

Apparently this game is a big deal. pic.twitter.com/VUqsSdLsLK

— Paul Carr (@PCarrESPN) October 3, 2017
USA is a pretty sizable favorite against Panama, listed at -183 on the moneyline. That works out to about a 64.7% chance of winning outright. Here are the latest odds and public betting percentages at Bookmaker, a prominent offshore sportsbook.
Moneyline Odds:
USA -183
Panama +617
Draw +295
Moneyline Betting Percentages:
USA 58%
Panama 33%
Draw 9%
With such a high payout on Panama, casual bettors are willing to throw a little cash down on the underdog, as they're getting 1/3 of tickets. Less than 60% of tickets have come in on the USA moneyline, nothing too lopsided at all for a big favorite, while bettors of course are avoiding the draw.
USA are currently 100/1 underdogs to win the World Cup but that's probably a bit generous if we're being honest. USA are also -185 to automatically qualify for the World Cup without playing in any additional playoff matches. There could also be a scenario where USA plays Syria (or Australia) in a playoff to qualify for the World Cup in Russia, a matchup which has obvious other undertones.
I'm really curious to see how the public and sharps bet this game throughout Friday, and wouldn't be surprised to see odds increase on USA up to -200.