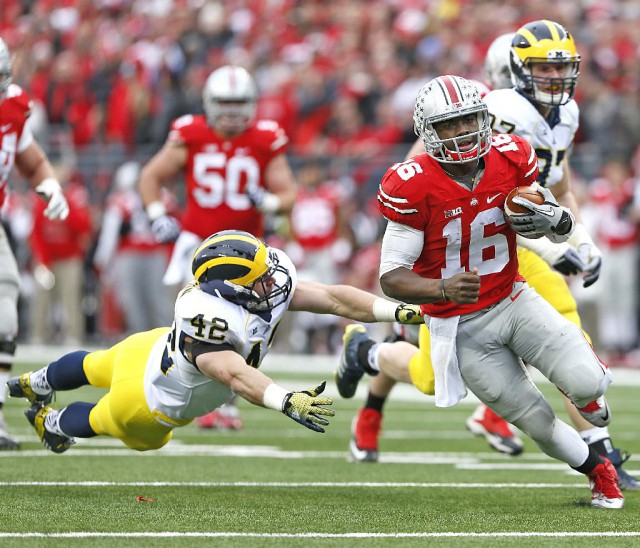 Updated College Football Game of the Year Lines
On Wednesday afternoon, the Westgate Sportsbook posted a number of "Game of the Year" lines for some of the biggest late season college football games. Many of these lines were significantly different than the preseason GOY lines from the Golden Nugget and 5Dimes.
Some of the biggest discrepancies between the two Las Vegas books include Oregon (from -5 to +6.5 at Arizona State), Auburn (from -4 to +7.5 vs. Ole Miss) and Michigan (+4.5 to -9.5 at Penn State).
We'd like to remind everybody to bookmark our free NCAAF odds page for the latest odds, public betting trends and more. We'd also like to thank Todd Fuhrman who first posted these lines.
THURSDAY, OCTOBER 22
TEMPLE at EAST CAROLINA (-1.5)
CALIFORNIA at UCLA (-7)
FRIDAY, OCTOBER 23
MEMPHIS (-7.5) at TULSA
UTAH ST (-3.5) at SAN DIEGO ST
SATURDAY, OCTOBER 24
UTAH at USC (-3.5)
KANSAS ST at TEXAS (-1.5)
TENNESSEE at ALABAMA (-11.5)
AUBURN at ARKANSAS (-4.5)
CLEMSON (-5.5) at MIAMI FL
FLORIDA ST (-3.5) at GEORGIA TECH
THURSDAY, OCTOBER 29
NORTH CAROLINA at PITTSBURGH (-3)
WEST VIRGINIA at TCU (-13)
OREGON at ARIZONA ST (-6.5)
FRIDAY, OCTOBER 30
LOUISVILLE (-8.5) at WAKE FOREST
LOUISIANA TECH (-10) at RICE
WYOMING at UTAH ST (-24.5)
SATURDAY, OCTOBER 31
CLEMSON (-9.5) at NC STATE
OLE MISS (-7.5) at AUBURN
USC (-1) at CALIFORNIA
*FLORIDA vs. GEORGIA (-1)
MICHIGAN (-14) at MINNESOTA
THURSDAY, NOVEMBER 5
MISSISSIPPI ST (-4.5) at MISSOURI
BAYLOR (-14) at KANSAS ST
NEVADA (-7.5) at FRESNO ST
FRIDAY, NOVEMBER 6
TEMPLE (-9.5) at SMU
BYU (-6.5) at SAN JOSE ST
SATURDAY, NOVEMBER 7
MICHIGAN ST (-4.5) at NEBRASKA
MINNESOTA at OHIO ST (-23.5)
TCU (-4.5) at OKLAHOMA ST
LSU at ALABAMA (-6.5)
ARKANSAS at OLE MISS (-13.5)
AUBURN at TEXAS A&M (-9.5)
FLORIDA ST at CLEMSON (-4)
NOTRE DAME (-5.5) at PITTSBURGH
ARIZONA at USC (-11.5)
THURSDAY, NOVEMBER 12
VIRGINIA TECH at GEORGIA TECH (-4.5)
FRIDAY, NOVEMBER 13
USC (-11.5) at COLORADO
SATURDAY, NOVEMBER 14
OREGON at STANFORD (-9.5)
GEORGIA (-3) at AUBURN
ARKANSAS at LSU (-10.5)
ALABAMA (-8.5) at MISSISSIPPI ST
OKLAHOMA at BAYLOR (-16.5)
**BYU at MISSOURI (-1)
THURSDAY, NOVEMBER 19
EAST CAROLINA (-10.5) at CENTRAL FLORIDA
FRIDAY, NOVEMBER 20
CINCINNATI (-4.5) at SOUTH FLORIDA
AIR FORCE at BOISE ST (-18.5)
SATURDAY, NOVEMBER 21
TCU (-2.5) at OKLAHOMA
BAYLOR (-11.5) at OKLAHOMA ST
MICHIGAN ST at OHIO ST (-10)
MICHIGAN (-9.5) at PENN ST
LSU at OLE MISS (-4)
GEORGIA TECH at MIAMI FL (-3)
ARIZONA at ARIZONA ST (-6.5)
USC (-3) at OREGON
UCLA at UTAH (-2.5)
CALIFORNIA at STANFORD (-9.5)
THURSDAY, NOVEMBER 26
TEXAS TECH at TEXAS (-1.5)
FRIDAY, NOVEMBER 27
IOWA (-1) at NEBRASKA
WASHINGTON ST at WASHINGTON (-8.5)
MISSOURI at ARKANSAS (-9.5)
OREGON ST at OREGON (-17.5)
BAYLOR (-3) at TCU
SATURDAY, NOVEMBER 28
KANSAS ST (-27.5) at KANSAS
OKLAHOMA (PK) at OKLAHOMA ST
***NORTHWESTERN (-7) at ILLINOIS
OHIO ST (-1) MICHIGAN
PENN ST at MICHIGAN ST (-10.5)
WISCONSIN (-4.5) at MINNESOTA
ALABAMA (-10.5) at AUBURN
FLORIDA ST at FLORIDA (-3)
GEORGIA (-3.5) at GEORGIA TECH
LOUISVILLE at KENTUCKY (-1.5)
OLE MISS (-6.5) at MISSISSIPPI ST
CLEMSON (-11.5) at SOUTH CAROLINA
VANDERBILT at TENNESSEE (-10.5)
UCLA at USC (-3)
NOTRE DAME at STANFORD (-4.5)
NORTH CAROLINA (PK) at NC STATE
VIRGINIA TECH (-3) at VIRGINIA
BYU (-3) at UTAH ST
SATURDAY, DECEMBER 5
TEXAS at BAYLOR (-25.5)
SATURDAY, DECEMBER 12
****ARMY at NAVY (-15.5)
*@ JACKSONVILLE, FL
**@ KANSAS CITY, MO
***@ CHICAGO, IL
****@ PHILADELPHIA, PA