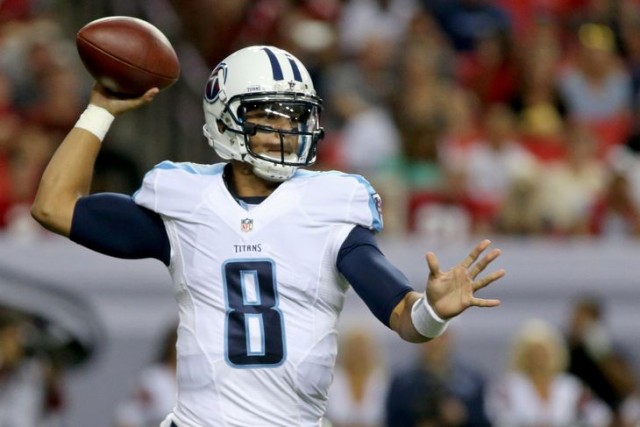 Tracking Sharp Money During the NFL Preseason
For years we have thought that betting on the NFL preseason is a lot like sending drunk texts — we all know that we shouldn't do it, but sometimes it's 2AM and you just "need" to speak with an ex-girlfriend. It's the last act of a desperate man…or so we thought.
[ Save 40% off our Pro subscription by purchasing the Early Bird Special ]
Before the start of the 2014 preseason, one of our team members expressed how dirty they felt betting on a preseason game and earlier this year we highlighted a system indicating that playoff teams have been undervalued during the preseason. We might not always know how much playing time each starter will receive, but we can utilize sharp money indicators to determine where betting syndicates and wise guys are laying money.
Typically we would try to identify reverse line movement as our top sharp money indicator, but due to the limited number of bets placed on preseason games that strategy would be illogical. However, we can utilize preseason line movement to ascertain which side sharp bettors are taking.
Since 2004, teams have gone 175-165 ATS with +3.4 units won when the line drops by at least one point. This would include teams moving from -5 to -7 or from +4 to +2. When the line drops by at least one point on an underdog, our results improve tremendously.
Following the line moves on preseason dogs has covered 55.9% of the time even when grading after the line has moved. pic.twitter.com/3qKvDEamAW

— Bet Labs Sports (@Bet_Labs) August 21, 2015
Sportsbooks will frequently shade or move their lines because it allows them to minimize risk. If the Oakland Raiders move from +4 to +3, it likely indicates that more money has been placed on Oakland than their opponent. Even if bettors wait until the line has moved by a point, the value remains.
Although this system alone has proven to be a winning strategy, we wanted to test whether some of the same trends we observed during the regular season were profitable during the preseason. After recent research revealed that underdogs were undervalued in games with low totals, we opted to focus on games with a closing over/under of 37.5 or less. This simple addition nearly tripled our return on investment (ROI).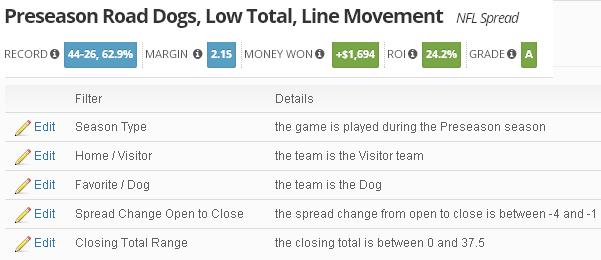 Bet Labs users can receive all current game matches by copying this system from our Bet Labs Think Tank. Bettors can also view the latest NFL odds, scores, injuries, public betting trends and more by visiting our free NFL odds page.
Have any questions for the staff at Sports Insights? Utilize our live chat to speak with a customer service representative or e-mail us at help@sportsinsights.com.
David Solar is the Content Manager for Sports Insights and can be reached directly at David@sportsinsights.com.