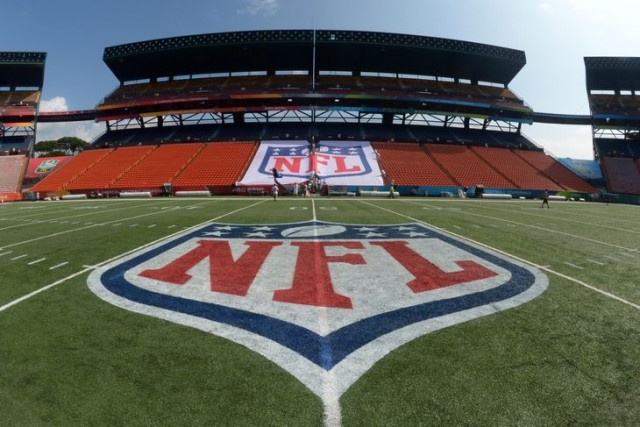 2015 NFL Preseason: Are Playoff Teams Being Undervalued?
Although the NFL regular season doesn't kick off until September 10th, we're only days away from the start of the preseason. On August 9th, the Minnesota Vikings will host the Pittsburgh Steelers in the annual Hall of Fame game which takes place in Canton, Ohio.
[ Save 40% off our Pro subscription by purchasing the Early Bird Special ]
With Week 1 of the preseason just around the corner, we wanted to re-examine some of the most profitable betting trends and find new profitable betting systems to follow. Last season we posted an article explaining how the over had been historically undervalued, and detailed a system that had produced a 93-57 ATS record with +32.42 units earned and a 21.6% ROI.
Many bettors refuse to watch the preseason and would rather see Nicolas Cage perform Shakespeare. (You know what, scratch that analogy. Seeing Cage inexplicably emphasizing random syllables in old English would be can't miss entertainment.)  Either way, you don't have to be a fan of preseason football to enjoy making money.
This year's system was created after engaging in a debate with a friend, who argued that bettors should be supporting the league's worst teams during the preseason. After watching the NBA Summer League, he theorized that the worst teams would be loaded with young talent and that these players would need to gain experience during the preseason. It was an interesting idea, but we always prefer to take the contrarian viewpoint.
For the sake of simplicity, we defined good teams as those who made the playoffs in the past season and bad teams as those who were out golfing during the postseason. Using our Bet Labs software, my theory was quickly validated as you can see from the screenshot below: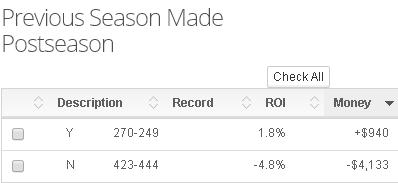 Simply betting every team who made the playoffs in the previous season has been a profitable strategy on its own, but when their opponent missed the postseason that record improves to 176-155 ATS (+13 units). We also knew that underdogs and visitors had provided bettors with a slight edge during the preseason, so we wanted to know what would happen when we layered these filters on to our existing system.
Although betting every road dog during the preseason is barely profitable (290-278 ATS, +0.96 units), this simple addition causes our return on investment (ROI) to more than quadruple from 3.9% to 17.1%. This perfectly fits our contrarian philosophy since the betting public typically pounds favorites and home teams.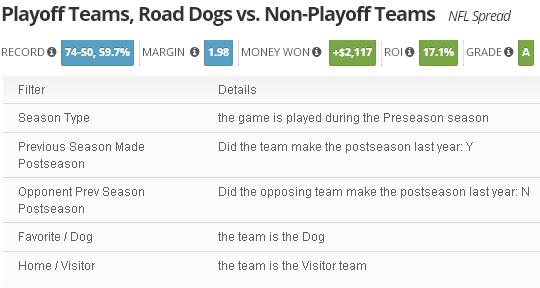 It's surprising to see that so many non-playoff teams have been favored against playoff teams — even with home field advantage. Although a majority of public bets typically take favorites, we do often times see "trendy underdogs" at various occasions like March Madness and the NFL Playoffs. It turns out, more than half of spread bets took the favorite in 60.5% of all games fitting this criteria, meaning these teams don't fall under the "trendy underdog" umbrella.
The table below displays how this system has fared when we look at various datapoints for betting against the public.
| Public Betting | Record (ATS) | Units Won | ROI |
| --- | --- | --- | --- |
| All | 74-50 | +21.17 | 17.1% |
| <50% | 34-15 | +17.34 | 35.4% |
| <45% | 24-9 | +13.75 | 41.7% |
| <40% | 12-6 | +5.39 | 29.9% |
| <35% | 5-4 | +0.60 | 6.7% |
Our return on investment more than doubles when we look at teams receiving less than 50% of spread bets, however, our results are somewhat atypical as they don't improve as we examine increasingly lopsided bet games.
Bet Labs users can receive all current game matches by copying this system from our Bet Labs Think Tank. Bettors can also view the latest NFL odds, scores, injuries, public betting trends and more by visiting our free NFL odds page.
Have any questions for the staff at Sports Insights? Utilize our live chat to speak with a customer service representative or e-mail us at help@sportsinsights.com.
David Solar is the Content Manager for Sports Insights and can be reached directly at David@sportsinsights.com.