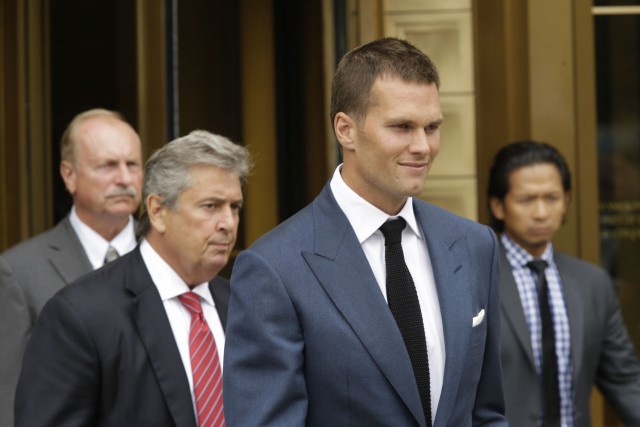 Tom Brady's Four-Game Suspension Upheld: What Should Bettors Know?
On May 11, 2015, the NFL announced the punishment for Tom Brady and the New England Patriots after the findings of the Wells Report. For their role in deflating footballs in the AFC Championship game, Brady was suspended four games without pay while the team was fined $1 million and forced to forfeit their 1st-round pick in the 2016 NFL Draft and a 4th-round pick in the 2017 draft.
The Wells Report concluded that Tom Brady was more than likely, "at least generally aware" that locker room attendant Jim McNally and equipment assistant John Jastremski were deflating Patriot game balls beyond the legal limit. Following that announcement, the Patriots moved from -6 to -1 for their Week 1 matchup against the Steelers while the total dropped from 53.5 to 49.
On September 3, Judge Richard Berman vacated Commissioner Goodell's suspension of Brady which meant the four-time Super Bowl champion would be eligible to play in the season opener against Pittsburgh. Ultimately, Brady would pass for 4,770 yards and 36 touchdowns before losing to the Denver Broncos in the AFC Championship game.
The football world seemed ready to put this issue to rest, but on Monday morning, the Court of Appeals for the Second Circuit reversed Judge Berman's ruling and ordered the reinstatement of Tom Brady's 4-game suspension. The decision by a three-judge panel stated that, "the Commissioner properly exercised his broad discretion under the collective bargaining agreement and that his procedural rulings were properly grounded in that agreement and did not deprive Brady of fundamental fairness."
Although there's a possibility that this ruling is reversed yet again, there's no doubt that Brady's absence would have a significant impact on the Patriots' win total along with the line for their Week 1 matchup against the Cardinals. Last season's analysis indicated that Brady is worth roughly five-points to the spread, but it was a rudimentary measurement. To find out what Brady is truly worth to the spread, we reached out to Scott Cooley, an Odds Consultant for Bookmaker.eu.
Cooley stated that our analysis was undervaluing Brady, and that the Patriots star was worth between 6-7 points depending on the opponent. "We value Tom Brady right around a touchdown to the spread. He remains in the same top-tier echelon as guys like Aaron Rodgers and Ben Roethlisberger."
When asked about backup quarterback Jimmy Garoppolo, Cooley said that, "Garoppolo is certainly serviceable, but he's not Tom Brady. And putting him under center on Sunday Night Football in Week 1 for his first career NFL start is asking quite a bit, especially against an élite Arizona secondary." Cooley even speculated that the Patriots could re-sign former backup Brian Hoyer saying, "my gut is they'd rather play with an experienced quarterback than a green one."
Based on this information, we placed Brady's value to the spread at 6-points and re-assessed the early lines from CG Technology to determine how Brady's suspension will likely impact the Patriots' lines for the first four weeks of the season.
New England Patriots (+1 to +7) at Arizona Cardinals
Miami Dolphins at New England Patriots (-9.5 to – 3.5)
Houston Texans at New England Patriots (-8 to -2)
Buffalo Bills at New England Patriots (-7 to -1)
We should stress that these lines have been taken off the board following the announcement of Brady's reinstated suspension, and it will be interesting to see when they are re-opened. After seeing the suspension overturned last year, it will be curious to see whether sportsbooks wait until Brady's appeal has concluded.
According to Tony Miller from the Golden Nugget sportsbook in Las Vegas, they're likely to move the Patriots from PK to +3 when the line is re-opened. This line seems to indicate that oddsmakers are hedging their bets since the Patriots would probably be a larger underdog if Garoppolo makes his first career start on the road against a stout Cardinals defense.
"it probably will be Cardinals -3."

— Patrick Everson (@Covers_Vegas) April 25, 2016
The Patriots boasted the league's highest win total prior to this news (10.5, o-225), but we wanted to know how that number would be affected if Brady's suspension were to be upheld. By converting each spread into a winning percentage, we found that the Patriots win total should technically drop by 0.906 games.
at Arizona: 48.8% to 24.8%
vs. Miami: 81.1% to 64.3%
vs. Houston: 79.1% to 53.5%
vs. Buffalo: 75.2% to 51.3%
Based on these calculations, we found that the Patriots expected value with Tom Brady behind center was 2.845 wins. With Jimmy Garoppolo starting those games, the expected value drops to 1.939 wins.
Assuming that the Patriots are unable to overturn or reduce this suspension, Brady would make his season début against the Cleveland Browns in Week 5. New England is expected to be a 7-point road favorite in that game, but bettors can view the latest odds and public betting trends by visiting our free NFL odds page.
Have any questions for the staff at Sports Insights? Utilize our live chat to speak with a customer service representative or e-mail us at help@sportsinsights.com.