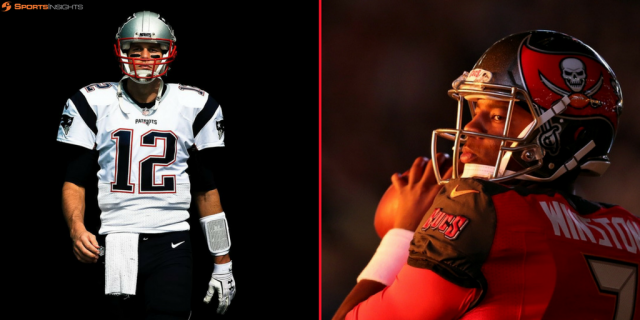 Thursday Night Football Week 5: Pats at Bucs
This offseason, we wrote about how the Patriots had historically great futures odds. Whoops!
Nah, I'm just kidding. The Patriots are still one of, if not the top Super Bowl candidate in the league, but there's no doubt they've disappointed so far. However, Tom Brady and the Pats have been excellent coming off a loss according to Bet Labs Sports…which is obviously something to keep in mind when making your bets tonight.
And, as is traditionally the case, the majority of bettors are on the Patriots. Dating back to 2003, the majority of spread bettors have backed Brady in 180 of 206 regular season games. Smart move on their part, as they've gone 120-78-8 ATS over that span.
In fact, Tom Brady includes this tidbit in his new book, The TB12 Method. He says that if you want to be as successful as him, not only do you have to partake in a psychotic diet, you also need to bet on the Patriots after a loss. That's how you take care of the money aspect of winning at life.
Being the best QB ever, playing into your 40s, having a super model wife, and being devilishly handsome are all elements that you'll have to figure out by yourself.
Alright, enough about the Patriots. Let's take a look at tonight's game. This line has been moving so much that I'm pissed off quite frankly. The Pats were -5 when I started the article, then moved to -5.5, and then, out of the blue, there's some Bucs buyback that has moved the line to 4.5!
#Bucs money showing up for #TNF, dropping the line to #Patriots -4.5 for tonight's game. https://t.co/PU3rrEhLaV pic.twitter.com/0l1BPClwSD

— Sports Insights (@SportsInsights) October 5, 2017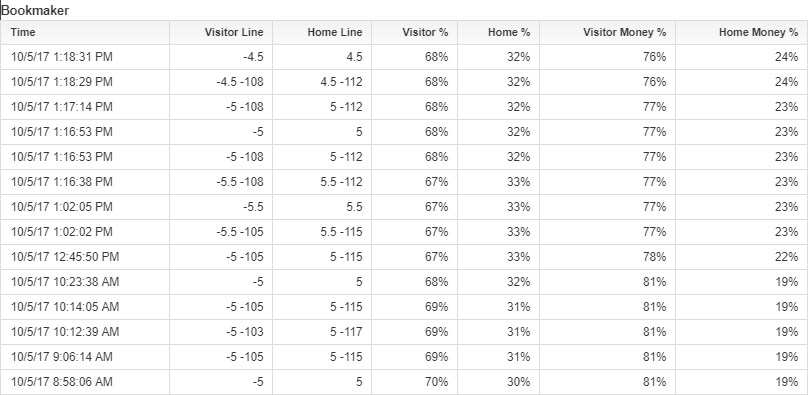 Here is what the line movement at Bookmaker has looked like today. As you can see, Bucs +5.5 was only available for about 15 minutes before the line jumped down to 4.5.
The percent of bets and dollars on the Patriots, which were 70% and 81% this morning, have since moved to 68% and 76%, respectively.
As for the total, we've seen some significant movement in favor of the under in recent times. After opening at 54 around the market on Sunday night, the total moved up to 56 by Tuesday. Since then, it has been creeping back down to the 54.5/55 range. Note that the wind for this game will be around 15 MPH. Historically, unders have hit at over a 55% clip when the average wind speed is double digits.

Check our free NFL odds page to see if any of the lines have moved and follow us on Twitter @SportsInsights for the good stuff.