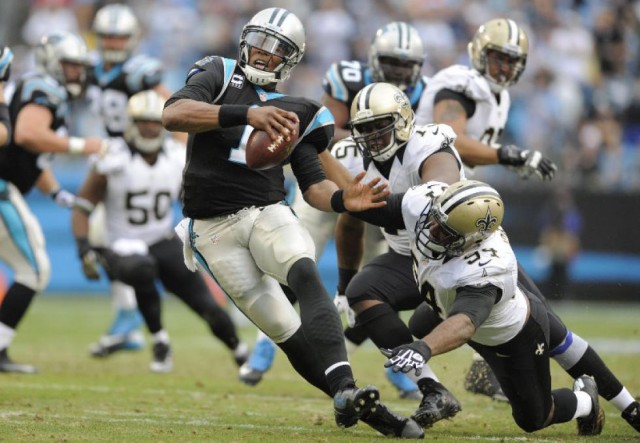 Thursday Night Football Preview: Saints at Panthers
In this week's Thursday Night Football game, the New Orleans Saints (3-4) will travel to Charlotte to face the Carolina Panthers (3-4-1). Although both of these teams currently boast losing records, the winner of this game will take sole control of first place in the dumpster fire known as the NFC South.
According to our NFL betting trends, the visiting Saints opened as a pick 'em at the market-setting Pinnacle sportsbook and are currently receiving 68% of spread bets. This one-sided public betting has helped move New Orleans to -3 at the time of publication. The screenshot below displays the public betting trends at our seven contributing sportsbooks.

Although we frequently break down individual games or analyze significant line moves, this week we have opted to take a different approach and use all of the tools at our disposal to pinpoint betting value.
Bet Labs and Data Perspective
When looking at this game on my Bet Labs dashboard, I see this: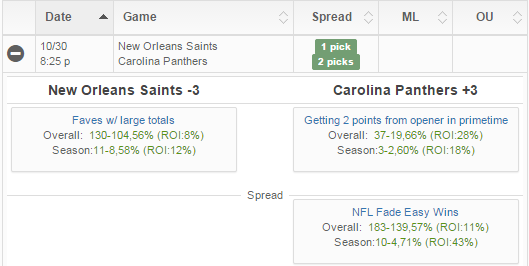 As you can see I have one system on the Saints, and two systems on the Panthers.  On the New Orleans side, I have a system that looks at favorites with totals over 49 points.  In the past those teams have covered at a 55.6% rate.
On the Panthers side I have the NFL Fade Easy Wins system which was highlighted in our weekly ESPN Insider article.  I also have a system that I recently shared in the Think Tank that focuses on buying on the line move in prime time games.  When a line moves at least two points in your favor the team has covered 66.1% of the time since 2009.
With two systems on the Panthers that have higher ROI's than the one system on the Saints, I would lean towards Carolina +3 as the play tonight.
Live Odds and Sharp Money Indicators
As mentioned earlier, the Panthers opened as a pick 'em and have moved to -3 at Pinnacle. This 3-point line move appears to be largely due to public money hammering the Saints, and it's easy to understand why. Last Sunday night, the Saints easily handled the Packers 44-23. Bettors are often quick to overreact to small sample sizes — especially when a team puts up a memorable performance in a prime time game. On the flip side, the Panthers put up just 9 points in their loss to the Seahawks last weekend.
We preach the importance of buying on bad news and selling on good, and this seems like an excellent opportunity to buy low on the Panthers and sell high on the Saints. However, we still had to determine whether this 3-point line movement was solely due to public money, or whether there were also any sharp money indicators. The screenshot below is taken from this game's matchup page displays the line graph at Pinnacle:

At the time of publication there have been seven bet signals triggered on this game, however, only three of these moves have been profitable on the season. Furthermore, only one bet signal had been triggered on the spread — a reverse line movement alert from Carib (13-10, +1.8 units) on Carolina +3. This information reveals that not only can bettors get three free points based on an artificially inflated line, but also that sharp bettors like Carolina if you can get the key number of 3.
Right now most of the sports betting marketplace is offering the Panthers at +3, but a few books including 5Dimes and Sportsbook.com are hanging a line of +3.5. Getting that extra half-point can increase your expected winning percentage by 2%, so make sure to shop for the best line before placing any bets.
For updated lines and real-time betting data, make sure to visit our Free NFL Odds page. Bettors can also receive our Best Bets which have gone 23-16 (+5.2 units) in the NFL and 49-32 (+12.5 units) in College Football by signing up for our 4-day Pro trial. 
Have any questions for the staff at Sports Insights? Utilize our live chat to speak with a customer service representative or e-mail us at help@sportsinsights.com.
[adrotate group="4″]